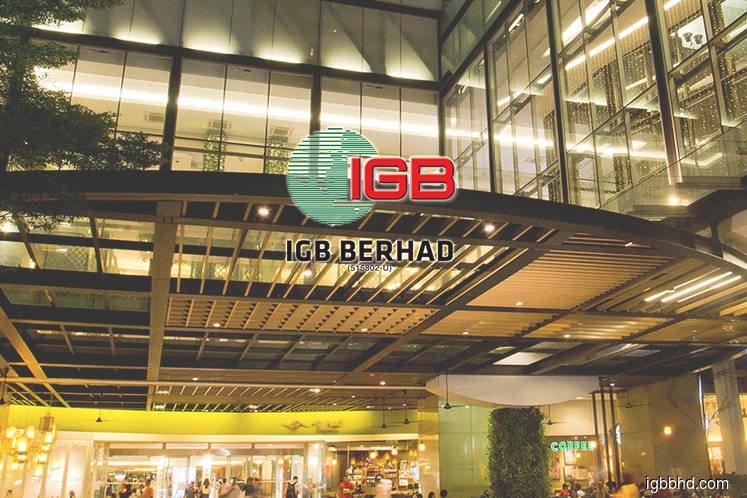 KUALA LUMPUR (Dec 3): IGB Bhd, together with its partner Tower Ray Ltd, plans to sell their 50-50-owned UK-based Black Pearl Ltd, which owns a plot of freehold London land, for £235 million or RM1.27 billion.
IGB said in a bourse filing today that its 50% stake in Black Pearl is held under IGB's wholly-owned Verokey Sdn Bhd. "Verokey and Tower Ray, each hold a 50% stake in Black Pearl Limited (Black Pearl), which owns the freehold title to the land known as 18 Blackfriars Road, SE1, London (Property)," the group said.
Verokey and Tower Ray inked a non-binding heads of terms agreement today with Hero Inc Ltd, Staycity Ltd and BSW Land and Property Ltd, who want to buy their entire stakes in Black Pearl.
The proposed purchase consideration is equal to Black Pearl's net asset value, calculated on the basis of a valuation of the property, IGB said. The group, however, did not specify as to how the proposed consideration would be satisfied.
"The heads of terms set out the understanding and intention of the Vendors and Purchasers (collectively, the Parties) in respect of the proposed transaction. The Heads of Terms are subject to inter-alia, satisfactory outcome of due diligence being conducted on the property and the proposed transaction. The heads of terms provide for exclusivity for the purchasers until Feb 7, 2020," IGB said.
"Full announcement of the proposed transaction will be made in the event that the parties execute a sale and purchase agreement which shall constitute the definitive documentation, providing the details in respect of the matters broadly set out in the heads of terms," the group added.
In Black Pearl's planning application to the Greater London Authority that was submitted in April last year, it was planning to build six buildings ranging from five to 53-storey each, on the site that measures 0.80 hectares (ha) in total.
This redevelopment will include an office space, a 548-room hotel, 288 residential units, a flexible retail component, a restaurant, a music venue, and car parks, among others. The architect for the redevelopment was listed as Wilkinson Eyre.
Meanwhile, in London City Hall's website, Black Pearl is also listed as developing a 16-storey student accommodation on 18 Blackfriars Road that will have 13,500 square metres (sq m) of accommodation space, 200 sq m of student amenity space, and 250 sq m of flexible commercial floorspace.
IGB's shares closed at its all-time high of RM3.40 today — which valued the group at some RM2.35 billion — after jumping 15 sen or 4.62%, making it the sixth highest gainer on Bursa Malaysia. Earlier today, it touched RM3.55. Volume-wise, it saw 196,300 shares done.