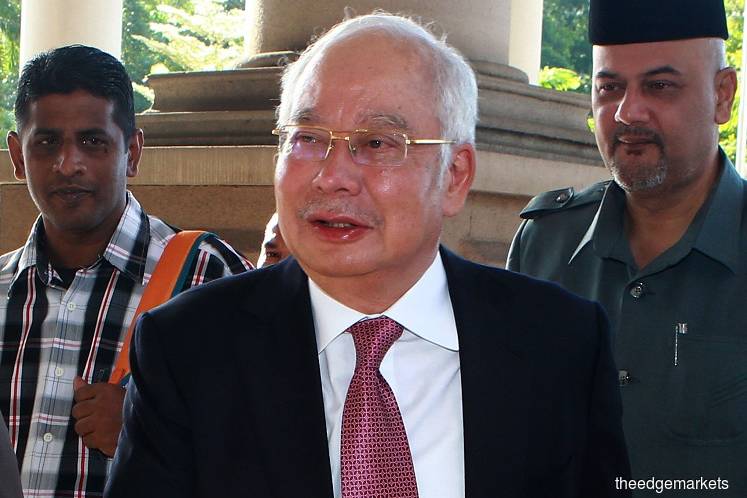 KUALA LUMPUR (Dec 4): The examination-in-chief with former Prime Minister Datuk Seri Najib Razak has shifted to his relationship with fugitive businessman Low Taek Jho (Jho Low).
Najib narrates his relationship with Jho Low in the High Court, which is hearing the trial on the misappropriation of RM42 million SRC International Sdn Bhd funds.
Below is Najib's side of story on his relationship with Jho Low:
I first met him (Jho Low) in 2007. He was introduced to me by my stepson, Riza Aziz. I believe Riza met Jho Low through Jho Low's brother, Tiek Sin. At that time, I was told Jho Low graduated from Wharton Business School in the US, and became an entrepreneur at [a] very young age, running a few successful businesses. Apart from that, I was told Jho Low owns a private investment fund.
Subsequently, I found that Jho Low was successful in collaborating with the Arabs and Khazanah Nasional Bhd in the Iskandar Development. He was a successful person and he [was] involved in [the] acquisition of UBG with the Tun Taib Mahmud family.
I had subsequently found out that he knew Sultan Mizan (Sultan of Terengganu Sultan Mizan Zainal Abidin) as I have stated in matters related to TIA. Finally, Jho Low became an influential person who [has] good relationship with the royal family and officials in UAE and Saudi Arabia, and [is] capable of arranging meetings and discussions with them. This had formed my basis of confidence on Jho Low's capability to obtain investments from investment institutions in UAE and Saudi Arabia.
My confidence (in Jho Low) came from a few incidences. Firstly, Jho Low was capable of obtaining big investment from UAE-owned Mubadala Development Co in Iskandar Development Region. Subsequently in 2011, Jho Low played an important role in the visit by HH General Sheikh Mohammed Zayed Al Nahyan to Malaysia, where further investment and potential collaboration between Abu Dhabi and Malaysia were discussed.
In 2009, Jho Low successfully organised a meeting with [Saudi Arabia's] Prince Turki [bin Abdullah Al Saud] which witnessed 1MDB enter the PetroSaudi project in September 2009. Prince Turki is a member of royal family and one of the favourite son[s] of King Abdullah [Abdulaziz Al Saud] at that time. Prince Turki was once Riyadh's Governor. To me, he is a respectable person, and he is a Squadron Leader for F15 fighter jet in Saudi Arabia. Prince Turki's role as a joint owner of Petrosaudi strengthened what was informed to me.
Jho Low was the person who arranged my meeting with HM King Abdullah Abdullaziz Al-Saud in a few visits in Riyadh and Jeddah. In one incident, prior to my official visit to Saudi Arabia in January 2010, Jho Low told me that King Abdullah is amazed with Malaysia's capability in implementing moderate values as advocated in Islam and the fair treatment between Muslims and non-Muslims. According to Jho Low, King Abdullah will confer me with Saudi Arabia's highest award, namely King Abdulaziz Order of Merit (First Class). This award was conferred to President [Barack] Obama and President [Vladimir] Putin. This happened during my visit in January 2010.
During this visit, several Malaysian delegates and myself met with King Abdullah on a few occasions. In our first meeting, King Abdullah conferred me the award of King Abdulaziz Order of Merit (First Class). In other private meeting[s], King Abdullah was very amazed with Malaysia and the government's capability in maintaining peace in a society with various culture[s]. We also discussed about the need of Malaysia and Saudi Arabia to strengthen collaboration in fighting all forms of violence. King Abdullah put more attention specifically on the increasing militant trend and deviated Islamic teaching that enter the Islamic world, he requested me to ensure Malaysia to continue to be free from such negative influence.
Regarding this, King Abdullah had personally given guarantee to me that he will provide his support so that I could continue to lead the country as a good role model for Islam. I am very grateful and expressed my appreciation to King Abdullah.
Around mid-2010, Jho Low told me that King Abdullah has agreed to provide me the support in the form of private donation. At that time I was not told the amount or date (of the remittance) except that such donation will be handled by his son. Jho Low told me that he will inform me [of] further details when he gets more clarity. Subsequently in 2010, Jho Low verified that the donation will be remitted. From year 2011 to 2014, I received a substantial sum of money which I believed was the donation from King Abdullah as a sign of support. Jho Low was the middle man in the matter and I believe he managed the fund allocation for the Saudi Arabia royal family. Several letters in relation to the donation were received by AmBank and myself from Jho Low at that time.
The specific sum of the donation was not briefed to me (the first time the donation matter brought up by Jho Low), but Jho Low did mention that the sum would likely be around US$100 million to US$200 million.
The sum may look substantial but I understand that the Saudi royals are known to be generous whereby before this they had donated a substantial amount of money to various foundations in the US including the Clinton Foundation and to other countries like Egypt, Pakistan, Palestine as part of their foreign diplomatic policies.