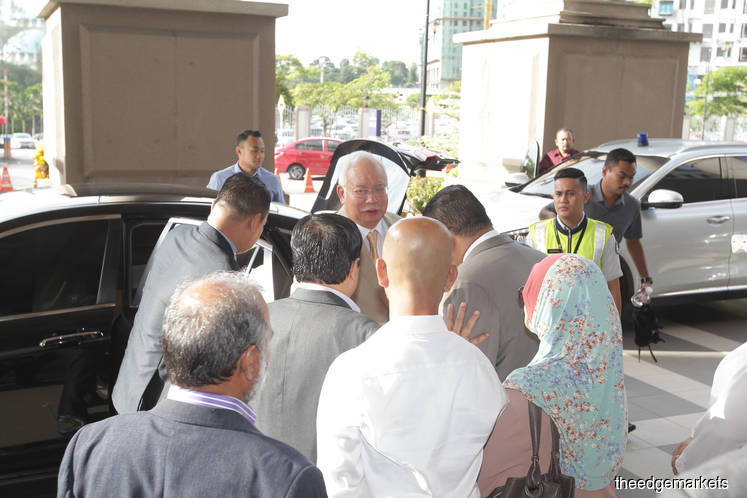 KUALA LUMPUR (Dec 11): Former prime minister Datuk Seri Najib Razak contended that it was the responsibility of the management in SRC International Sdn Bhd to retrieve the funds back from the company's frozen bank account in Switzerland, not him.
He said this in reply to Attorney-General Tan Sri Tommy Thomas' retort during the cross-examination today, as the latter accused Najib of doing nothing when the funds were revealed to be transferred overseas.
The funds were part of the RM4 billion loan SRC had received from the Retirement Fund Incorporated (KWAP).
In a heated exchange, Thomas asserted that Najib as the prime minister, finance minister and SRC advisor emeritus, had important roles in securing the loan and the formation of SRC, and as such, he should have asked or taken action to retrieve the money.
Najib, visibly annoyed at this point, said he had asked SRC to bring the money back to Malaysia, after finding out that SRC could not service its interest payment to KWAP.
Thomas: Weren't you personally shocked as to what happened to the money?
Najib: We appointed SRC.
Thomas: SRC is not on trial. You are on trial!
Thomas then asked whether Najib summoned the five SRC directors to find out what happened to the RM4 billion.
Thomas: Did you summon the five directors and cross examine and ask them where the money is?
Najib: I asked SRC to investigate.
Thomas: I put it to you that you did nothing to investigate. This was taxpayers money, but you did nothing.
Najib: SRC was supposed to do it!
Najib had earlier admitted that he did not know how much was left in the Swiss bank accounts, but denied that SRC was insolvent as the company still had cash in those accounts.
During the earlier prosecution case, former SRC board chairman Tan Sri Ismee Ismail agreed that RM1.5 billion out of the first RM2 billion loan from KWAP had been transferred to Switzerland's BSI Bank. He revealed that the transfer was ordered by Najib through former SRC CEO Nik Faisal Ariff Kamil in a meeting on Sept 7, 2011.
However, the authenticity of the minutes of the Sept 7, 2011 meeting was disputed by Najib's defence team, even though it bore the former premier's signature.
Trial judge Justice Mohd Nazlan Mohd Ghazali ordered that the minutes be marked as an ID (identification) and not as part of the prosecution's evidence.
Ismee also testified that the entire board of directors had travelled to Switzerland in 2013, "to take comfort" that the funds deposited into the Swiss bank were safe.
On this, Najib denied telling Former Finance Minister II Datuk Seri Ahmad Husni Hanadzlah to stay out of SRC and 1MDB matters, when the latter requested to go to Switzerland.
Thomas accused Najib of not wanting Husni to go to Switzerland to prevent the cabinet minister from finding out the truth about the money; that it has been stolen. Najib disagreed.
Najib is accused of seven counts of criminal breach of trust, abuse of power and money laundering of RM42 million from SRC.
He faces a 20-year jail term and a fine of RM5 million or five times the amount of money laundered, whichever is higher, if found guilty.