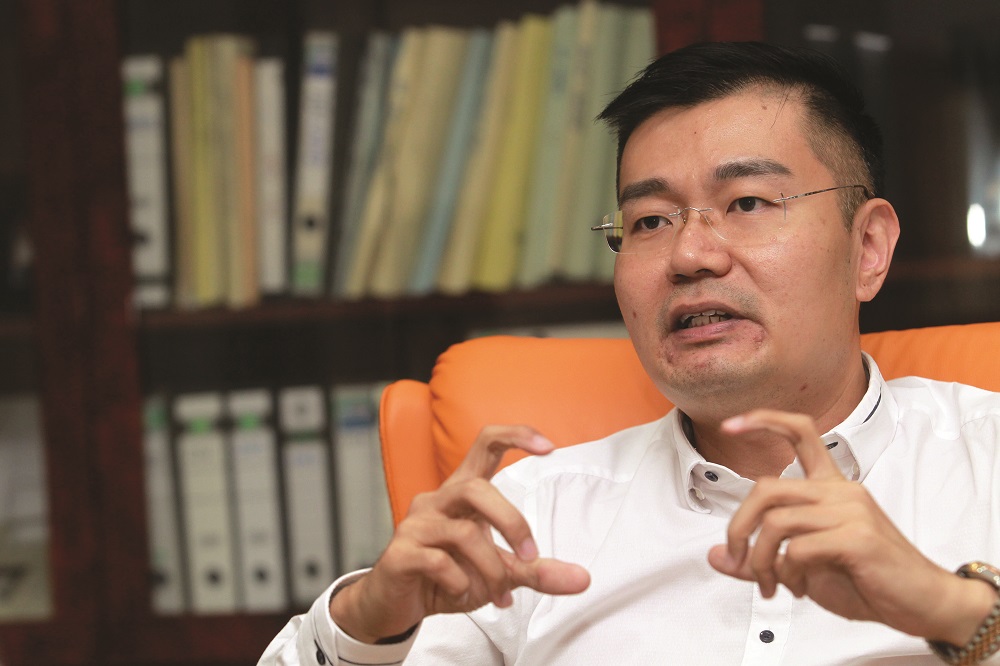 KUALA LUMPUR (Dec 16): Although the US-China trade war has opened up opportunities for local furniture businesses, they are unable to fully seize these opportunities due to labour shortage issue, according to Kuala Lumpur and Selangor Furniture Association (KSFA) president Datuk Eric Lee.
Read also
Furniture players: 2019 a tough year for local sales, 2020 likely to be better
Selangor International Furniture City ready by 2022
The problem, which Lee blamed on the government's decision over two years ago to freeze the hiring of foreign workers, which he said is causing the local furniture industry to miss out on "as much as 80% of chances" that come their way.
It does not help that the industry has been facing difficulty in getting new local talents to fill up the vacancies as many are just not interested to work in factories.
"Since the government [froze] the import of foreign workers, a lot of local factories end up not daring to take many orders, while their experienced workers went back and [many factories] cannot get replacements," Lee said, when met at the sidelines of the Malaysian Furniture & Furnishing Fair 2019 last Friday.
He said the industry, which employs some 50,000 foreign workers, still needs another 20,000.
Due to the labour shortage, a lot of orders that were offered to Malaysia have since gone to Vietnam, said Lee, who believes Vietnam is by far the biggest winner from the US-China trade war, adding the country has ample manpower to enable its industry players to ramp up their capacity to meet the increasing demand from the US.
The US is the world's single largest furniture importer with a total import value of US$38.48 billion (RM153.92 billion) in 2018, according to the Centre for Industrial Studies (CSIL). China remains the largest furniture exporter nation to the US market. Other major exporter nations include Vietnam, Canada, Mexico, Italy and Malaysia.
The US is also the largest importer of Malaysian furniture, taking up RM3.38 billion or 34% of our total furniture exports of RM9.83 billion in 2018. The figure also accounted for 2.2% of the US' total furniture import value in 2018, which was 5.85% lower than 2017's RM3.59 billion.
Lee said the labour shortage caused Malaysia's furniture exports, which rose 6.4% from RM9.52 billion in 2016 to RM10.13 billion in 2017, to fall 3% to RM9.83 billion in 2018. Malaysia is now the world's 12th largest furniture exporter, down four rungs from its 8th position in 2017.
But furniture export has rebounded so far this year, as the government has finally "relaxed" its foreign labour hiring policy a few months ago, said Lee. In January to September this year, according to KSFA, total furniture exports rose 9.7% to RM7.79 billion from RM7.10 billion in the same period last year. Notably, exports to the US jumped 26.6% to RM3.05 billion from RM2.4 billion.
However, Lee said the reprieve is only temporary. Hence, the industry's outlook remains uncertain going forward.
"This year we will see double-digit growth in export. Next year, it again depends on how well each company copes with this challenge, given the government only relaxed the foreign labour policy for the short term," he said.
As recent as May, there have been reports of trade bodies urging the government to relax its foreign labour hiring policy. However, the ministry of human resources pointed out that there is no freeze in the recruitment of foreign workers, saying only that many applications to bring in workers had been rejected due to non-compliance with the law.
Consolidation seen inevitable
Those who cannot cope with the industry's challenges will have to opt out or combine forces, said Lee, who expects an industry consolidation going forward.
On that note, he urged local furniture players to move towards Industry 4.0 to reduce their reliance on foreign labour and improve their competitiveness. There is plenty of room to improve themselves in terms of automation, he said.
To move towards Industry 4.0, he said KSFA has set up a facilitating team to educate and assist its members to apply for all kinds of related subsidies, incentives and grants — including the 200% capital allowance for up to RM4 million qualifying capital investment provided by the Malaysian Investment Development Authority, and the financial incentive provided by the Malaysian Timber Council for the purchase of machinery.
Lee said furniture is also a form of art, so uniqueness of designs and finishings of products are sometimes valued over uniformity. In such cases, the human touch adds value to the end products, which are in demand among US customers, he added.
Malaysia's furniture exports are expected to hit RM12 billion by 2020, according to the Malaysia External Trade Development Corporation, and to RM20 biillion by 2025, driven by growing global demand.
This article first appeared in The Edge Financial Daily, on Dec 16, 2019.