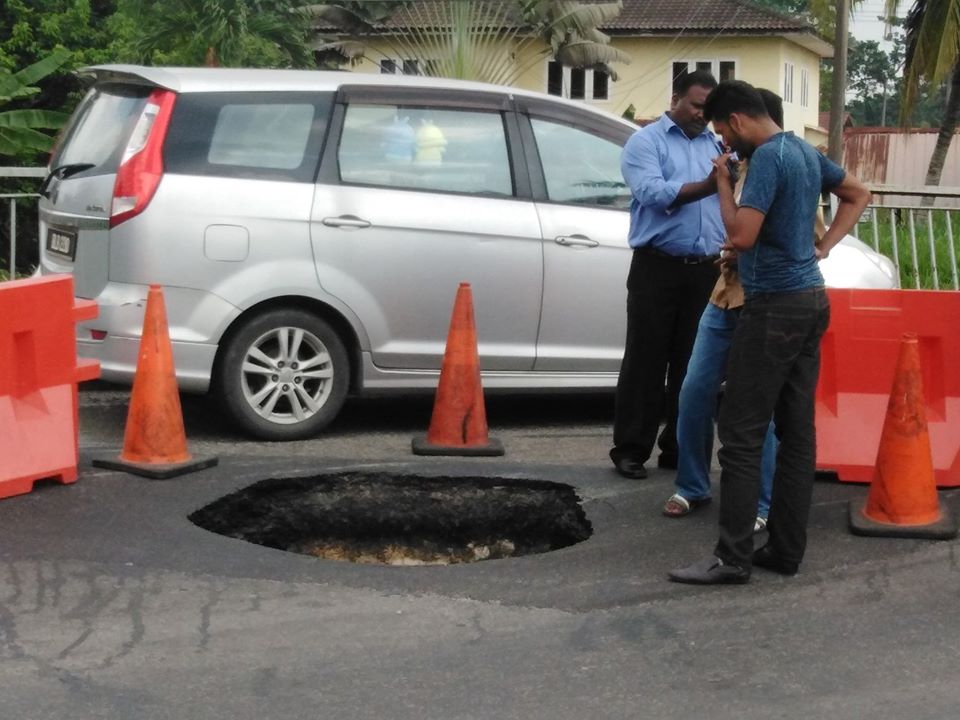 KLANG (Dec 31): With memories of the yellow Myvi that was swallowed up by a massive sinkhole in Kuala Lumpur a few weeks ago still fresh in the minds of city folk, another scarily big and deep one has appeared here yesterday.
According to a report by The Star, a sinkhole has appeared on a road near the Sungai Teluk Menegun bridge along Jalan Kebun (next to Klinik Kesihatan).
"This is one of the main roads in the neighbourhood and I hope that motorists will take alternative routes," Sentosa assemblyman George Gunaraj told the publication.
Gunaraj's Facebook also noted that residents from Kg Jawa, Teluk Menegun, Taman Maznah, Taman Klang Indah, Kg Miskin, Taman Emas, Desa Latania, Bt. 4, Golden Villa and the surrounding areas will be impacted by the road closure to facilitate repair work.
Klang Public Works Department announced that repairs will take about a week.
The daily also reported that "motorists from Klang town to the Bukit Kemuning roundabout and vice versa can use Jalan Raja Nong and Jalan Sungai Jati".