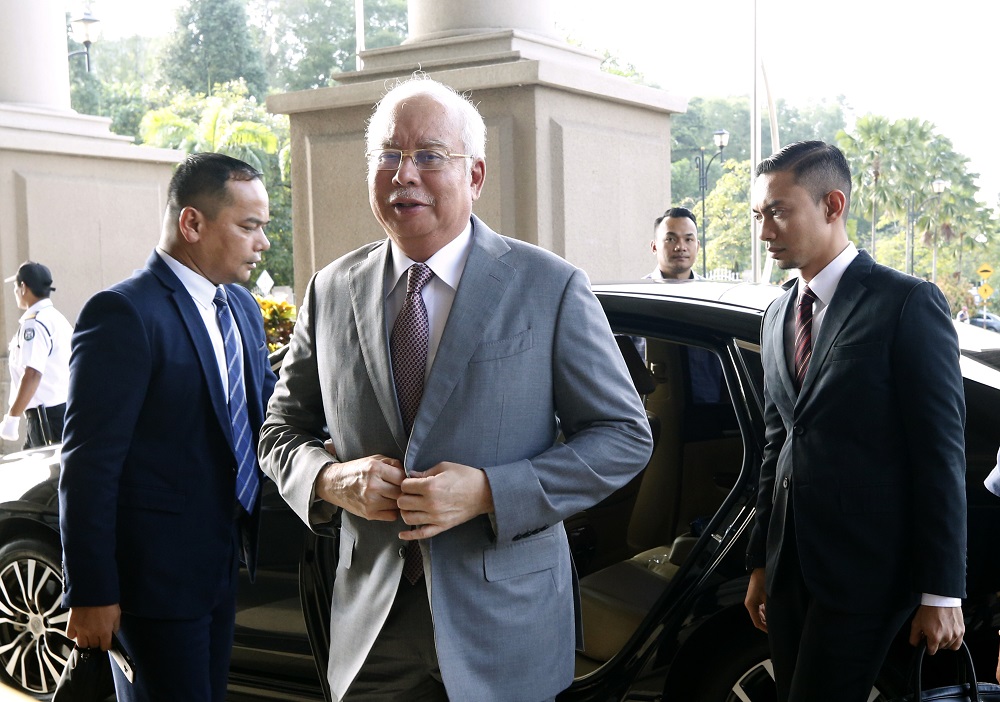 KUALA LUMPUR (Jan 2): Former prime minister Datuk Seri Najib Abdul Razak wants a stay of proceedings in the misfeasance in public office suit filed by Damansara MP Tony Pua Kiam Wee in January 2017, in relation to the 1Malaysia Development Bhd (1MDB) fiasco.
Today, Najib's lawyer Datuk Mohd Hafarizam Harun told High Court Judge Datuk Rozana Ali Yusoff that Najib filed the stay of proceedings letter dated Dec 24.
In the letter, Najib wants the civil suit to be delayed pending the disposal of his criminal trials especially those involving 1MDB, according to Mohd Hafarizam.
Justice Rozana subsequently asked Pua and the government to come back to the court on Monday (Jan 6) to inform the court about their reaction to the letter. The government was also named as a defendant in the misfeasance in public office suit.
Pua was represented by lawyer Tan Cheng Leong.
Mohd Hafarizam told theedgemarkets.com that Najib wants completion of the 1MDB trials, which are still ongoing and are expected to resume later this month.
Both Mohd Hafarizam and Tan confirmed today that Najib has yet to file his defence for the misfeasance in public office suit as required by the court by Dec 30.
Mohd Hafarizam said that was one of the reasons for the stay application.
The suit was reinstated by the Federal Court on Nov 19, 2019, after the court ruled that the prime minister and ministers can be sued for misfeasance.
In January 2017, Pua filed the suit, naming Najib and the government as defendants for wrongful use of public authority. He alleged that Najib had abused public office and benefitted by receiving money from 1MDB.
Najib is facing four counts of abuse of power and 21 charges of money laundering involving 1MDB funds in excess of RM2.28 billion.
Najib's other 1MDB-related trials include one involving 1MDB former subsidiary SRC International Sdn Bhd. In the SRC case, Najib is facing three counts of criminal breach of trust, one for abuse of power and three for money laundering involving RM42 million of SRC funds.
Najib is also facing a separate 1MDB audit tampering trial with former 1MDB president and CEO Arul Kanda Kandasamy.