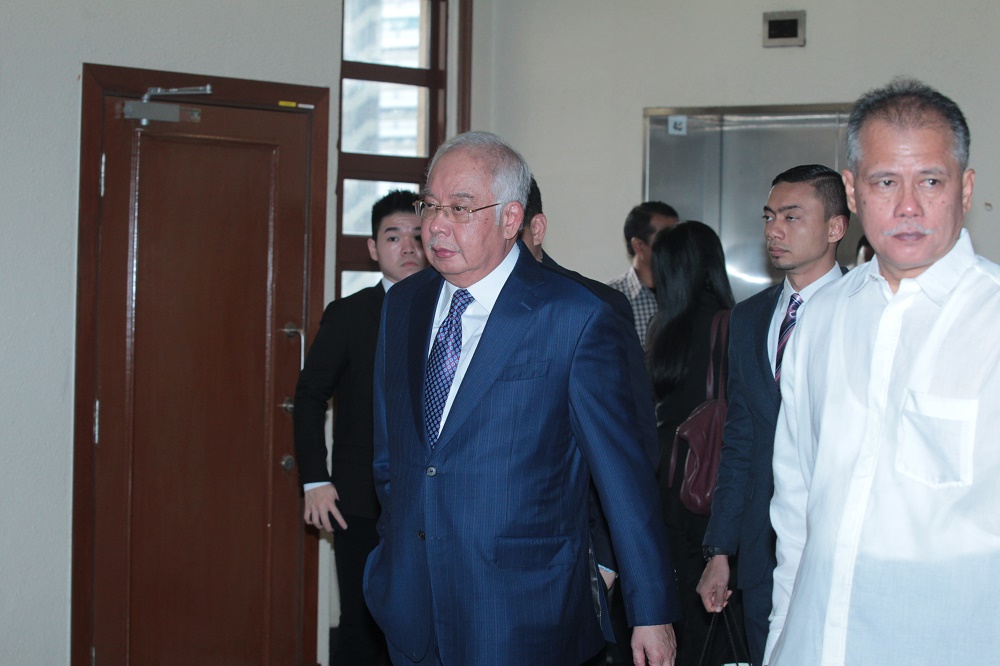 KUALA LUMPUR (Jan 7): Former Prime Minister Datuk Seri Najib Abdul Razak said he could not verify his own signature on an original document from former SRC International Sdn Bhd chairman Tan Sri Ismee Ismail that was produced by the prosecution.
The document in question — labelled P530 by the court — claimed to be original by Ismee, contains Najib's instructions to SRC's board, including opening accounts at specific banks and the transfer of the company's first RM2 billion loan obtained from Retirement Fund Inc (KWAP) in 2011 to banks in Switzerland.
Appointed prosecutor Datuk V Sithambaram asked Najib to verify his signature on P530, which was produced by Ismee as an original document during the prosecution's case.
The former premier then replied that he needed to get it verified by a document expert as it was an operational issue.
Sithambaram: I did not ask about any operational issue, when shown the original you also cannot verify your own signature in an original document. Look at the signature, whether you can confirm this is your signature. You do not need an expert to verify if this is your signature or not in an original document.
Najib: It looks like my signature but I cannot confirm.
Sithambaram: So even original documents you cannot confirm [if it was your signature] and even photocopy documents you cannot confirm.
Najib: Yes.
This led to Sithambaram remarking that this was a convenient answer which he has to accept.
Prior to this, Najib had during his examination-in-chief questioned the authenticity of several SRC and 1Malaysia Development Bhd minutes tendered in court as evidence, as they were photocopy documents and he needed an expert to verify his signature.
He was quizzed at length yesterday and today over his signatures, prompting the premier to ask for a foreign expert witness to be called in by his defence team to verify the signatures, which he now claimed are made on contemporaneous documents.
When asked further by Sithambaram whether he believes the documents in question could be forged, the former premier replied yes.
Najib explained that he did not lodge a police report about the forgery as he had only discovered that there was a likelihood his signatures were faked during the course of the trial.
Sithambaram: I put it to you the fact that you did not lodge a police report was because those documents are genuine and the signature were yours?
Najib: I disagree.
Sithambaram also showed the former premier's defence statement, which he tendered before the start of the trial, where there was no mention of him alleging that the documents were forged, and Najib said at that time he may have suspected but had not asserted his suspicion.
Before a corruption trial starts, an accused is required under Section 62 of the Malaysian Anti-Corruption Commission Act 2009 to furnish to the prosecution its defence to the case.
Sithambaram: Did you send the four documents in question [during the prosecution stage] to the handwriting expert?
Najib: Not at that stage as we were looking for one as it takes time to find a reputable one.
This led to Sithambaram quipping "also one [an expert] that may give you a favourable report", which led to laughter in court.
Sithambaram: Since this was an important document signed by you which you now claimed that were forgery, you would have sent them to a handwriting expert if your evidence was true?
Najib: I disagree.
Sithambaram: Since you knew it was a forgery, you could have given the report [by the expert] to the prosecution that it was a forgery?
Najib: Possible.
Sithambaram: When did you appoint your expert?
Najib: That you have to ask my lawyers, I do not remember the time.
Sithambaram: Was it during the prosecution stage?
Najib: We were already discussing it then [at the prosecution stage].
Sithambaram: I put it to you that your claims of forgery of these documents and the calling of an expert witness [are] an afterthought?
Najib: I disagree.
The Edge is reporting the proceedings of the SRC trial live.
Users of The Edge Markets app may tap here to access the live report.