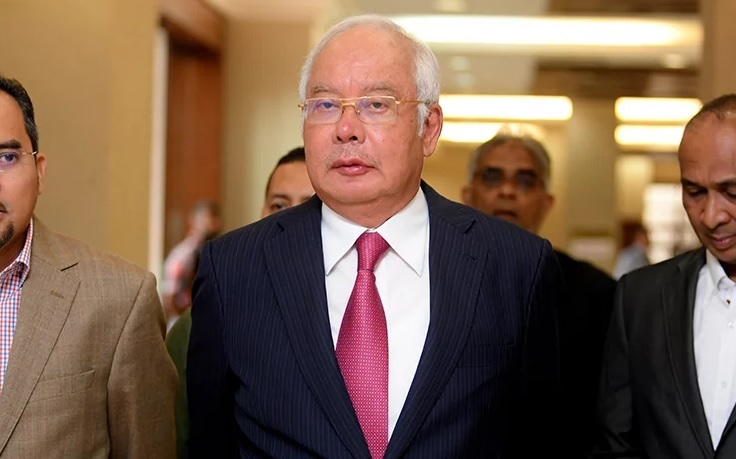 KUALA LUMPUR (Jan 8): The prosecution had put it to former Prime Minister Datuk Seri Najib Razak (pictured) that there is no evidence that his bank statements were deliberately kept away from him by the persons authorised to manage his accounts, namely Datuk Azlin Alias and Nik Faisal Ariff Kamil.
Picking through Najib's witness statement, which stated that Jho Low had taken steps to ensure that the statements were kept away from him, deputy public prosecutor (DPP) Datuk V Sithambaram pointed out that there was no evidence to support the statement.
In fact, said the DPP, Najib had instructed the bank to appoint Nik Faisal as the authorised party to collect the bank statements, so it was no surprise that the statements were not sent to the ex-premier.
Sithambaram: As per the instructions, they were all under the care of Nik Faisal. And it follows, therefore, that because of your instructions, the bank statements did not go to you, so it's no surprise.
Najib: That is what I'm saying.
Sithambaram: No, you said they were deliberately kept from you. But based on the instructions, it was your instruction that all banking documents should not be sent to your house.
Najib: Yes.
Sithambaram: Therefore your allegation that the bank statements were deliberately kept away from you is wrong.
Najib initially disagreed with the suggestion and pointed to a BlackBerry Messenger (BBM) exchange between Low and AmBank relationship manager Joanna Yu in which the fugitive businessman emphasised that statements should not be sent to the then prime minister's residence.
However, Sithambaram responded and said that the exchange between Low and Yu was in relation to a credit card statement which was mistakenly sent to the Prime Minister's Office (PMO) despite instructions otherwise.
Sithambaram: What you have stated here — that Jho Low had taken steps to ensure that the statements were not sent to you — there is no such evidence.
Najib: No, this statement is correct. I believe that Jho Low does not want the statements to be sent to me.
Sithambaram: But from what I have shown you, there is no such evidence for this fantasy of yours.
Najib: It's no fantasy. That is Jho Low's position, I believe.
Sithambaram: But we don't know that, based on the evidence that I have shown [you].
Najib: From the evidence, yes. But I believe otherwise.
The DPP then put it to Najib that his evidence that Low had manipulated his account was specifically to shift the blame away from himself and direct it to the fugitive financier instead.
Najib disagreed with the notion.
Sithambaram: But you would agree that it is ridiculous [for Jho Low] to manipulate the account only to put in money that only you can use?
Najib: I do not know his intentions. I don't want to speculate.
Sithambaram: There is nothing to speculate here. He puts in the money so that you can spend it. I'm putting it to you that you knew money would be coming in, otherwise you wouldn't have kept writing cheques after the Arab money was finished.
Najib: I disagree.