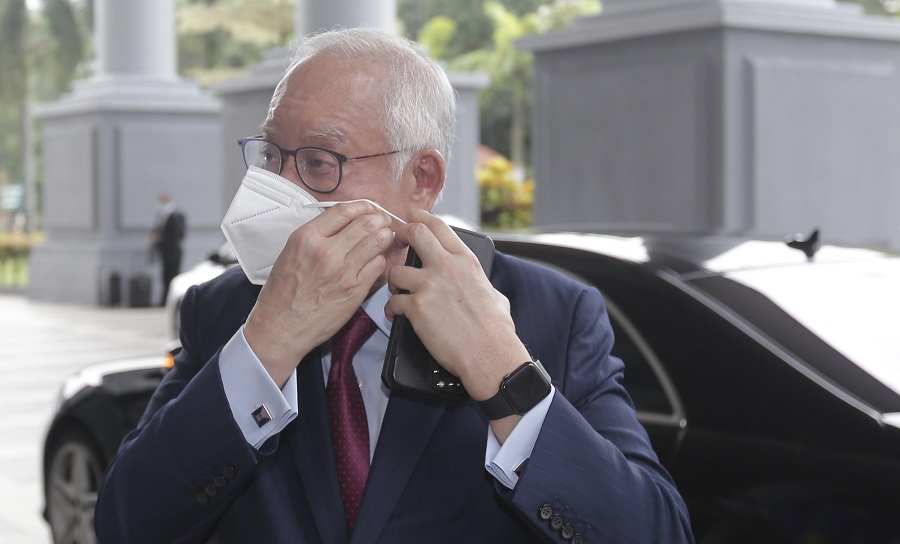 KUALA LUMPUR (Nov 11): Former prime minister Datuk Seri Najib Razak (pictured) wielded "ultimate power" when it came to decision-making in 1Malaysia Development Bhd (1MDB), its former chief financial officer (CFO) Azmi Tahir told the High Court here on Thursday.
Azmi, the 12th prosecution witness in the 1MDB-Tanore trial in which Najib stands as the only accused, said that the structure of the company which was predicated upon its Memorandum and Articles of Association gave Najib the ultimate power in making decisions in the company despite there being a board.
He also said that instructions from fugitive financier Low Taek Jho, or Jho Low, were as good as orders from Najib himself.
"Najib as the prime minister has the ultimate power in making decisions, especially those which concerned investments, financial decisions and national interest, in line with Article 117 of the Memorandum and Articles of Association of 1MDB," he told the court.
Article 117 requires 1MDB to obtain the prime minister's prior written approval for major decisions, including those touching on the company's senior management, financial affairs and investments.
He also said that there were many private actions going on behind the scenes at 1MDB which were arranged by Jho Low through instructions and with "blessings" from Najib.
"People were handpicked and put in top management at 1MDB as well as the board of directors to ensure that these instructions were followed," he said, reading from his witness statement.
He also said that Jho Low played an important role as an adviser to Najib, adding that the businessman was perceived as Najib's "right-hand man" and trusted by the then premier.
Azmi then elaborated on Jho Low's "work in silo" modus operandi he implemented with the senior management of 1MDB which included him, Mohd Hazem Abd Rahman (the chief operating officer or COO), Datuk Shahrol Azral Ibrahim Halmi (chief executive officer or CEO), Vincent Koh (chief investment officer or CIO), Jasmine Loo (general counsel) and Terence Geh (deputy CFO).
"Jho Low told me that all tasks were on a 'need to know' basis which meant that I was only briefed on an issue based on my scope of duty," he said.
He also said that Jho Low would issue the talking points and action plan documents through emails and his BlackBerry Messenger to Azmi and others in the circle.
"These emails needed to be deleted immediately after being read as Jho Low did not want them to be leaked out as the instructions involved decisions by the [then] prime minister," the witness said.
Najib was in same countries as Jho Low during 1MDB meetings, says witness
Azmi also elaborated on the relationship between Najib and Jho Low, saying in his statement that when he met Jho Low multiple times in relation to 1MDB in Malaysia, Singapore, Abu Dhabi and the US, Najib was also in those countries at the material time.
"From what I can recall, when I met Jho Low in Abu Dhabi and the US, Datuk Seri Najib, who was the prime minister then, was also present in those countries.
"Datuk Seri Najib was visiting those countries sometime in 2013 or 2014," he said.
Previously, Hazem who was a witness also testified that Najib was the "ultimate boss" behind the transfer of millions of ringgit out of 1MDB.
Shahrol, who also testified previously, said that Najib was "virtually the emperor" of 1MDB as he was the ultimate decision maker of the company.
Najib has been charged with four counts of abuse of power to enrich himself with RM2.3 billion from 1MDB, and 21 counts of money laundering for the same amount.
He faces up to 20 years' imprisonment, if convicted.
The trial resumes on Thursday afternoon.
Get the latest news @ www.EdgeProp.my
Subscribe to our Telegram channel for the latest stories and updates