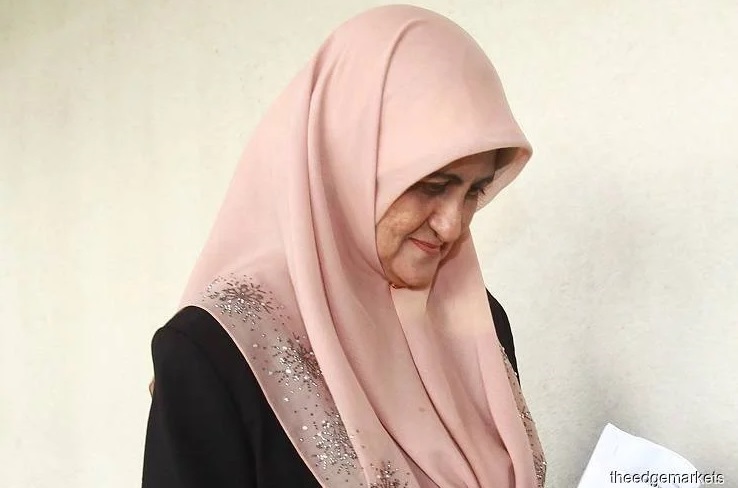 KUALA LUMPUR (Jan 13): The final version of the 1Malaysia Development Bhd (1MDB) audit report in 2016 was not to be printed until former Prime Minister Datuk Seri Najib Razak had given his approval, a former audit director told the High Court today.
Saadatul Nafisah Bashir Ahmad (pictured), the seventh prosecution witness in Najib and former 1MDB chief executive officer Arul Kanda Kandasamy's 1MDB audit tampering trial, testified that this was a direct instruction from the then Chief Secretary to the government Tan Sri Ali Hamsa on Najib's behalf.
The witness said she presented the final audit draft to Ali at his office on Feb 29, 2016, after which she was instructed not to print the report until Najib gives his green light.
"Hamsa told me, 'don't print the report until his greenlight'," Saadatul Nafisah recounted in the witness statement she read out before Justice Mohamed Zaini Mazlan today.
Ali also said printing the report would have a "political impact" on the country, Saadatul Nafisah said, adding the report given to Ali was the version that had been amended following instructions from Arul Kanda and other high ranking government officials, which resulted in certain portions being removed from the report.
Saadatul Nafisah, who was with the special 1MDB audit team under the National Audit Department (NAD) at the time, said she was instructed to remove four items from the audit report just five days before it was passed to Ali during a meeting the latter chaired on Feb 24, 2016.
Two days before that on Feb 22, Saadatul Nafisah said Najib had a meeting with then auditor-general Tan Sri Ambrin Buang at the ex-premier's office to discuss the final 1MDB audit report.
During the meeting, she said Ambrin also brought up the issue that there were two different versions of the fund's financial statements for the year 2014.
Najib, however, instructed Ambrin to omit that information in the report, Saadatul Nafisah said. "Najib then gave him his guarantee that he will carry out a comprehensive investigation into 1MDB as soon as possible," she added.
Soft copy of audit report requested, but Ambrin turned it down
Saadatul Nafisah also said Ali's senior private secretary, Datuk Norazman Ayob, had told her on Feb 28 that Ali wanted the final draft of the audit report by 4pm that same day.
"Since it was a Sunday, and the report was being updated, I informed Norazman that the document would be handed over the following day after consent from Ambrin," she said.
Norazman had also requested for the final audit report to be sent to Ali in softcopy, but this request was denied by Ambrin, citing security reasons, Saadatul Nafisah said.
Najib is facing abuse of power charges in the case, where he is alleged to have, as prime minister and finance minister, ordered changes to be made to the 1MDB audit report before it was finalised and tabled to the Public Accounts Committee, to avoid any civil or criminal prosecution.
The charge, framed under Section 23(1) of the Malaysian Anti-Corruption Commission (MACC) Act 2009, carries a jail term of up to 20 years and a fine, upon conviction.
Arul Kanda, meanwhile, has been charged with abetting Najib under Section 28(1) of the MACC Act 2009, which carries the same punishment.