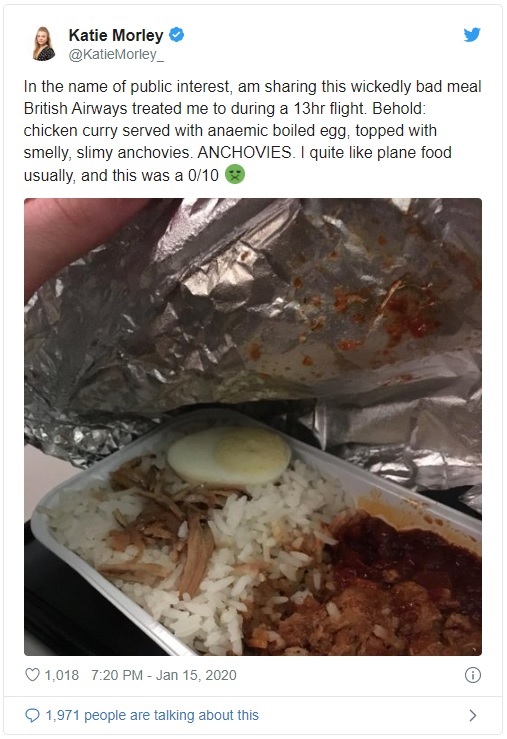 KUALA LUMPUR (Jan 17): Malaysians can get a bit nationalistic about their food. Just look at all the online wars we have waged against Singaporeans and Indonesians about the origins of some the region's yummiest foods.
It was therefore not surprising when UK-based journalist Katie Morley tweeted on Wednesday (Jan 15) about the poor Asian food she was served during a flight on British Airways.
"Behold: chicken curry served with anaemic boiled egg, topped with smelly, slimy anchovies. ANCHOVIES. I quite like plane food usually, and this was a 0/10," Morley wrote.
Unfortunately for Morley, it was her description of our national cuisine, the nasi lemak (as she also had an accompanying photo in her tweet), and that resulted in some very strong reactions from Malaysians.
Atieqah Rashid replied to Morley: "Why you even ordered it when you don't even know what's inside it? So lame. Everyone knows nasi lemak duh… It's our traditional food… Please at least respect others cuisine if you wanna be respected."
Some were more accommodating, attempting to explain to the British journo what nasi lemak was all about.
"The anchovies aren't supposed to be slimy, it's supposed to be crispy. It's British Airline anyway, you can't expect a 10/10 traditional Asian food lol," tweeted a Malaysian known as Balqis.
Another Malaysian was not happy that Morley's maiden nasi lemak experience was so underwhelming and did not fault her for her reaction.
"As Malaysian, I'm ashamed that someone presented nasi lemak to you like that. I'm more ashamed that my fellow Malaysian defended that below par nasi lemak. Blasphemous, at best," tweeted Oliver J Howard.
Of course, inevitably, there will be a gracious Malaysian who will offer to bring a foreigner to taste our great food.
"Hi Katie Morley... Let's go for breakfast tomorrow and have Nasi Lemak with crispy anchovies," tweeted Suzana Norlihan Ujen.
Another Malaysian named Khalid decided to be philosophical about it, saying: "I'm sorry you have to pay the price for the painful legacy of colonialism."
An Andrew Morris (most probably not a Malaysian) puts it best in his reply to Morley, saying she "offended a nation".
Morley later tweeted: "Many Malaysians have got in touch to say the meal I tweeted about yesterday is a popular national dish. I'd not come across it before and meant no offence.
"As many have pointed out, I was clearly served a very poor version by BA. Sure it can be lovely and hope to try the real thing one day!"