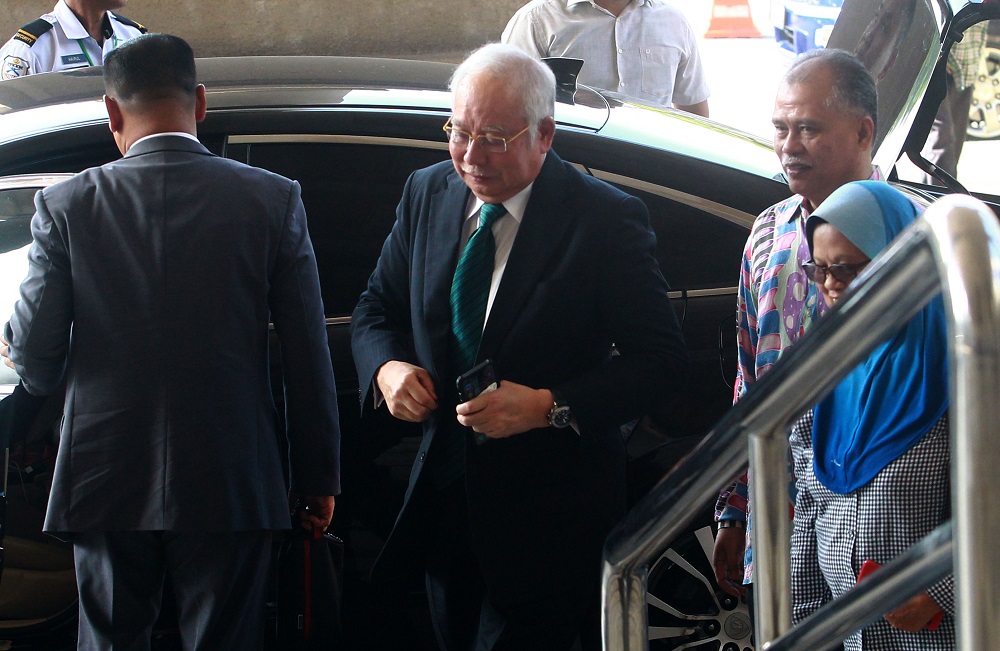 KUALA LUMPUR (Jan 22): Datuk Seri Najib Abdul Razak admitted today that he did not have a plan to retrieve RM3.6 billion of SRC International Sdn Bhd's funds which were frozen at a bank in Switzerland, having prevented former second finance minister Datuk Seri Ahmad Husni Hanadzlah from retrieving the money.
Najib's admission came as deputy public prosecutor Datuk V Sithambaram was conducting his cross-examination on the former prime minister in the SRC trial at the High Court.
Sithambaram began by asking Najib why he had blocked Husni's move to lead a delegation to Switzerland to resolve the issue of the SRC funds in frozen bank accounts there. Some RM3.6 billion in the accounts — part of the RM4 billion loan from the Retirement Fund Inc (KWAP) — were frozen by Swiss authorities at the time on suspicion of being laundered funds.
Najib reiterated his stance that Husni had not made a formal request or told him of his plans to retrieve the funds.
Sithambaram: If a minister makes a request to go to Switzerland to get the funds back, what plan would you expect?
Najib: I was expecting him to tell me in detail how he is going to do it. He needed to submit a proper plan.
Najib added that for any minister to go abroad, a proper plan has to be submitted to the Cabinet for approval first.
Sithambaram then asked Najib whether he himself had suggested a plan to retrieve the funds, knowing that the money was frozen in Switzerland at the material time.
Sithambaram: Since this was your baby, and RM4 billion was stuck, did you suggest to him, as a responsible finance minister, a plan?
Najib: I didn't suggest to him.
Sithambaram then asked him if he had come up with a plan.
"No. I left it to the management (of SRC)," was Najib's response.
Najib then reiterated that eventually the government would have stepped in and the matter would be discussed at a government-to-government level.
Sithambaram said nothing was done from 2013 to 2015.
The former premier reiterated the need of a plan for him to consider.
While Sithambaram suggested that it could work government-to-government, Najib agreed but reiterated that he did not have any plans on how to bring the money home despite being the finance minister and the prime minister.
When the DPP suggested that Najib was not interested to bring the money home since it had been frozen, the former premier disagreed.
Husni had previously testified as a prosecution witness in the case that he had wanted to meet the Swiss authorities to help unfreeze the money but was advised against it by Najib.
"I feel it was not money laundering, and was prepared to convince the Swiss authorities that it is KWAP money. However, Najib did not agree to this," Husni had said, adding that Najib did not give any reasons.
Today is the 74th day of the SRC trial. Najib faces multiple counts of criminal breach of trust, money laundering and abuse of power, involving a total of RM42 million of SRC funds.
He is alleged to have received RM27 million and RM5 million on Dec 26, 2014, and another RM10 million on Feb 10, 2015.
The Edge is reporting the proceedings of the SRC trial live.
Users of The Edge Markets app may tap here to access the live report.