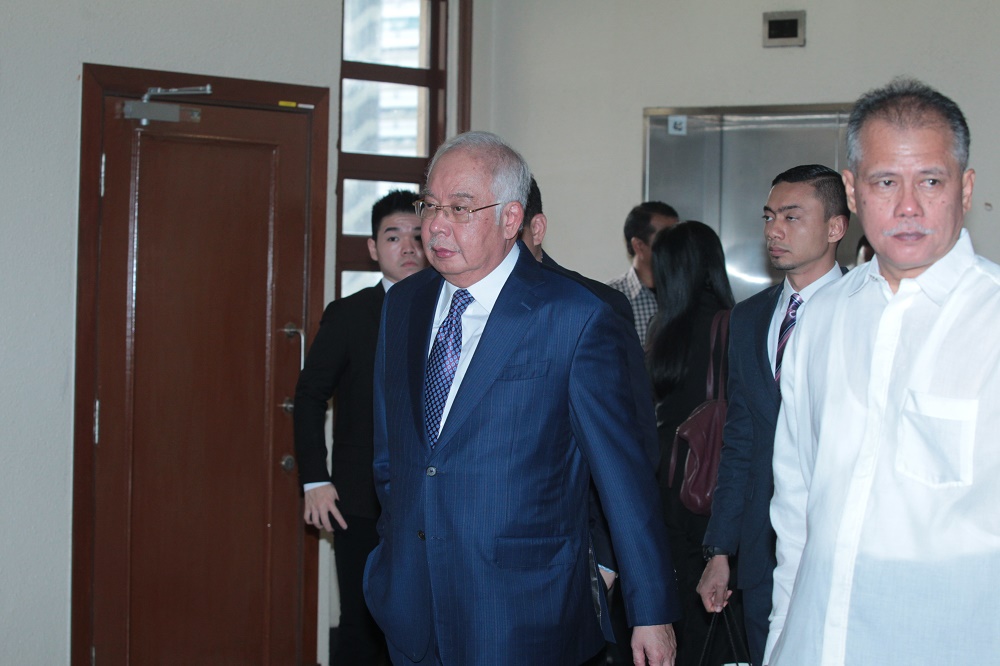 KUALA LUMPUR (Jan 23): Datuk Seri Najib Abdul Razak told the court today that he was not aware that the money he had been spending from one of his bank accounts were the funds transferred from SRC International Sdn Bhd, a former unit of 1Malaysia Development Bhd (1MDB).
The former prime minister said he assumed that the sum was part of hundreds of million of US dollars he alleged was donated by Saudi Arabian royalty and never checked his bank statements even while he spend the money by issuing several cheques.
This is the 75th day of Najib's SRC trial, where he is accused of seven counts of abuse of power, criminal breach of trust and money laundering of RM42 million from the company.
During his cross-examination today, ad hoc prosecutor Datuk V Sithambaram pointed out that the transaction history showed that funds were periodically funnelled into Najib's account as and when he needed to write cheques.
Sithambaram asked Najib if he had thought the RM42 million he was spending then was also part of the Arab donation even after he had used up the donation.
Najib replied that he was never aware that RM42 million from SRC was coming into his account.
The prosecutor puts it to the accused that he was waiting for the funds to enter his account so that he could issue cheques.
Najib, who is also former finance minister, disagreed with Sithambaram's suggestion that these were funds organised by fugitive businessman Low Taek Jho or Jho Low for Najib to spend.
Sithambaram suggested further that it was not true that the former prime minister actually believed that the RM42 million that was deposited into his account was from Arabs after Najib used up the four tranches of remittances.
Najib said he did not know the source of the money at the material time.
Sithambaram: I put it to you that you knew the state of the accounts and your evidence that you thought these were Arab funds is not true.
Najib: I disagree.
Sithambaram: As the transactions in your account show, funds were periodically funnelled into your account as and when you needed it.
Najib: I disagree.
Sithambaram: I put it to you that you, together with [former chief private secretary] Datuk Azlin [Alias], had arranged for SRC funds to be injected into your account.
Najib: I totally disagree.
Sithambaram: You spent the RM42 million. Did you think it was part of the Arab donation that came in 2011, 2012 and 2013?
Najib: It was the money that came into my account. I was never aware of any monies coming from SRC.
Sithambaram: That is not my question. The reason why you said you spent the RM42 million, you said you assumed it was from Arab donation.
Najib: The balance of it, yes.
The Edge is reporting the proceedings of the SRC trial live.
Users of The Edge Markets app may tap here to access the live report.