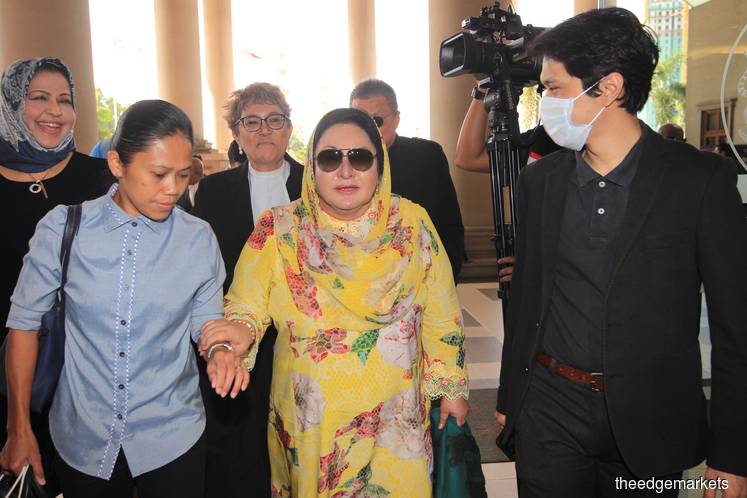 KUALA LUMPUR (Feb 6): The driver for Jepak Holdings Sdn Bhd managing director Saidi Abang Samsudin told the High Court today about delivering bags of cash to Datin Seri Rosmah Mansor's aide Datuk Rizal Mansor in 2016 and 2017.
Shamsul Rizal Sharbini, 42, who is the prosecution's fourth witness, said at the end of 2016, he went to Pavilion Kuala Lumpur in Bukit Bintang here to deliver two bags to Rizal.
"I saw the two bags later being placed in a black Toyota Vellfire car," said the witness, adding he cannot remember the car's registration number.
On the second occasion, Shamsul Rizal testified they went to Rosmah's residence in Jalan Langgak Duta to deliver another two bags containing the money that was withdrawn from the Maybank Medan Tuanku branch earlier.
He said he cannot remember the exact dates he delivered the money, only that the drops took place at the end of 2016 and 2017 respectively.
Shamsul Rizal also verified the pictures taken by the Malaysian Anti-Corruption Commission witness, Mohd Redzuan Othman at Rosmah's Jalan Langgak Duta residence, as the second place where he went to deliver the cash.
Yesterday, Maybank officer Azimah Aziz, who was the third prosecution witness, testified that Saidi had withdrawn RM5 million on Dec 19, 2016 and another RM1.5 million on Sept 6, 2017.
Click here to look for condominiums in Bukit Bintang, Kuala Lumpur.