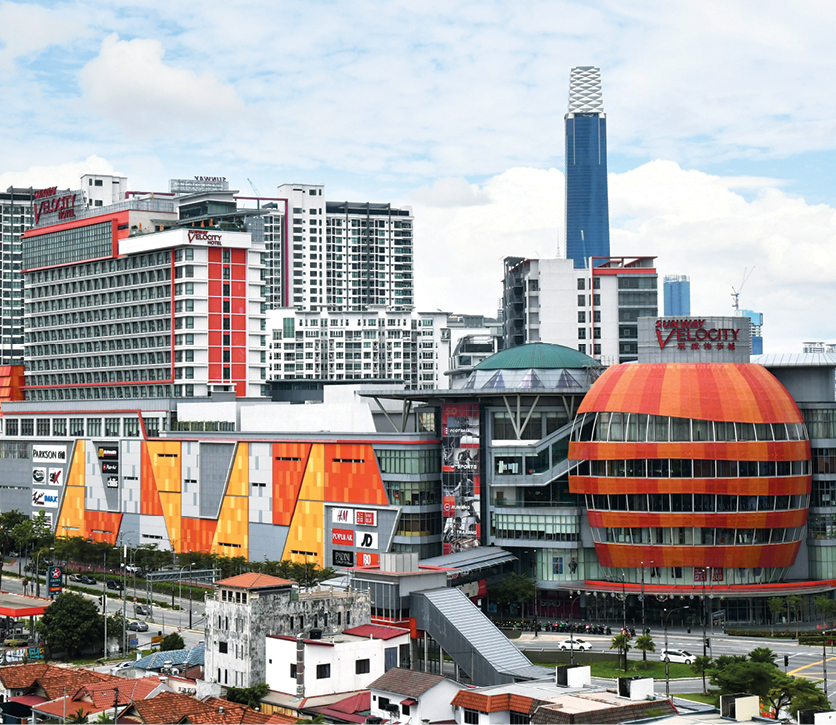 Bit by bit, Kuala Lumpur's Taman Maluri (commonly called Maluri), along with its surrounds, has slowly transformed from an old working class residential area into a new exciting commercial hub with ample lifestyle and local community living elements.
Covering an area of around 2.95 sq km (about 730 acres), Maluri is one of the most prominent suburban locations in KL, sitting at the border of the city centre adjacent to the Pudu and Chan Sow Lin areas.
Read also
Maluri's food heritage
According to Savills Malaysia managing director Datuk Paul Khong, Maluri was developed in the 1960s and was mainly a residential precinct with government quarters. Back then, its commercial components housed small businesses such as mini markets, car workshops and restaurants.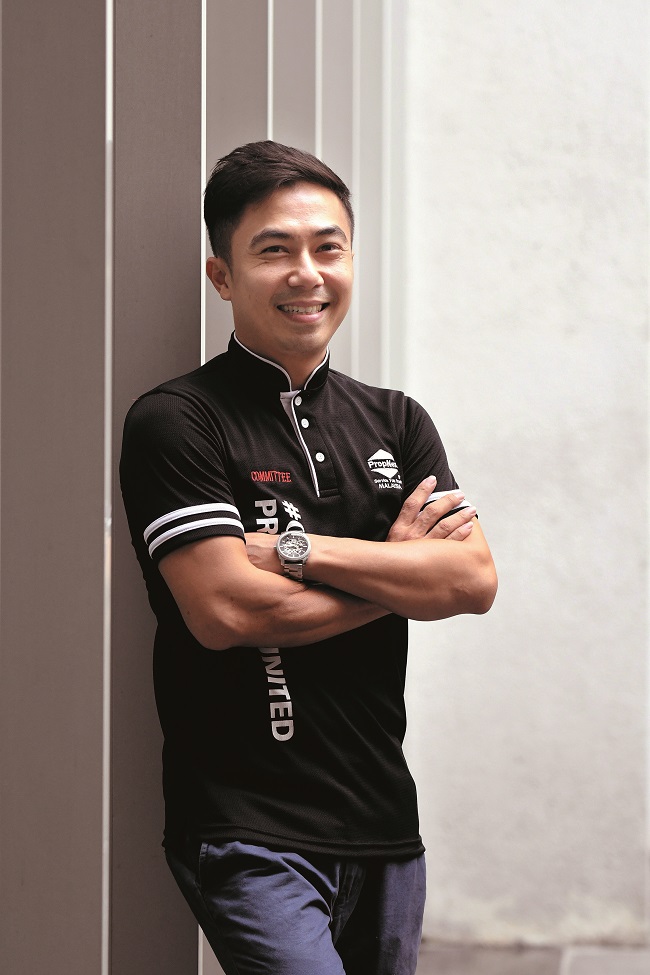 However, over the last decade, the older places in Maluri, such as along Jalan Cochrane and Jalan Peel, have seen urban regeneration activities bringing in new vitality.
"Redevelopment in this area has changed the landscape tremendously. Some single-storey houses and low-cost houses have been replaced by MRT (mass rapid transit) stations, IKEA Cheras, MyTOWN Shopping Centre and Sunway Velocity," PropNex Realty Sdn Bhd Head of International Market Matt Tian notes.
Maluri's old dame of retail is the 30-year-old AEON Taman Maluri which has recently been refurbished and expanded. But the newer malls entering Maluri are the main reasons for its renewed vitality.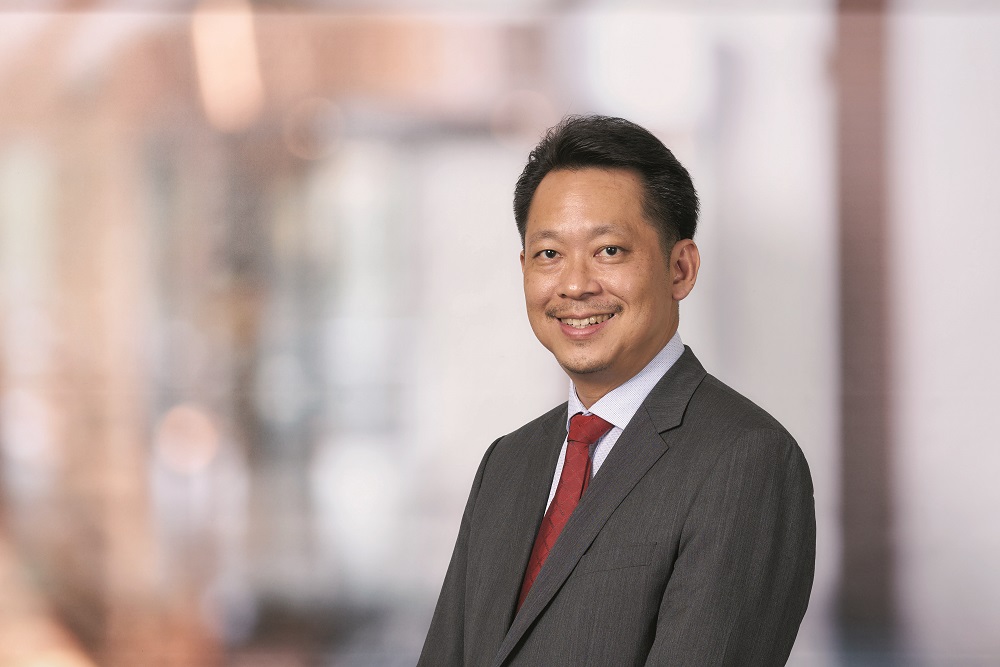 Sunway Velocity opened its doors end-2016 while IKEA Cheras and the MyTOWN Shopping Centre linked to it opened in November 2015 and March 2017 respectively. NSK Trade City at Jalan Peel also opened early-2018.
The completion of the MRT Sungai Buloh–Kajang Line (MRT 1) has also given a big boost to the desirability of the properties here.
With its strategic location and new identity as a retail destination, what more could Maluri offer property investors?
Affordably-priced houses
Based on EdgeProp.my's data, most high-rise residential developments in Maluri have seen around 15% to 40% value appreciation between 2012 and 2018/2019, except Amaya Maluri and V Residence @ Sunway Velocity that have not been completed in 2012.
While many residential properties in Maluri and its fringes had seen value appreciation from 2012, prices have moderated from their peaks in 2015 with developments in Maluri generally holding up better than those on its fringe.
(See Chart 1)
Property prices and rents in Maluri are generally more affordable compared with other locations within a similar distance from the city centre such as Bangsar, Brickfields, Sri Hartamas and Mont'Kiara, notes Henry Butcher (M) Sdn Bhd COO Tang Chee Meng.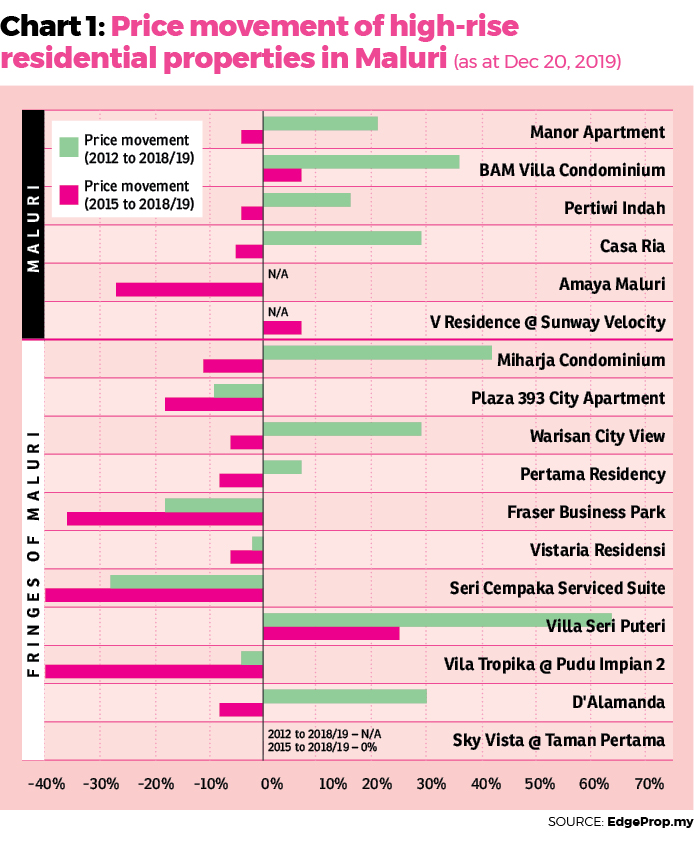 Among the existing high-rise homes, units at V Residence @ Sunway Velocity have changed hands at above RM1,000 psf, setting a benchmark price for high-rise residential properties in the area. But other developments in the area have lower prices.
EdgeProp.my's listings as of November 2019 showed that older developments in the Maluri area such as Bam Villa, Manor Apartment and Casa Ria have average asking prices of RM340, RM360 and RM415 psf respectively.
Meanwhile, new developments under construction include Mah Sing Group Bhd's M

Vertica, with prices starting from around RM560 psf.
PropNex Realty's Tian believes that the overall average psf price of high-rise homes in Maluri will take another few years to catch up with the transformation happening there.
"The actual value of the place has yet to be captured and fully reflected in the pricing but there is no doubt that Maluri is evolving into a mid- to high-end market," he enthuses.
Tang, on the other hand, holds a more cautious stance. He notes that while the older projects are mainly owner-occupied, the newer and smaller-sized serviced apartments sold from RM700 psf to over RM1,000 psf have attracted more investors. "I believe such projects would be more vulnerable to changes in market sentiments," he says.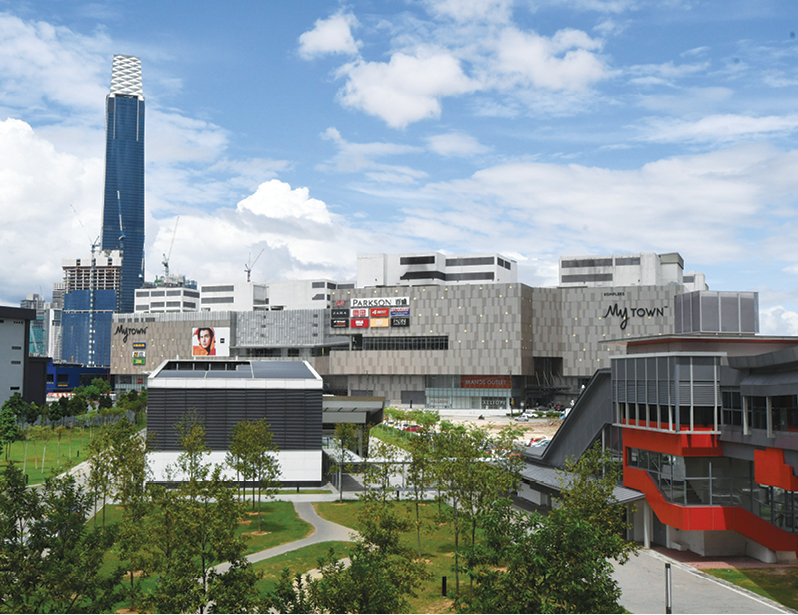 For terraced houses, EdgeProp.my data as at November 2019 showed their average transacted price in 2019 at RM759,167 or RM435 psf — the highest price recorded since 2012 when the price was at RM570,864 or RM310 psf.
Meanwhile, semi-detached houses were sold at an average price of RM860,000 or RM239 psf in 2012. The price grew to RM1,480,000 or RM441 psf in 2015, then dropped to RM1,330,000 or RM344 in 2018. There was no transaction recorded in 2019.
EdgeProp.my data showed that the average asking monthly rents of old high-rise residences in Maluri range from RM1,500 to RM2,000, translating to around RM1.50 to RM2 psf. The newer properties such as Amaya Maluri and V Residence @ Sunway Velocity ask for around RM2,000 to RM3,500 rental per month or RM2.60 to RM3.60 psf.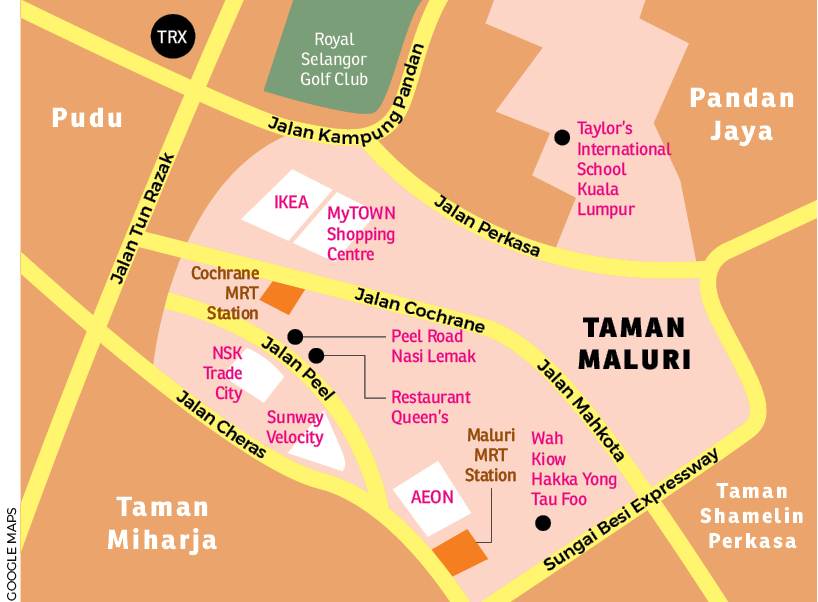 Outlook
The real estate experts believe that Maluri will become a major suburban location with a strong residential demand. Why?
For one, Maluri is located close to Tun Razak Exchange (TRX), a 70-acre integrated development that is slated to be KL's new central business district and touted as Malaysia's International Financial District. "In addition to the existing infrastructure and commercial centres, Maluri will continue to blossom, thanks to the spillover from the TRX development," Khong of Savills Malaysia says.
The lower zone of office building The Exchange 106 at TRX was awarded a Certificate of Completion and Compliance (CCC) in 3Q 2019 and is ready for occupancy. The 492m tall building with 106 floors is currently the tallest building in Malaysia. Meanwhile, The Exchange Mall is slated to open in 3Q2021.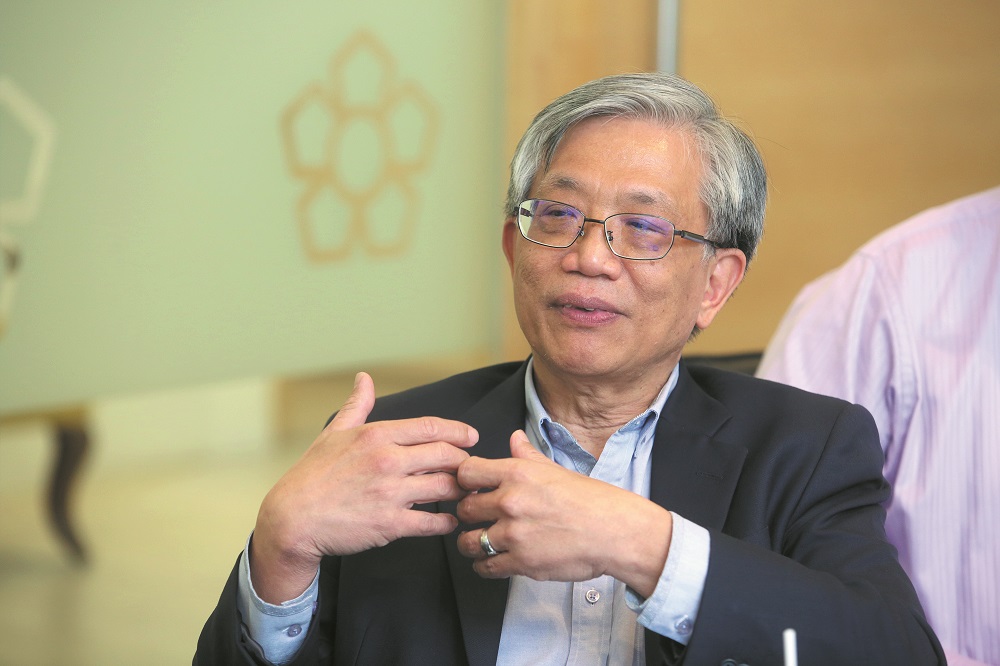 "With the addition of retail and commercial components, more job opportunities are expected, hence more residential demand," Tian of PropNex Realty says.
"Maluri would be an ideal place to reside in due to its close proximity to the KL city centre, the ample shopping malls, plenty of amenities as well as convenient public transportation and highways," Tang of Henry Butcher opines.
Within the precinct are various amenities including schools, eateries, medical centres, hotels and shopping malls. Tian points out that the area is drawing the younger generation due to the malls and convenient public transport system in the form of the Cochrane MRT as well as the Maluri MRT and LRT stations. The area also enjoys easy access to the Maju Expressway and Sungai Besi Expressway.
Going forward, the planned MRT Sungai Buloh-Serdang-Putrajaya (SSP) Line (MRT 2) passing by Chan Sow Lin and the TRX development will enhance accessibility further and bring in more traffic. Meanwhile, the Setiawangsa-Pantai Expressway (SPE) which was previously known as DUKE 3 is set to link north and south KL, thus improving Maluri's accessibility to the northern parts of the Klang Valley and the Bangsar South area.
Incoming supply
A number of new projects are coming up in the area, mainly high-rise condominiums and serviced apartments, as vacant land for development is scarce. "Depending on the project location, size, design and pricing, condominiums and serviced apartments generally enjoy satisfactory take-up rates," Tang says.
According to Khong of Savills Malaysia, from 2008 to 2012, Maluri's high-rise residential supply was flat at about 3,688 units. New supply began to appear after the completion of Amaya Maluri in 2013.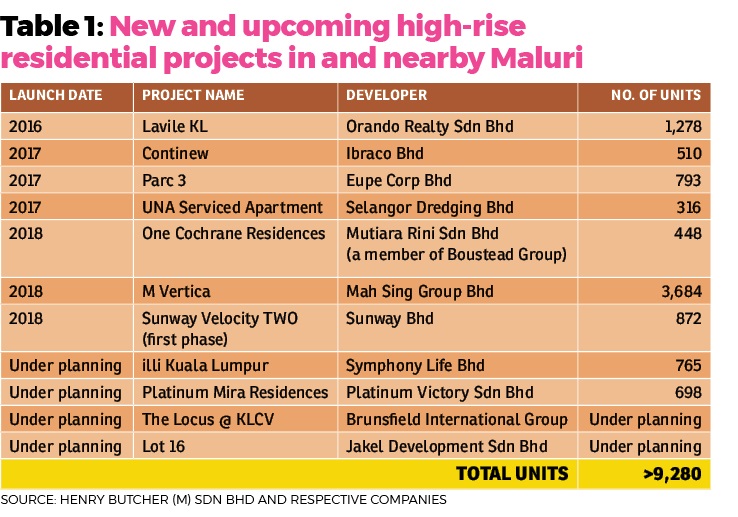 It is estimated that from 2019 to 2022, there will be around 3,000 new units coming into the market, while the completion of M Vertica slated for 2023 is expected to bring in another 3,684 units. (See Chart 2 and Table 1)
While residential supply is expected to grow beyond 2023, Khong notes that there are some pockets of government and private land available for redevelopment. Hence more developments are likely in the future.
With the sizeable number of units to be completed in the next few years, Tang says this may result in investor-owners cutting rents to attract tenants.
Traffic congestion is another issue that needs to be addressed, considering the high number of incoming supply.
He also warns that many of the new projects are mixed developments, hence investors should also be aware of the issue of maintenance fee computation for such projects — a topic that has been in the spotlight lately.
Interested in buying a property in Taman Maluri? Click here.
This story first appeared in the EdgeProp.my pullout on Feb 7, 2020. You can access back issues here.