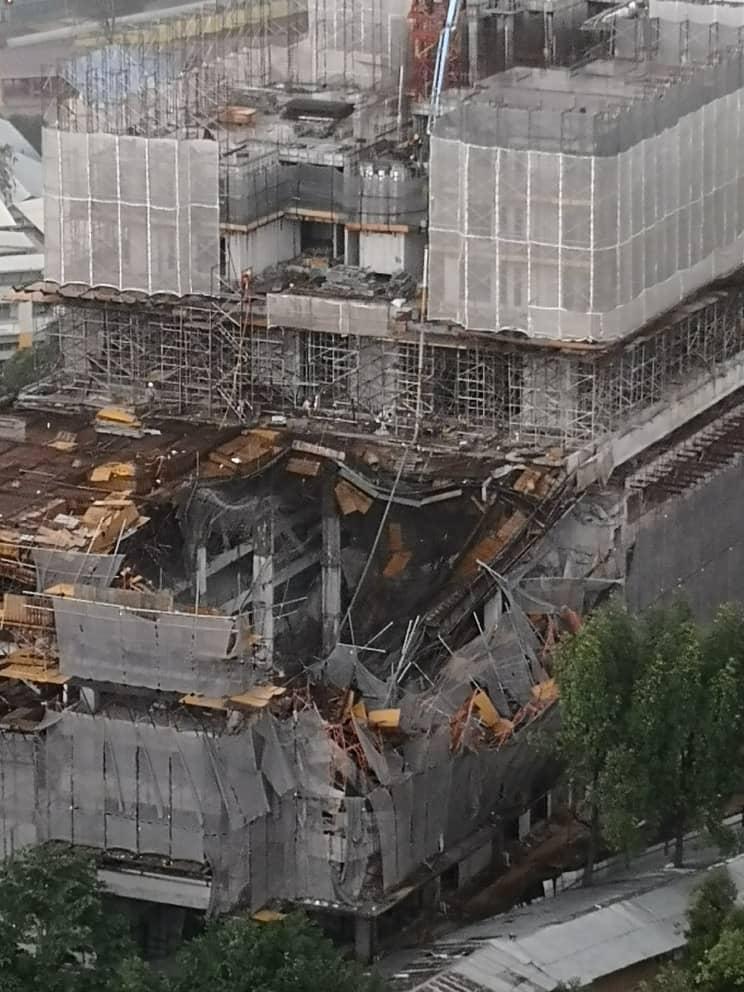 PETALING JAYA (Feb 16): People who have bought units at the Taman Desa condominium project which partially collapsed (pictured) late on Friday afternoon "should be given the option to opt out of their purchase agreement or continue with the purchase", Free Malaysia Today reported a property lawyer saying today.
Salkukhairi Abd Sukor told the news portal that "standard sales and purchase agreements did not provide for an automatic cancellation if a building under construction suffers a collapse" and "if the developer of the Taman Desa project agrees to allow any buyer to cancel, both parties must enter into a termination and settlement agreement".
"Such an agreement will detail the rights of the buyers, including the return of payments made and their rights to compensation and so on," he added.
Salkukhairi also called on the authorities to "intervene in the matter, to protect the interests of buyers", reported FMT.
"Building safety cannot be taken lightly and the developer and authorities must look at this seriously," he said.
"Buyers who wished to proceed with their purchase must be given a detailed explanation that the building would be safe to inhabit in the future," he added.
It has been reported that the mishap occured at the construction site of The Address 2 condo project. It is being developed by Maxim Holdings Sdn Bhd.
Earliers news reports revealed that a local residents group called SaveTaman Desa Coalition has protested vigorously against the devlopment since 2017.
The Malay Mail reported today that coalition urged the government to "revisit" their concerns about the project.
Taman Desa resident Philip Phang told Malay Mail that "residents' concerns over the condominium project still stand today; safety concerns and question marks of how the project was approved".
"In the Kuala Lumpur City Plan 2020 (KLCP 2020) the land which The Address [2] is built on, is still marked as a green lung.
"We asked many questions regarding the project, but none of them were answered by the government or the local authorities," Phang said.
Meanwhile, it was reported yesterday that Housing and Local Government Minister Zuraida Kamaruddin said the sales licence of the condominium project will be suspended until investigations are completed.
On Friday, a stop-work order has been slapped on the contractor of the condominium project.