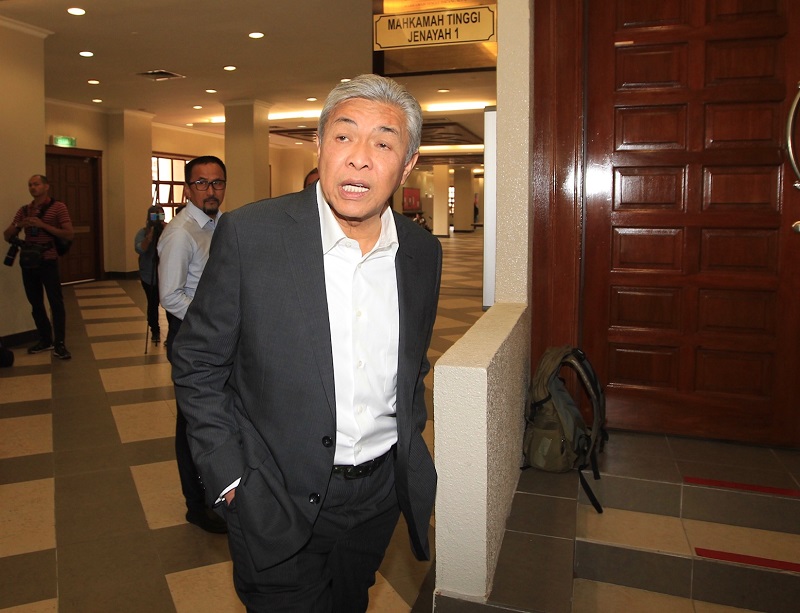 KUALA LUMPUR (19 Feb): Datasonic Group Bhd deputy managing director Chew Ben Ben told the High Court today that an alleged RM6 million bribe the company gave to former deputy prime minister Datuk Dr Ahmad Zahid Hamidi in 2017 was in fact a political donation to his Barisan Nasional coalition government.
Chew said he would not have proposed the political donation had Zahid not been the then DPM and minister of home affairs.
"I want to state that if he had not held the two positions (DPM and minister of home affairs), I would not have proposed that Datuk Hanifah give the RM6 million donation to Barisan Nasional through Zahid," he said in his witness statement today, adding the donation was for "long-term prospects".
According to Chew, the donation was made because Datasonic Technologies Sdn Bhd (DTSB) director Datuk Abu Hanifah Noordin felt grateful that the company had been listed and wanted to make the contribution to show its support.
"The reason we made that donation was because Datuk Seri Ahmad Zahid was the vice-president of BN, (and) Hanifah felt grateful.
"He felt grateful to BN at that time for a stable economy and a peaceful country. The 'long term' was because of the nation's stability in politics; he was happy with the government of the day. He is a businessman, we want politics to be stable so the economy can prosper," he explained after deputy public prosecutor Gan Peng Kun asked him to clarify what he meant by "long-term prospects".
Chew testified that after a meeting he had with Zahid in April 2017 in Putrajaya, he was led to believe that the latter needed money for the upcoming general election.
At that meeting, Chew had offered to give a donation to Zahid through Hanifah.
"I asked how much he (Zahid) needed for Barisan Nasional and whether Hanifah and I [could] make a political donation," he said.
"Zahid then told me that it was up to me as to how much I intended to give BN," he said.
Chew then testified that Zahid had asked him to make the cheque out to a Maybank account owned by Lewis & Co instead of Umno or Barisan Nasional's accounts.
He then told Justice Collin Lawrence Sequerah that upon informing Hanifah the very next day about the donation, Hanifah had agreed to donate a sum amounting to RM6 million through Zahid for political purposes.
Chew, who is the 34th prosecution witness in Zahid's trial, said that he had advised Hanifah to use his own funds — and for the cheque recipient to be left blank — because Datasonic Group Bhd could not issue the funds as it would require approval from the board of directors.
On April 25, 2017, Hanifah passed two cheques to Chew, one for RM5 million and another for RM1 million. Chee said the cheques were under Hanifah's own company, Sarana Kencana Sdn Bhd, and the recipients' names were kept blank.
He then personally handed the two cheques over to Zahid at the latter's residence in Putrajaya.
Cross-examined by Zahid's lawyer Datuk Ahmad Zaidi Zainal, Chew said that Zahid had not asked him for the funds.
Zaidi: Zahid never told you that BN needed political funds?
Chew: Never.
Chew said that he took it upon himself to propose that the donation be made to Zahid.
He also defended himself saying that the money was not his money as it came from Hanifah.
The charge sheet against Zahid states that Zahid allegedly received a bribe from Chew Ben Ben, a director of Datasonic, in the form of two cheques worth RM5 million and RM1 million issued by Sarana Kencana Sdn Bhd to a Maybank account owned by Lewis & Co.
Zahid in his capacity as then home affairs minister is said to have facilitated the appointment of Datasonic Technologies Sdn Bhd to provide 12.5 million chips for Malaysian passports to the Immigration Department under a five-year contract through direct negotiations at the Ministry of Home Affairs.
Chew stressed that the donation was not made to facilitate the award of the contract by Zahid in 2015.
The member of parliament for Bagan Datuk, Zahid faces 47 charges — 12 for criminal breach of trust, eight for bribery and 27 for money laundering — involving millions of ringgit belonging to Yayasan Akalbudi.
Click here to see condominiums for rent in Putrajaya.