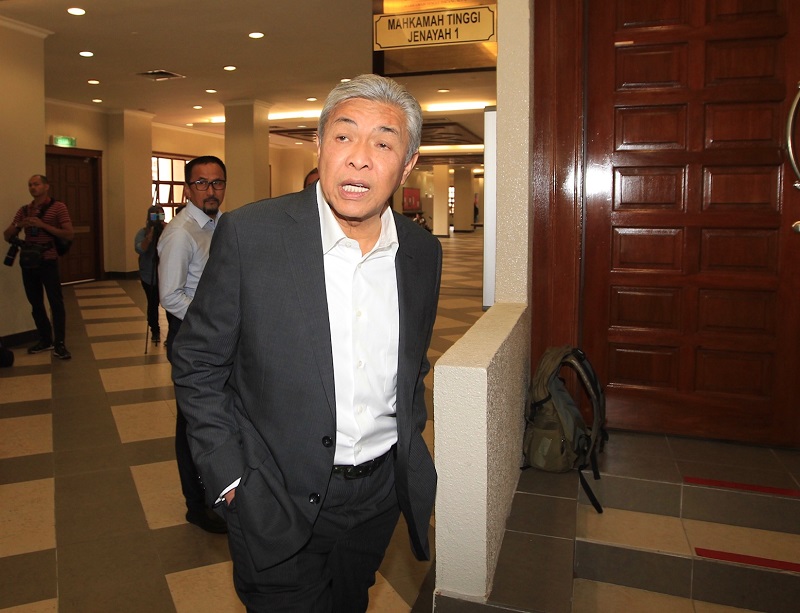 KUALA LUMPUR (Feb 19): The High court today allowed a witness in the corruption trial of Former Deputy Prime Minister Datuk Seri Dr Ahmad Zahid Hamidi to be treated as hostile by the prosecution because of discrepancies between his written statement and testimony.
As prosecution witness Junaith Asharab Md Shariff was deemed to have contradicted his statements in court, Justice Collin Lawrence Sequerah allowed deputy public prosecutor Gan Peng Kun to treat Junaith as hostile and to cross-examine him over discrepancies in his statement.
The prosecution submitted that Junaith, who allegedly paid a RM250,000 bribe to Zahid — using the company Jogabonito Jewellery & Diamonds to pay the amount and the account of Messrs Lewis & Co, Advocates and Solicitors to receive the funds — had made contradictory remarks in his oral testimony compared to his witness statement, particularly paragraphs 53, 55 and 56.
Businessman Junaith said he had personally given 10 RHB Islamic Bank cheques totalling RM5 million from his own company Syarikat Berani & Jujur Trading to Zahid.
In paragraph 53 of the witness statement, he said that Zahid had told him that the cheques were to be made out to Messrs Lewis & Co as they were his trustees. In addition, Junaith said that the money was donated to build a Tahfiz school and a mosque in Bagan Datoh.
However when cross-examined by the defence lawyers, he claimed he did not know that Messrs Lewis & Co was Zahid's trustee.
In paragraph 55 of his witness statement, Junaith had said that in return for his donation, Zahid had promised him he would get projects from MYEG worth RM50 million after the 14th General Election in 2018, and that these projects had to do with foreign workers.
In paragraph 56, Junaith said that Zahid had also asked him to send in a proposal for the said project.
However, when questioned by the lawyers after reading his statement, Junaith said he had never directly spoken to Zahid on any of the matters.
"I never spoke to Zahid directly about these things, I was only told about it through Datuk Seri Mohamad Nasaee that Zahid would give me the MYEG project," he said explaining that Mohamad Nasaee is his close friend and also Zahid's brother.
After Collin allowed Junaith, the 36th prosecution witness, to be treated as hostile, the defence lawyers asked him about his witness statement which was recorded by the MACC. Junaith claimed he was coerced by the Malaysian Anti-Corruption Commission (MACC) to sign the witness statement.
"I was threatened by the MACC and forced to sign the witness statement, they told me I would be prosecuted if I didn't sign it," he said, adding he was detained by the MACC for almost 12 hours when they drafted his statement.
Collin asked both parties to make a submission on the validity of Junaith's testimony at the end of the prosecution's case.
Earlier businessman M Kumaraguru M. Muthusamy testified that in 2016, he had set up a company called Mastoro Kenny IT Consultant & Services under his name at Junaith's request, to obtain projects from MYEG.
Kumaraguru confirmed signing 13 cheques for a total of RM8 million issued from Mastoro Kenny's RHB Islamic Bank account in 2016 and 2017 at Junaith's request.
This relates to Zahid's 12th charge of receiving the cheques as inducement for help in securing projects from MYEG.
Zahid, who is also the Member of Parliament for Bagan Datuk, is facing 47 charges — 12 for criminal breach of trust, eight for bribery and 27 for money laundering — involving millions of ringgit belonging to Yayasan Akalbudi.
Click here to see condominiums for rent in Putrajaya.