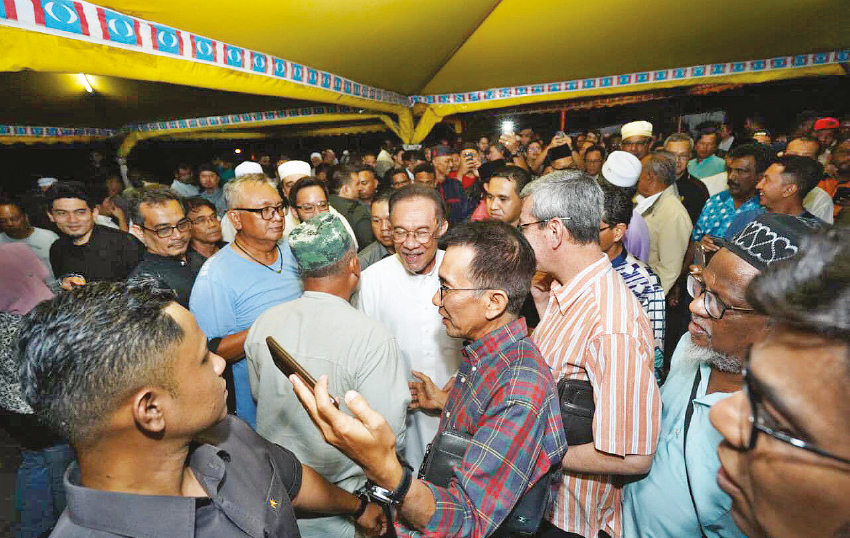 PETALING JAYA (Feb 24): The nation's political landscape could see a major tectonic shift in power in the coming days with a new coalition taking shape which sees the end of Pakatan Harapan.
Mounting political uncertainties are expected to exert selling pressure on the local bourse, which is already clouded by economic concerns particularly after the COVID-19 virus outbreak.
No investor likes uncertainties in any form. The latest developments have added even more uncertainties on the country's political scene, said analysts and fund managers when contacted.
"There could be selling pressure on Malaysian assets in the short term as a knee-jerk reaction until more clarity is achieved. Generally all businesses and investors want to see stability and smooth running of the government whatever the outcome is," said a fund manager.
A chief investment officer noted that the domestic market was already dampened by the uncertain succession plan, which was perceived as signs of infighting in the coalition. "Now this confirms the fears," he added.
Rumours of the new coalition came to fruition last night as leaders from Barisan Nasional, Bersatu, PAS and a splinter faction of PKR had gathered together for a "special meeting".
The meeting — held ironically at the very same hotel in Petaling Jaya where Pakatan celebrated their victory on May 9, 2018 — saw presidents of the above parties in attendance fraternising with one another.
Prior to that, there were also sightings of more than 20 VIP vehicles entering Istana Negara — likely belonging to politicians and that stoked the rumour mill.
Umno president Datuk Seri Dr Ahmad Zahid Hamidi, PAS president Datuk Seri Abdul Hadi Awang, Bersatu president Tan Sri Muhyiddin Yassin and PKR deputy president Datuk Seri Mohamed Azmin Ali had all arrived in stages at the dinner which was called "Majlis Makan Malam Muafakat Ahli Parlimen".
It should be noted that no members of Parliament (MPs) from DAP and Parti Amanah Negara attended the almost two-hour-long dinner at Sheraton Hotel, Petaling Jaya last night. This meeting comes after the rising tensions between Mohamed Azmin, his party president Datuk Seri Anwar Ibrahim and Prime Minister Tun Dr Mahathir Mohamad over who will take over once Mahathir steps down as prime minister.
The high-profile dinner has intensified speculation that the fall of the Pakatan coalition made up of DAP, PKR, Bersatu and Amanah and the formation of a new coalition around Bersatu, Umno, PAS and the PKR splinter.
Other members present at the meeting included Umno secretary-general Tan Sri Annuar Musa, Datuk Seri Hishammuddin Hussein, Rembau MP and shadow finance minister Khairy Jamaluddin, PAS secretary-general Datuk Takiyuddin Hassan, MIC president Tan Sri SA Vigneswaran and MCA president Datuk Seri Dr Wee Ka Siong.
Members of Mohamed Azmin's faction in PKR who were at the dinner included Datuk Saifuddin Abdullah and Baru Bian as well as MPs such as Maria Chin Abdullah and Ali Biju. Earlier in the day, Mahathir, who is Bersatu chairman, had a meeting with the party's presidential council. After the meeting, speculation was rife that Mahathir would seek an audience with the Yang di-Pertuan Agong to inform him of the new coalition.
Nonetheless, the Prime Minister's Office quashed the rumours, noting that Mahathir went home after meeting his presidential council and he was not at the palace to seek an audience with the King. Many were expecting that Mahathir would announce the new coalition at the dinner last night but he was nowhere to be seen.
Over at PWTC, Umno leaders had all gathered at its headquarters for an emergency Umno supreme council meeting called by Ahmad Zahid. It was not known what took place at that meeting. However, many Umno supreme council members were at the dinner.
Anwar says it is 'treachery'
Meanwhile, PKR president Datuk Seri Anwar Ibrahim, who was supposed to take over from Mahathir as the eighth prime minister, spoke of "treachery" in the Pakatan coalition at a separate event.
At a prayer session in his residence in Segambut, Anwar said: "We know there are attempts to bring down the Pakatan government involving our former friends in Bersatu and some who are attempting treason in PKR.
"They have met with the Yang di-Pertuan Agong this evening (yesterday), and there is no announcement yet.
"We are surprised today with the development which to us is treachery, as there were promises made, and this would result in changes which I expect will happen soon," he said, likely referring to the arrangement within Pakatan for Anwar to take over as PM from Mahathir as early as November this year.
Elsewhere, former prime minister and BN chairman Datuk Seri Najib Abdul Razak confirmed that he had signed a statutory declaration (SD) to support the unity government, according to reports.
"Yes I have signed an SD, but with conditions," he was quoted by the media as saying when contacted.
Another leader of the second largest party in the Pakatan coalition, DAP's Nga Kor Ming tweeted about his dissatisfaction of the rumoured new coalition.
"The only legitimate government is the government from the people, by the people and for the people," he tweeted.
"Any 'back-door government' without a mandate from the people is a betrayal to the country and the people. It is illegitimate, will not last long and will be punished by the people," added Nga, who is also the Dewan Rakyat deputy speaker.
Click here to see commercial properties for sale in Kuala Lumpur.
This article first appeared in The Edge Financial Daily, on Feb 24, 2020.