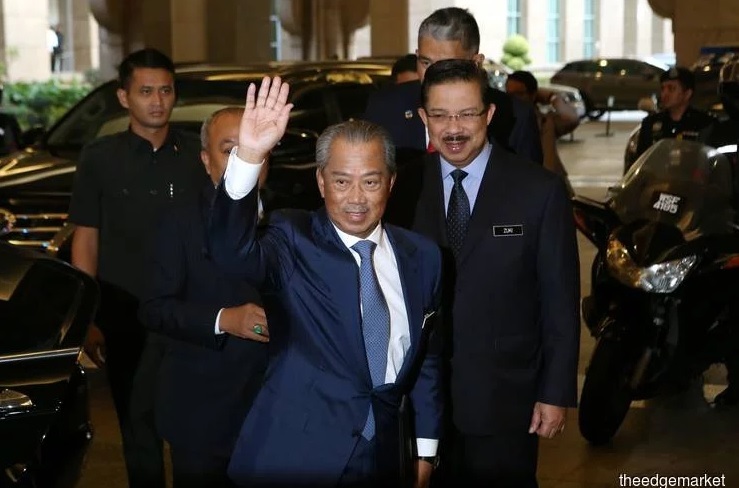 KUALA LUMPUR (March 3): Former prime minister Datuk Seri Najib Razak is confident that his one-time foe and current Prime Minister Tan Sri Muhyiddin Yassin has enough MPs in Parliament for a vote of confidence to command the majority of the August house.
Speaking to the press after the adjournment of his SRC International Sdn Bhd trial at the High Court here, Najib said this is due to support from the latter's Parti Pribumi Bersatu Malaysia (Bersatu), Umno, PAS and Gabungan Parti Sarawak (GPS).
Bersatu, Umno, PAS and GPS collectively have 114 MPs in Parliament, which is slightly over the simple majority of 112 out of 222 seats needed to form a government. However, this does not take into consideration a list of lawmakers purportedly supporting former prime minister Tun Dr Mahathir Mohamad, which include five from Bersatu.
A vote of confidence can be tabled by an MP from the ruling coalition to demonstrate support for the prime minister.
Now, attention should should be turned towards repairing the economy, said Najib.
"We have the numbers, I believe, but the focus now should be on the economy and make sure it is in good shape to restore confidence," he said.
He also added that Muhyiddin should be given the chance to deliver as prime minister.
"We should give him the chance to execute and deliver," he said, adding that Muhyiddin is tasked with a big responsibility and faces onerous challenges.
Najib has, together with his party, thrown their full support behind Muhyiddin as prime minister.
In 2015, Muhyiddin was sacked from his post as deputy prime minister by Najib after the former began publically questioning about the RM2.6 billion deposited into the private accounts of Najib as part of the 1MDB scandal.
The 72-year-old political stalwart from Muar, Johor had formed Bersatu after he was kicked out of Umno by Najib.
On Sunday, he was sworn in as the nation's eighth prime minister.