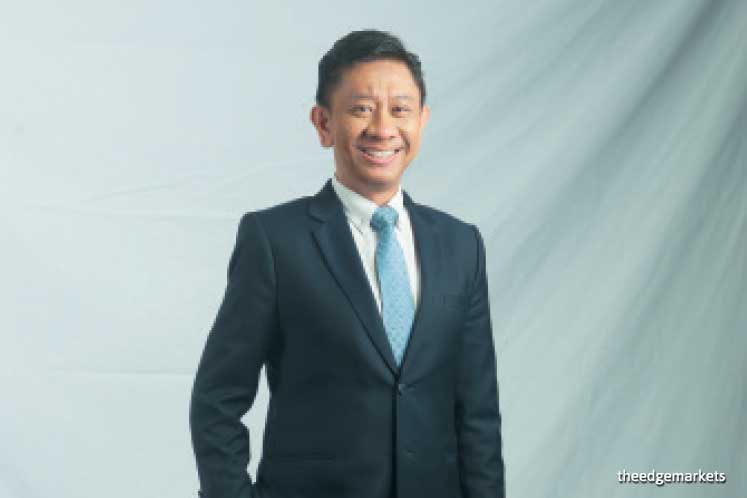 KUALA LUMPUR (March 9): The sluggish retail market outlook, contributed by an already slowing economy and now the COVID-19 outbreak, has not deterred the spirits of AEON Co (M) Bhd. The country's leading retailer is staying positive and says this time of uncertainty presents an opportunity for the company to reflect on what it can do better.
AEON managing director (MD) Shafie Shamsuddin, who was appointed on Jan 1 amid the outbreak, described the situation as a "wake-up call". Fresh into the role, he said the focus now will be on making sure that safety precautions are carried out for the group's numerous outlets and malls to ensure both staff and customers can carry on with daily business transactions.
AEON operates 35 outlets, 28 malls, 74 Wellness pharmacies, 42 Daiso stores and six MaxValu Prime supermarkets.
Businesses and retail outlets are now taking precautionary measures by offering hand sanitisers for public use as well as face masks to staffs. Some companies which have been subjected to suspected cases are now also carrying out thorough cleaning exercises in their office.
AEON too is taking its own initiative, said Shafie. Various cleaning measures will be conducted till June, and will require a certain amount of investment, though he declined to disclose a figure.
Besides taking safety precautionary measures, Shafie said focus will also be placed on supporting the businesses within the AEON ecosystem.
"We have a mall business, so we understand that the tenants and suppliers and small and medium enterprises working with us are facing more difficulties. They could be facing a drop of between 20% and 50% in revenue compared to last year [due to the impact of the virus]," Shafie told The Edge Financial Daily in his first media interview since being appointed.
He said the government's recently announced economic stimulus package, which targets sectors likely to be affected by the outbreak such as retail and tourism, should help support businesses.
Acknowledging the proposals to reduce rental rates for tenants and provide discounts on utility bills in the stimulus package, Shafie said AEON would like to do more to address the lack of spending that is hurting the economy.
"Discounts and lowering rental rates are good suggestions. However, this is just to help sustain the business. We also need to address how we can increase the cash flow in the economy because for now, people are not spending as much. AEON will be announcing some measures to address this in the coming week," he said.
Shafie said the group's financial performance for the current financial year ending Dec 31, 2020 (FY20) is likely to be impacted by the slow sales. In fact, the COVID-19 outbreak which started in December last year already had a slight impact on AEON's financial results for the fourth quarter of FY19.
The net profit for that quarter fell 6.8% to RM49.88 million from RM53.54 million a year earlier, on higher interest expense and lower share of results of associates.
Nevertheless, the group posted a 4% increase in net profit to RM109.29 million for the whole of FY19, from RM105.12 million for FY18. Revenue was higher for both the quarter and full year by 5.4% and 4.3% respectively.
Shafie acknowledged that consumer spending trends have been affected, where customers postpone purchases for hard goods such as electronic appliances. Nevertheless, the soft goods and food items category remain unaffected, he said.
On the reported panic buying among Singaporean residents to stock up on food supplies and household items such as tissue paper, Shafie said it did spill over into Johor Baru early last month with AEON stores in the city experiencing a rush of Singaporean residents.
He said despite visibly less visitors to malls in general, AEON is fortunate that locals continue to visit its outlets to buy everyday goods.
"We are lucky because we are not a tourist-oriented mall. If you compare with some others, you know they are highly dependent on the tourist crowd, so they are likely to be more affected," he added.
Shafie declined to disclose the group's expansion plans for the meantime, saying he will be sharing more of the group's strategy with shareholders in the forthcoming annual general meeting in May.
A check on previous annual reports shows that the group generally opens at least one new mall a year.
Strategy-wise, Shafie acknowledged that with changing trends in consumer behaviour, there was a need to shift the mindset of the supermarket business model.
"In the past, conventional retailers are highly dependent on the supply chain model and they still are, though sustaining the business cannot just be relied on this. If you look at online retailers, they focus more on the demand chain model. I think this is an important aspect that supermarkets should also look into and is something we would like to focus on as well.
"This is important given that online retailers are on the rise and it is disrupting the conventional supermarket model business," he explained.
Shafie added that another type of business model that may define the future of business in both Malaysia and globally is the transparency business model, which is defined by open disclosure of business practices.
"For example, in the past, you don't see the chef, but now these days you see the chef at the front cooking food openly. You can see what he is cooking. Later on, you will see how he prepares the food, and even what products are being used. Everything will be transparent," he said.
Click here to see commercial properties for sale in Kuala Lumpur.
This article first appeared in The Edge Financial Daily, on March 9, 2020.