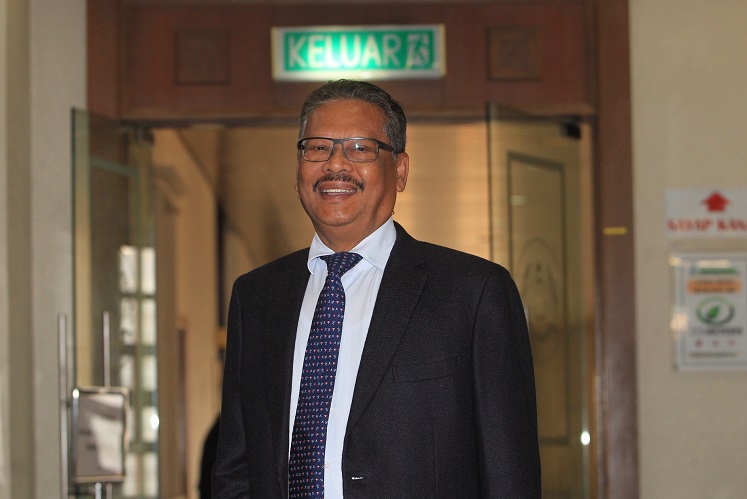 KUALA LUMPUR (March 9): Former attorney-general Tan Sri Apandi Ali today stood by his statements in January 2016 that former prime minister Datuk Seri Najib Abdul Razak had not committed any criminal offence in relation to the SRC International Sdn Bhd and 1Malaysia Development Bhd (1MDB) scandals.
Testifying in the High Court as a defence witness in Najib's SRC graft trial, Apandi said he did not see any wrongdoing on Najib's part as the then prime minister. This, according to him, is because Najib had no knowledge of SRC money coming into his personal account.
"I find that there is no evidence to show that the then-PM has committed any offence or done any corrupt practice.
"Based on the facts and evidence back then, I am satisfied that no criminal offence was conducted by the PM," said Apandi.
In January 2016, Apandi had released a two press statements on the investigations in 1MDB and SRC. The first press release on Jan 8 was to explain that a taskforce comprising the Malaysian Anti-Corruption Commission (MACC), the police, the Attorney General's Chambers and Bank Negara Malaysia was set up to investigate the two entities and that investigations were underway.
The second was titled "In relation to the investigation papers returned by MACC (Malaysian Anti-Corruption Commission) on SRC International and RM2.6 billion".
In relation to the RM2.6 billion, Apandi said in the statement: "I am satisfied that based on the evidence from witnesses and supporting documents given to me by the MACC, the sum of US$681 million (RM2.6 billion) transferred into the personal account of YAB PM is a personal donation from the Saudi Royal family, given to him without any consideration."
In regard to SRC, Apandi reasoned that:
there was no evidence showing that Najib had abused his power during the Cabinet meeting which approved the government guarantee of the RM4 billion from SRC to Retirement Fund (Incorporated) (KWAP)
the loan approval process was properly done
there was no evidence to show that Najib had solicited or was promised any gratification from any party when the Cabinet decision was made
there was no conflict of interest for Najib, and
the MACC had admitted that there was no evidence from witnesses that could show that Najib was involved in corrupt practices.
In that statement, Apandi had officially closed the investigations into SRC and 1MDB.
"I was satisfied that the money is from the Saudi royal family after looking at all the papers and facts," he said and added that he was satisfied that the loan approval from KWAP was done properly.
He further said that in his determination of the cases, Najib had no knowledge about the RM42 million in his account.
"It is my understanding that he (Najib) did not know about the RM42 million in his account. That's why I didn't charge him."
During the examination in-chief of the witness conducted by defence lawyer Tan Sri Shafee Abdullah, Apandi was asked if anyone had proposed to him that he covered up any criminal activities.
"The answer is no, I never gave any instructions on cover ups," he said.
Najib is on trial over seven charges related to SRC, three of which are for alleged criminal breach of trust over a total RM42 million of SRC funds while entrusted with its control as the prime minister and finance minister then.
Three of the charges are for alleged laundering of the RM42 million, and the last is for allegedly abusing the same positions for self-gratification of the same sum.
Click here to see commercial properties for rent in Kuala Lumpur.