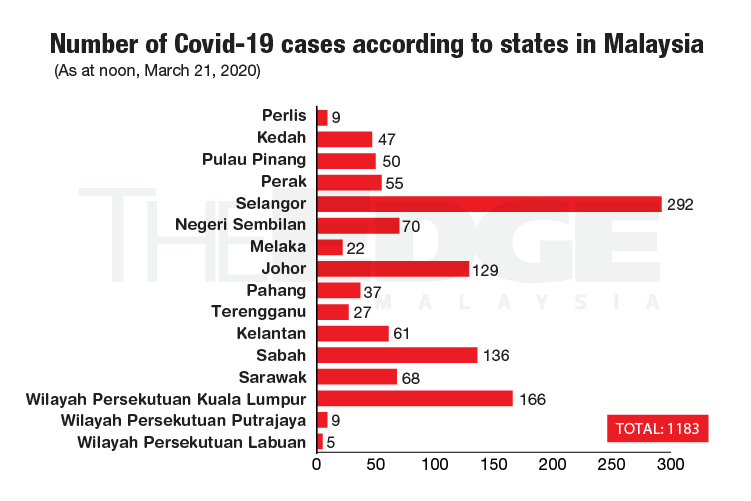 KUALA LUMPUR (March 22): Petaling Jaya and Lembah Pantai have the highest number of COVID-19 positive cases in the Klang Valley, accounting for 6.36% of the total 1,183 cases reported yesterday, said health director-general Datuk Dr Noor Hisham Abdullah.
Petaling Jaya in Selangor has 96 cases, making it the area with the highest number of confirmed infections in Malaysia, while Lembah Pantai here has 90 cases.
In Peninsular Malaysia, the other areas with the subsequent highest numbers of positive cases in Peninsular Malaysia were Lembah Pantai with 90 cases, Hulu Langat (75), Johor Bahru (52), Seremban (42), Titiwangsa (41), and Gombak (38).
Meanwhile, Penang island has 34 cases, followed by Kota Bharu (29), Kluang (26), Kepong (24), Klang, Batu Pahat and Kuala Muda (23 cases each), and Kinta (22).
In East Malaysia, Tawau has the highest number of recorded cases with 37 patients, followed by Lahad Datu (32) and Kuching (30).
At the state level, Selangor continues to lead with the highest number of cases at 292, followed by Kuala Lumpur (166), Sabah (136), and Johor (129).
Click here to see residential properties for sale in Petaling Jaya, Selangor.