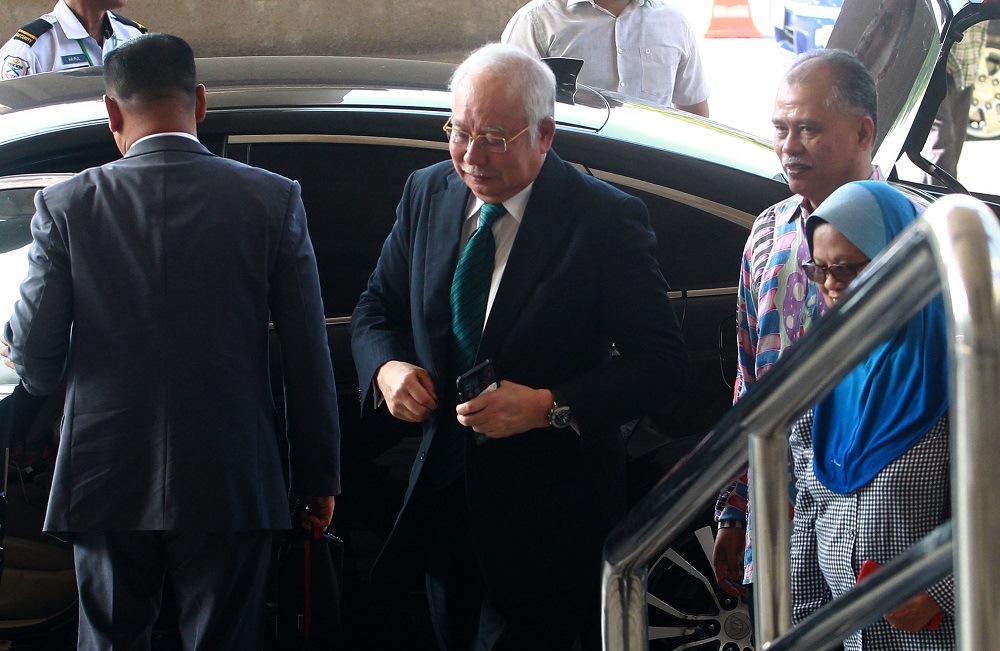 KUALA LUMPUR (March 25): AmBank Islamic Bhd and AMMB Holdings Bhd have joined with former relationship manager Joanna Yu Ging Ping to file a striking-out application of the suit filed against them by former premier Datuk Seri Najib Abdul Razak.
AmBank Islamic and AMMB filed the striking-out motion earlier this month before March 2. This was confirmed by Yu's counsel Datuk Dr Gurdial Singh Nijar to theedgemarkets.com.
"Yes, they (AmBank Islamic and AMMB) filed (the striking-out application)," he said.
Yu's striking-out application has been fixed for hearing before High Court Justice Datuk Khadijah Idris on April 15. However, it remains to be seen if AmBank Islamic or AMMB's striking-out application would be heard together on that day as well.
This follows the uncertainty as Prime Minister Tan Sri Muhyiddin Yassin announced the extension of the Movement Control Order from May 31 to April 14, following the Covid 19 pandemic that has already caused 17 deaths, with the nation recording another 172 new cases now totalling 1,796 nationwide as of noon today.
It is understood that AmBank Islamic and AMMB Holdings' reasons to strike out are quite similar to Yu's, namely that Najib's suit allegedly disclosed no reasonable cause of action against them. And, hence, it is therefore scandalous, frivolous, vexatious and an abuse of court process.
Najib, who is also Pekan Member of Parliament, filed the suit last December, through his solicitor Messrs Shafee & Co, concerning his AmBank accounts ending 694, 880, 898 and 906, in which the former premier claimed that some of the transactions were done without his prior knowledge.
The writ and statement of claim alleged that AmBank and Yu had breached their duties and were negligent in affairs concerning the four accounts as they disclosed information to fugitive businessman Low Taek Jho (Jho Low), who Najib said was an unauthorised third party.
The information complained to have been disclosed included balances of the funds, details of cheques, credit and debit remittance transactions and bank account statements.
The former premier also alleged that Yu and the bank had acted on Jho Low's instructions to actively ensure that the accounts and other banking statements were kept away from him, and they failed to inform him that Jho Low was seeking disclosure of information and documents.
Other unauthorised third parties named included Kee Kok Thiam, Ung Su Ling and Jerome Lee Tak Loong.
The former premier further alleged that the bank had failed to notify him that the accounts were being overdrawn by millions of ringgit for over 30 times as a result of the cheques issued and due to insufficient balances in those accounts.
Najib's SRC International Sdn Bhd case, where he faces seven charges — three for criminal breach of trust, one for abuse of power and three for money laundering in relation to RM42 million of SRC funds — had finished on March 12, where the hearing of submissions had been fixed on May 12, 13 and 18.
Stay calm. Stay at home. Keep updated on the latest news at www.EdgeProp.my #stayathome #flattenthecurve
Click here to see industrial properties for sale in Kuala Lumpur.