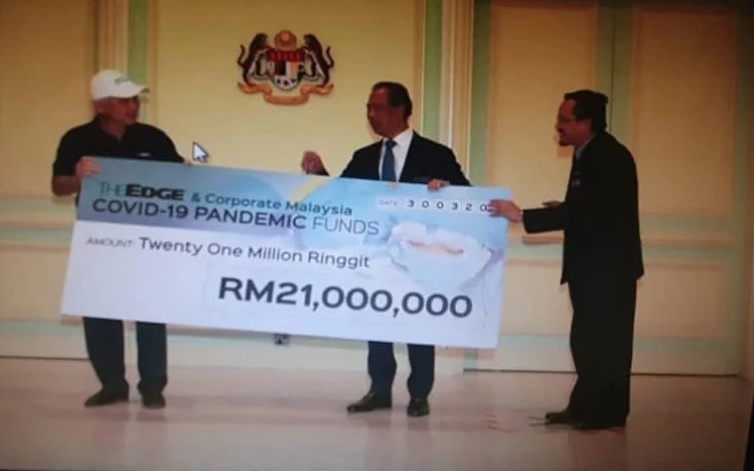 KUALA LUMPUR (March 30): The Edge Covid-19 Equipment Fund has started sending one million face masks and 35,000 personal protection suits to more than 30 designated hospitals — just one week after the fund was launched to raise money from Corporate Malaysia.
Ventilators and other breathing equipment will be delivered soon, said The Edge Media Publisher and CEO Datuk Ho Kay Tat.
"We raised money very quickly, thanks to the great support of businesses and individuals after we announced the initiative a week ago," said Ho. "While we were raising money, we were at the same time placing orders, which is why we could get the masks and protection suits so fast."
Prime Minister Tan Sri Muhyddin Yassin was today shown samples of the protection suits, masks, ventilators and oxygen concentrators that the fund bought to help our frontline health workers deal with the pandemic.
Also present were Senior Minister for Defence Datuk Seri Ismail Sabri Yaakob, The Edge Media Chairman Datuk Tong Kooi Ong, project medical adviser Datuk Dr Tamil Selvam and Adrian Ong, managing director of MR DIY — the project logistics partner.
To date, The Edge Covid-19 Equipment Fund has raised RM12.21 million, while The Edge Covid-19 Health Care Workers Support Fund has received RM8.9 million for a total sum of RM21.11 million.
Ho said the masks and protection suits will be delivered over the next one week to over 30 hospitals, including those in Sabah and Sarawak, by logistics partner MR DIY.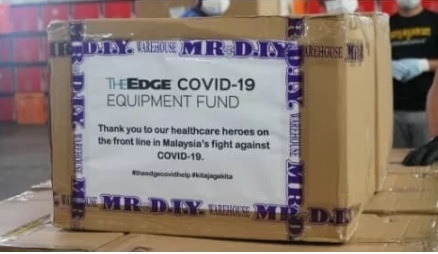 Ismail Sabri said the Royal Malaysian Air Force can help deliver to East Malaysia, given that many commercial flights have been cancelled.
NGOs Mercy Malaysia, the Malaysian Relief Agency (MRA) and the Islamic Medical Association of Malaysia (MARET) are also helping in the distribution work.
"Our medical adviser Dr Tamil Selvam has worked tirelessly to source the equipment and plan the allocation and distribution with MR DIY," said Ho. "I would also like to thank Heal Mediware Sdn Bhd and Insan Bakti Sdn Bhd for helping to get us ventilators, which are now so hard to come by."
Orders have been placed for 140 ventilators and 100 oxygen concentrators. Both are breathing equipment to help patients with different levels of respiratory problems. They should be available for distribution, in stages, over the next few weeks.
Ho said the fund will continue to source and buy medical equipment as long as it has the money. "The intention is not to keep money that has been donated, but to use them quickly to buy what is needed, before supply runs out. Our hospitals and health care workers are overstretched as the pandemic is spreading fast."
Other partners of The Edge for this project are auditor KPMG Malaysia and IT systems provider Rexit Bhd.
For enquiries, please email [email protected] or call 03-77218192.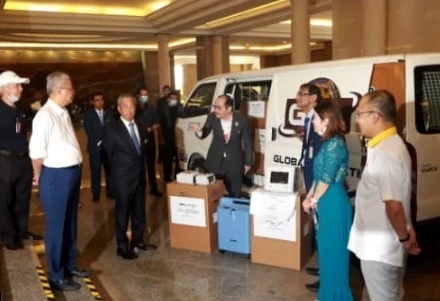 The following is the donors' list as at Friday, March 27, 2020.
The Edge Covid-19 Equipment Fund:
1. Associated Chinese Chambers of Commerce and Industry of Malaysia (ACCCIM) RM1.0 mil
2. Anonymous RM500,000
3. Batu Kawan Bhd RM250,000
4. Dialog Group Bhd RM500,000
5. ECM Libra Foundation RM500,000
6. Magnum Corp Bhd RM500,000
7. Matrix Concepts Bhd RM500,000
8. OSK Foundation RM500,000
9. Perdana ParkCity Sdn Bhd RM1.0 mil
10. Press Metal Aluminium Holdings Bhd RM500,000
11. QL Resources Bhd RM500,000
12. Taliworks Corp Bhd RM1.0 mil
13. The Edge Communications Sdn Bhd RM100,000
14. TSH Resources Bhd RM100,000
15. Westports Holdings Bhd RM750,000
16. YTL Power International Bhd RM500,000
17. Tan Sri David Cheng and Datuk Allan Lim (GPL Group) RM500,000
18. Datuk Simon Foong and Datin Mina Cheah-Foong (InNature Bhd) RM250,000
19. Datuk Seri Nazir Razak RM500,000
20. Tan Sri Shahril Shamsuddin and Datuk Shahriman Shamsuddin RM750,000
21. Datuk Tong Kooi Ong (UPP Pulp & Paper [M] Sdn Bhd) RM500,000
22. Yvonne Lam RM100,000
23. Tan Sri Ta Kin Yan/ Waz Lian Group RM500,000
24. Dato Foong Choon RM150,000
25. Eco World Foundation RM100,000
26. Dato Yu Chee Hoe RM50,000
27. Hitachi eBworx Sdn Bhd RM10,000
28. BFM Media Sdn Bhd RM10,000
29. OCP Wai Sek Group RM10,000
30. GT Tropicana Golf Group RM25,000
31. Ng Choon Lee RM15,000
32. Ng Geok Moi RM10,000
33.Others RM30,000
Total RM12.21 mil
The Edge Covid-19 Health Care Workers Support Fund:
1. Associated Chinese Chambers of Commerce and Industry of Malaysia (ACCCIM) RM1.0 mil
2. Affin Hwang Asset Management Bhd RM250,000
3. Dialog Group Bhd RM500,000
4. FWD Group/FWD Takaful Bhd RM2.0 mil
5. Hartalega Foundation RM1.0 mil
6. IJM Corp Bhd RM1.0 mil
7. KPMG Malaysia RM150,000
8. Magnum Corp Bhd RM500,000
9. Newfields Group RM250,000
10. Press Metal Aluminium Holdings Bhd RM500,000
11. Rexit Bhd RM250,000
12. Westports Holdings Bhd RM250,000
13. Tan Sri Shahril Shamsuddin and Datuk Shahriman Shamsuddin RM250,000
14. Paramount Corp Bhd RM500,000
15. Dato Teo Chiang Quan & family RM250,000
16. Silverlake RM100,000
17. Opus Asset Management Sdn Bhd RM50,000
18. City Lite Letrik Sdn Bhd RM50,000
19. GT Tropicana Golf Group RM25,000
20. OCP Wai Sek Group RM10,000
21. Others RM15,000
Total RM8.90 mil
As at March 27, 2020 combined amount: RM21.11 mil
Stay calm. Stay at home. Keep updated on the latest news at www.EdgeProp.my #stayathome #flattenthecurve