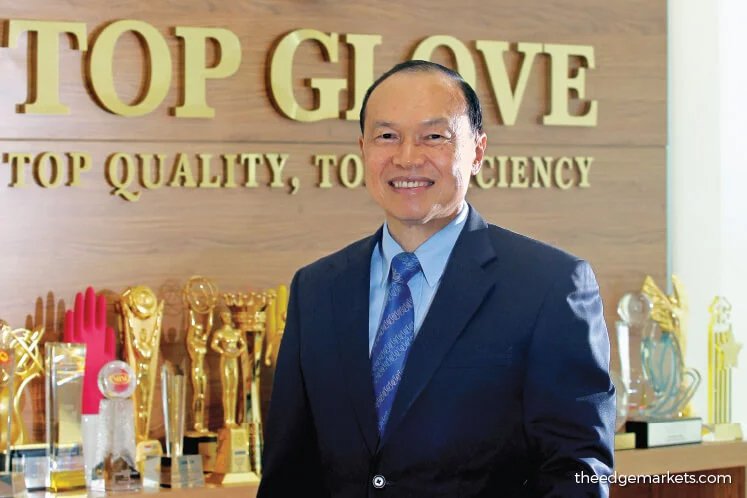 PETALING JAYA (April 2): Not many of us would imagine living beyond a century old, and fit and healthy at that. It is not impossible though, if you know the right way and are willing to work at it.
Top Glove Corp Bhd founder and executive Chairman Tan Sri Dr Lim Wee Chai shares his practices to achieve this goal of staying healthy and living until at least 120 years old in the company's website.
Besides leading one of the largest glove manufacturers in the world, Lim recently emerged as a substantial shareholder of property development company LBS Bina Group Bhd in March 2020.
He told The Health digital magazine that placing priority on mental and physical well-being has helped him build his wealth. Lim has practised what he calls his "5 Quality Wells" since young – Clean well, Eat well, Work well, Exercise well and Sleep well, which he believes is the formula for a long, healthy and prosperous life.
"If you follow these simple practices closely, I believe you will be able to live healthily and contribute positively until you are 120 years old or more," he said.
Propelling him is his personal motto – "Work is my Hobby, Exercise is my Duty, and Health is my Wealth". "Work is my Hobby" is a reflection of how much he enjoys his work. "Exercise is my Duty" underscores his commitment to stay healthy.
"I intend to live and work till I am at least 120 years old or for as long as I am still able to contribute positively," he was quoted as saying.
"Therefore, I need to ensure my body is fit enough to do so. To fit in regular exercise, even in my busy schedule, I must slot in exercise/sports as part of my daily routine," he said.
The 62-year-old entrepreneur plays badminton twice a week and golf as well as yoga once a week. "I also stretch for at least 10 minutes in the morning when I wake up and again before I go to bed. My schedule is planned out every day including time for my breakfast, lunch, dinner and exercise," he added.
Besides the 5 Wells, Lim has turned full vegetarian since 2018 and goes for health checks regularly. "I feel healthier and more energetic after this transition [to a vegetarian]," he said.
Lim's 5 Quality Wells:
1. Clean well: Brush your teeth and clean your tongue three times a day, bathe two times a day;
2. Eat well: Eat quality and a variety of food. Eat in moderation and not quantity;
3. Work well: Work smarter, faster and harder, be proactive and be seng mok (Cantonese for "smart"). Have a positive mindset and be honest;
4. Exercise well: Exercise about 30 minutes a day, four to five times a week, avoid being under- or over-stressed;
5. Sleep well: Sleep seven to eight hours a night.
Stay calm. Stay at home. Keep updated on the latest news at www.EdgeProp.my #stayathome #flattenthecurve