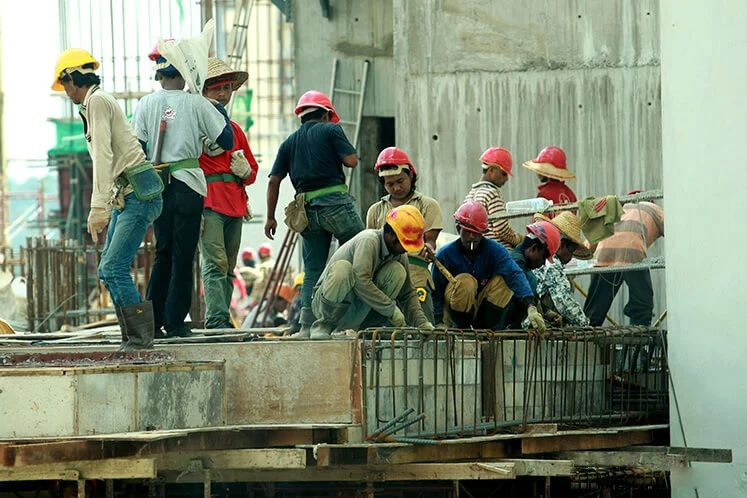 KUALA LUMPUR (April 27): It has been over six weeks since Malaysia shut down its RM1.4 trillion economy. Though the nationwide Movement Control Order (MCO) is harsh for the economy, it is necessary to safeguard public health. After more than a month into the lockdown, there is a sharp decline in the number of new fatalities. As more sectors of the economy look to resume operations in the coming weeks, Prime Minister Tan Sri Muhyiddin Yassin remains cautious, extending the MCO until May 12.
For the vast majority of bottom 40% Malaysian households living on less than RM4,360 a month, the prolonged shutdown of businesses could mean rising poverty and hunger. In anticipation of the economic distress, the government has responded promptly by announcing a RM250 billion economic stimulus package.
The main objective is to help businesses and protect the welfare of low-wage workers. The fiscal package will surely go a long way in helping small and medium enterprises (SMEs) cover their operating expenses, including worker salaries, and prepare for reopening. This is good news for the B40 population, many of whom rely on the SME sector for their livelihoods. But there is little attention to millions of migrant workers in the labour force.
Despite incentives targeting different categories of the population, there is a lack of legal and fiscal provisions to guarantee equal protection for the country's non-citizen workforce.
This means that Malaysia faces a new risk when the economy fully reopens and millions of non-citizens resume work.
The migrant workers have a disproportionately large presence in non-essential sectors like construction and tourism. Moreover, most are without a regular contract and subject to poor labour standards. This makes them one of the most vulnerable groups in times of crisis. The impact of the pandemic will hit them and their families overseas the hardest. If left unpaid and uncared for, they pose a serious threat to public health and would undermine the government's current efforts to flatten the coronavirus curve.
The stimulus package is particularly silent on the budgetary allocations towards the costs of screening workers for Covid-19 and is regressive. It exempts employers from paying for the mandatory virus screening test. The cost can go up to RM650 per test, almost two-thirds of the monthly minimum wage that most migrant workers receive. Instead the financial burden is passed on entirely to the worker. Registered workers are required to claim through the Social Security Organisation (SOCSO), which has recognised Covid-19 as an occupational disease. But the SOCSO scheme is meant to provide broad-based social protection during a crisis or shock. Depleting employee savings with SOCSO will only add to the vulnerability of workers, migrant and non-migrants alike.
For these reasons, the government's decision has already been criticised by the Malaysian Trades Union Congress.
But there is also another dimension that policymakers need to account for. Millions of undocumented migrant workers are outside SOCSO's protection. The consequences of leaving such a large pool of migrant workers untested will be devastating for the society as well as the economy.
So, how are the workers coping with the lockdown, given their exclusion from government's stimulus package?
To find out, we spoke to a dozen foreign workers in Kampung Pandan, Kampung Baru and Chow Kit. They shared stories of unfair dismissal, discriminatory pay cuts and food insecurity.
"We are paid on a daily basis. Since none of us are able to work since the MCO, we have no money", was the response of Nurul Islam, a foreign construction worker in Shah Alam who shares a room with eight others from Indonesia and Bangladesh.
When asked about the economic stimulus package, they replied "it's only for the Malaysians. Our boss told us that he won't pay us until the MCO is over. If the lockdown continues for another month, we won't have enough to eat".
Another migrant worker interviewed is Borhan Uddin, who works in a Chinese restaurant in Petaling Jaya: "There are seven immigrant workers in this restaurant. But my boss won't pay any wages until the restaurant reopens". When asked whether he was getting any additional help, Borhan replied "Boss gave each of us RM200 as a loan".
Indeed, some Malaysian employers recognise the value of foreign workers and are doing the needful to assist them. But in the absence of specific government directives, it is left to the employer's discretion. "I was paid only for the first week after MCO started. My company informed us that no further payment will be made until the MCO is over," said Muhammad Ali, who works as an automotive technician in Kuala Lumpur.
On the face of it, the government's stimulus package for the SMEs does not distinguish between foreign and local workers. When Prime Minister Muhyiddin announced the MCO on March 16, he insisted that employees forced to take unpaid leave during the MCO would receive RM600 per month as financial assistance. However, foreign workers are not eligible for this financial assistance as they are not covered by the Employment Insurance System (EIS) scheme. Worse, most migrant workers in the non-essential sectors are forced to take unpaid leave or quit.
The biggest concern however relates to undocumented migrant workers. All are reluctant to visit government health facilities. Despite government assurance, they fear deportation once the pandemic is over.
As the Malaysian government further revises the current stimulus package and makes new allocations, it should recognise the plight of all vulnerable groups, including the country's migrant workforce. The prime minister had stressed during his live telecast announcement that no one will be left behind. We agree. It is high time that the government provides clear guidelines and makes specific fiscal and legal provisions to make the stimulus package truly inclusive. No worker — citizen or non-citizen — should be left behind.
M Niaz Asadullah is professor of development economics at the University of Malaya in Kuala Lumpur and head of the Southeast Asia cluster of the Global Labor Organization.Mishkatur Rahman is a research student at the Faculty of Economics and Administration, University of Malaya.
Stay calm. Stay at home. Keep updated on the latest news at www.EdgeProp.my. #stayathome #flattenthecurve
Click here to see residential properties for sale in Putrajaya.
Like our content? Check out
Narratives
– where we curate stories based on topics to keep you well and broadly informed about Malaysian real estate.
Looking for property? Check out
Location Scan
, where we summarize all available options and facts you need in a few clicks. We have updated the tool to include MRT3 stations too.
Curious how much you can borrow? Use
LoanCheck
to get your maximum loan eligibility from various banks, or
LoanReport
to get a FREE CTOS/CCRIS credit report.