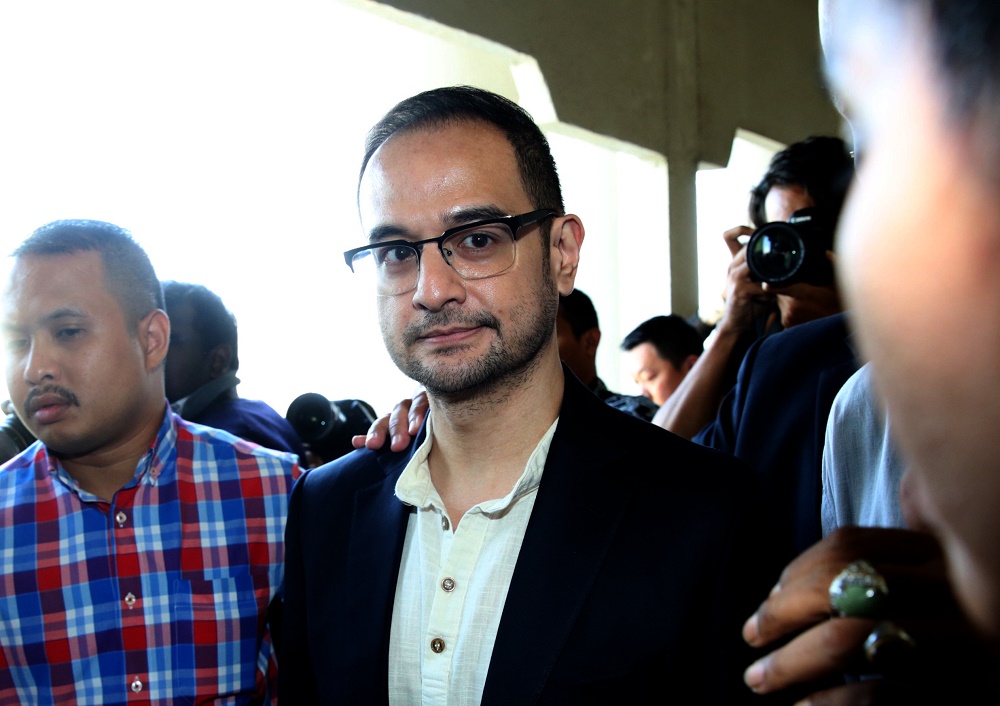 KUALA LUMPUR (May 19): Datuk Seri Najib Abdul Razak's stepson Riza Shahriz Abdul Aziz today agreed to forfeit RM537,000, Sri Lanka rupee 2.87 million, and £2,700 which had been seized by the government since May 2018 in relation to 1Malaysia Development Bhd (1MDB).
The monies are part of the RM31 million sought by the prosecution and government from Riza along with Najib, his wife Datin Seri Rosmah Mansor, and 15 others including from Low Taek Jho's mother.
Riza, a co-founder of Red Granite Pictures, is Rosmah's son from her previous marriage.
The order of consent was made by High Court's Justice Mohamed Zaini Mazlan who allowed the prosecution's application Deputy Public Prosecutor (DPP) Faten Hadni Khairuddin and DPP Harris Ong Jeffrey Ong to forfeit the monies after they informed the court of Riza's agreement to forfeit them as a condition of his discharge not amounting to an acquittal of five money laundering charges in relation to 1MDB.
Faten Hadni said the monies were seized from Najib and Rosmah's home in Jalan Langgak Duta.
"Riza Aziz had agreed to forfeit several of the assets in the United States and also in Malaysia as part of a condition to drop the five charges where the Sessions Court recorded a discharge not amounting to an acquittal," she said.
The DPP also wanted the court to record that there was no objection from Najib and Rosmah's lawyers over the seized monies.
Najib's lawyer Nursyahirah Hanifiah and Rosmah's lawyer Azrul Zulkifli Stork concurred that they were not contesting the monies to be forfeited.
With this, Justice Zaini recorded the forfeiture of the said monies from Riza.
However, it is understood that Riza is contesting six of the 10 watches seized from Najib and Rosmah's home by the police, which are part of the RM31 million loot.
It was reported last Thursday that Sessions Court Judge Azman Ahmad allowed the prosecution's request that Riza be given a discharge not amounting to an acquittal of five money laundering charges that amounted to charges involving US$248 million (RM1.25 billion), allegedly misappropriated from 1MDB funds.
Lead prosecutor and former Federal Court judge Datuk Seri Gopal Sri Ram had said that the prosecution had considered Riza's representation which had been considered most carefully.
"An agreement has been arrived at between the prosecution and the accused under the terms of which the federal government will receive a substantial sum running into several millions of ringgit," Sri Ram said then.
However, a furore occurred when the Malaysian Anti-Corruption Commission claimed that the deal was agreed upon by former attorney-general Tan Sri Tommy Thomas, who has disputed this twice.
Stay safe. Keep updated on the latest news at www.EdgeProp.my
Click here to see residential properties for sale in Kuala Lumpur.