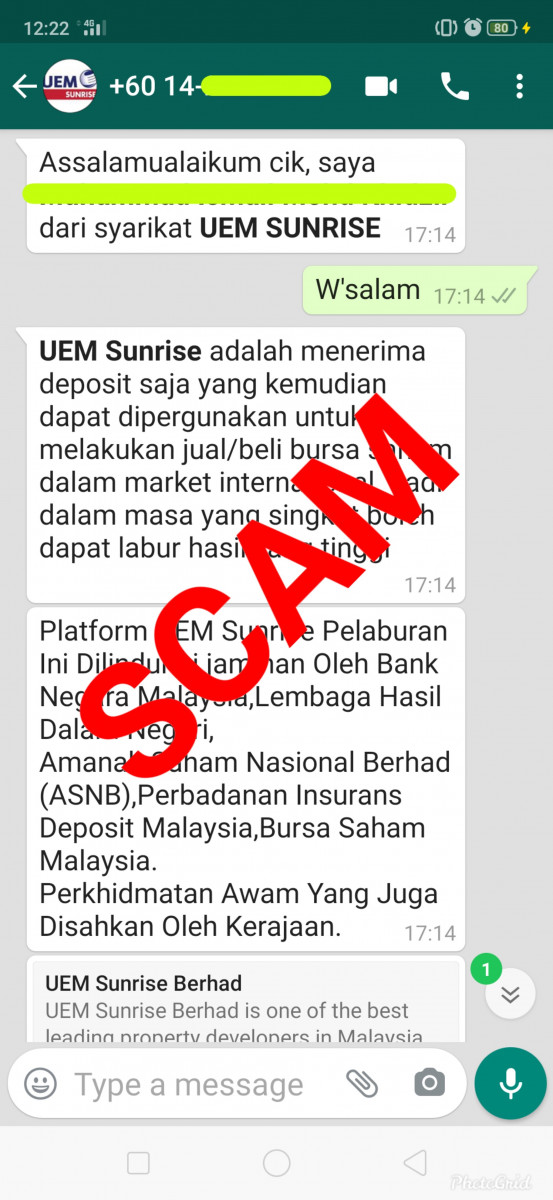 KUALA LUMPUR (June 2): Property developer UEM Sunrise Bhd has cautioned the public to beware of scammers claiming to represent the company in a get-rich-quick investment scheme.
It has been brought to the company's attention that Whatsapp messages have been sent from parties impersonating as UEM Sunrise staff, inviting the public to make deposits for investments in foreign stocks.
UEM Sunrise said, the message also promised extremely high returns despite a small amount of investment in as little as five hours, and to refer to the company's website uemsunrise.com for more information.
"While the link is the legitimate corporate website of UEM Sunrise, the claim is totally false.
"The scheme as stated in the Whatsapp message is not in our portfolio or operated by the company in any form or substance at any level of the organisation," said the company in a statement today.
"Our principal business has been and continues to be property development and property-related businesses. We are investigating the matter and advise the public to be vigilant against scammers claiming to be staff of reputable organisations such as ours, and to only refer to official social media platforms and websites for the latest information about our products and services," the company added.
UEM Sunrise's name and image was also previously used in a Facebook post which has since been removed, similarly to attract deposits for investments into Cryptocurrency Exchange, Derivative Trading Platform and other instruments.