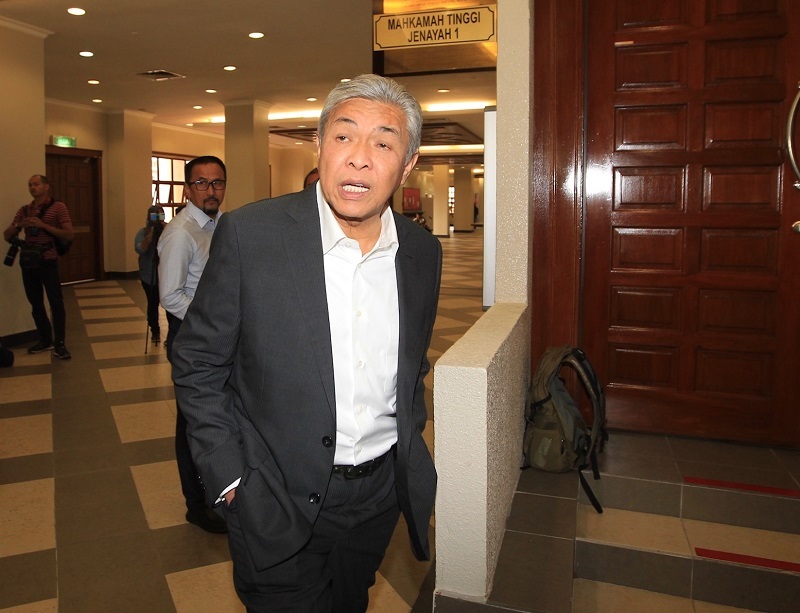 KUALA LUMPUR (June 16): Bee Garden Holdings Sdn Bhd shareholder Tan Sri Lee Kim Tong @ Lee Kim Yew told the High Court here today that the company sold two bungalows in Country Heights Kajang priced at RM5.9 million, three years ago, to Yayasan Al-Falah whose chairman of the board of trustees was Datuk Seri Mohamad Nasaee Ahmad Tarmizi.
Mohamad Nasaee, 58, happened to be former deputy prime minister Datuk Seri Dr Ahmad Zahid Hamidi's younger brother.
Lee, the 57th prosecution witness, said Bee Garden received a cheque of RM5.9 million from Lewis & Co for the payment of the two bungalows.
Lewis & Co is a law-firm linked to Ahmad Zahid, where it is said that it is also the trustee of Yayasan Akalbudi, a foundation founded by the Umno president.
Lee, also the founder and chairman of Country Heights Holdings Bhd, said Bee Garden, 99.9%-owned by his wife Tan Bee Hong, was formed in 1982 and it is an investment holding company.
Lee said between 2007 and 2017, he was made a director of Bee Garden, and in 2004, the company invested in buying four single-storey bungalows at Lot 403, Lot 356, Lot 544 and Lot 426 where the purchase was for assets of the company.
"Out of the four lots, Lot 356 at No 5, Jalan Bayu Nyaman, Country Heights and Lot 403 at No 2A, Lorong Bayu Nyaman A, Country Heights were sold to Yayasan Al-Falah. The sale started when one Datuk Eric called me in December 2016 to ask whether Bee Garden wanted to sell land in Country Heights.
"Eric came to my office, and Lot 356 was offered at RM3.022 million while Lot 403 was offered at RM2.885 million, where the total amount was RM5.907 million at RM150 per square feet. He suggested to round up the figure to RM5.9 million. I agreed to the amount to get cash money to give the company more working capital," Lee said to questions from Deputy Public Prosecutor Ahmad Sazilee Abdul Khairi.
Lee added that on Jan 9, 2017, Bee Garden had an extraordinary general meeting (EGM) where its members agreed to dispose of the two bungalows.
"I confirm receiving a Maybank cheque dated Jan 4, 2017, bearing the number 796905, for RM5.9 million from Lewis & Co issued to Bee Garden. Following that, a receipt dated Jan 11, 2017 was issued by Bee Garden to Yayasan Al-Falah," he said.
He added that a sale and purchase agreement dated Jan 16, 2017 between Bee Garden and Yayasan Al-Falah was drafted, and it was signed by him and one Nik Hassan Nik Mohd Amin for the seller and Mohamad Nasaee as the chairman of Yayasan Al-Falah's board of trustees.
The agreement was prepared by Messrs Faisalludin Yusuff & Partners, Advocates and Solicitors, and the witness said the two bungalows were not in good condition as no one stayed there.
Lee told the court that it was normal to give a discount for property.
Meanwhile, the 58th witness, Aslina Abu Hassan, who worked as an assistant administrative officer with the Selangor Lands and Mines Department, verified the transfer of the property from the company to Yayasan Al-Falah.
"The signatories were Lee and Nik Hassan for Bee Garden and Nasaee for Yayasan Al-Falah," she added.
She said Yayasan Al-Falah had an office in Glomac Cyber, Cyberjaya.
Aslina said an official search on the land was done following a request by the Malaysian Anti-Corruption Commission (MACC) in a letter dated Oct 10, 2018.
The hearing was before Justice Collin Lawrence Sequerah.
Stay safe. Keep updated on the latest news at www.EdgeProp.my
Click here to see residential properties for sale in Kuala Lumpur.