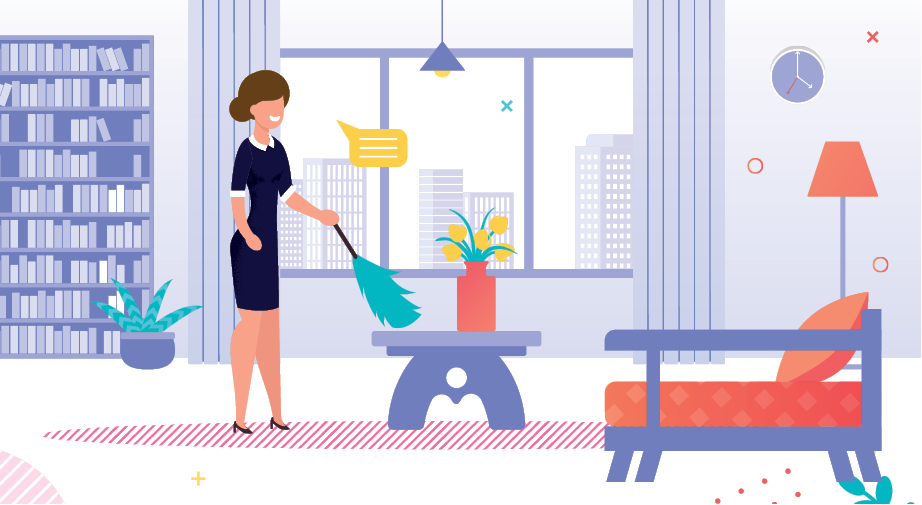 The property market has been pummeled since the outbreak of Covid-19. According to the newly released 2020 first quarter property market statistics by the Valuation and Property Services Department, the volume and value of property transactions have dropped 13.6% and 22.9% to 72,908 units and RM28.64 billion, respectively, in the first quarter of 2020; as compared to 84,388 units and RM37.16 billion, respectively, in the first quarter of 2019. This implies that the buying sentiment is still low as people are generally adopting a wait-and-see attitude in these uncertain times.
The positive side is that overhang units for the residential segment have declined 9.8% to 29,698 units in 1Q2020 from 32,936 units in 1Q2019 despite more units being launched in 1Q2020 (127,604 units) compared with the previous corresponding period (120,309 units). This is largely due to the lingering effect of the 2019 Home Ownership Campaign (HOC) that aims to help alleviate the country's property overhang problem.
However, the overhang units recorded did not really reflect the actual performance of the housing market, as this number did not take into account the overhang units of serviced apartments, a housing type that has gained popularity in the past decade due to its convenience and lifestyle appeal. Even though the existing stock of serviced apartments is still far behind other property types, its annual increment outperforms both the residential landed and high-rise properties as most of the newly launched projects today are mixed-use developments with the serviced apartment as the core part of the development.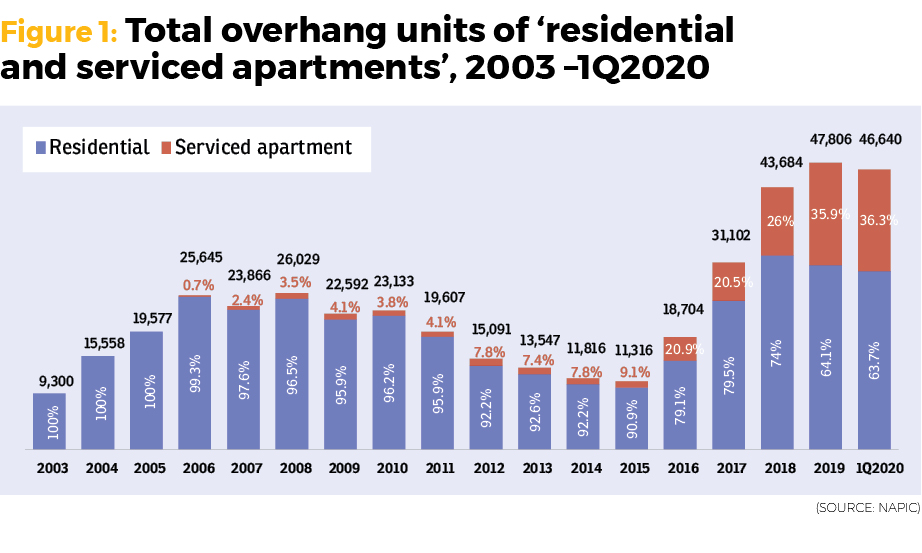 Essentially, serviced apartments come under the hospitality sector and are treated as an alternative to hotels. They are commercial units, fully-furnished with services like housekeeping, laundry, and concierge; and were introduced following the tourism boom in the country, to accommodate the growing number of both short-term and long-term staying guests. However, a new breed of serviced apartments had emerged over the years that targeted owner-occupiers, especially lifestyle and convenience seekers. Simply identified by the market as 'serviced residences' or 'serviced suites', these new form of serviced apartments are classified as residential property built on commercial-titled land. Given that serviced apartments between these two forms (hospitality and residential) have been mistakenly correlated with each other, they are often lumped together under the same category based on their land titles.
A review of previous National Property Information Centre (NAPIC) reports found that serviced apartments were initially considered as a residential property type, but were then placed under the category of commercial property in 2016. Prior to that, serviced apartments were included in the calculation of residential overhang although the total residential overhang number was much lower back then. For instance, serviced apartments only accounted for a small portion of residential overhang, where the percentage ranged as low as 0.7% in 2006 to as high as 9.1% in 2015 (Figure 1). However, the percentage has increased drastically to 20.9% in 2016, and even reached the highest level of 36.3% in 1Q2020.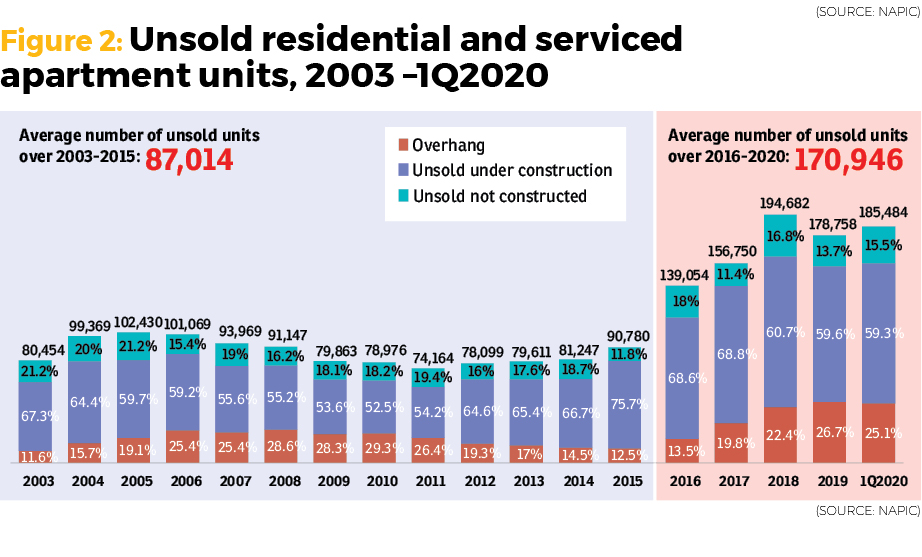 If we were to include serviced apartments into the calculation of residential overhang today, it will reveal the fact that the overhang problem in the country has not been eased but intensified over time.
Moreover, overhang only refers to units that are completely built and remained unsold for more than nine months after launch. It does not take into account unsold units that are under construction and those yet to be built, which are deemed to worsen the situation. For example, there are 16,942 overhang units of serviced apartments in 1Q2020; together with 29,698 residential overhang units, the total overhang units would be 46,640. If both the 'under construction' and 'not constructed yet' unsold units are taken into account — 110,084 units and 28,760 units respectively — the total number of unsold units in 1Q2020 amounts to 185,484 (Figure 2). The total unsold units that include both the residential and serviced apartment segments should give a better reflection of the property glut in the country.
Throughout the period of 2003–2015, total unsold units in the country were an average of 87,014 units. However, this number was almost doubled over 2016–2020, amounting to 170,946 units.
Housing oversupply
While the slow economy coupled with weak purchasing capacity and various cooling measures are believed to be the contributing factors to the drastic increase in unsold units in recent years; the excessive supply in housing stock that is beyond the limit of local absorptivity should not be overlooked. Oversupply happens when the number of housing stock (representing the supply) is in excess of the number of households (representing the demand) in a country. As shown in Figure 3, housing supply outgrew housing demand in areas like Penang, Kuala Lumpur, Johor, and Negeri Sembilan. Meanwhile, housing supply is approaching a point of saturation in areas like Melaka, Perlis, Selangor, and Pahang.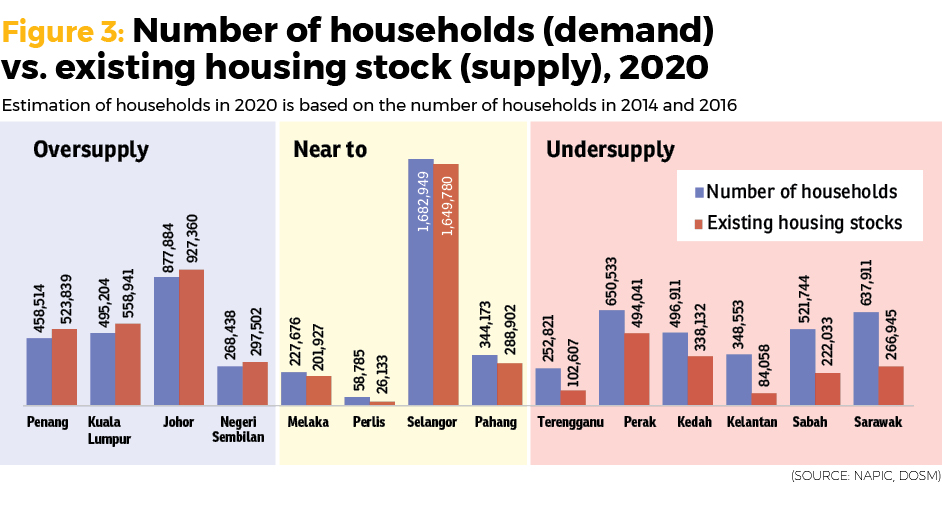 Correspondingly, these areas had recorded an extensive growth of serviced apartments throughout the period of 2005–2020 (except for Perlis). A higher growth rate is observed in Johor, Selangor, and Kuala Lumpur, with a compound annual growth rate (CAGR) of 30%, 25%, and 20%, respectively. In 1Q2020, unsold serviced apartments in these areas were also more than their unsold residential units making up 59%, 56%, and 36% of total housing overhang respectively (Figure 4). This implies that the excessive supply of housing stock in highly urbanized areas is in fact the outcome of overbuilding of serviced apartments.
Shift in demand
Right before the virus outbreak, it is generally believed that mixed-use developments are the most preferable property type in highly urbanized areas owing to their efficient use of land, provision of a comfortable live-play-work environment, connectivity to roads and transport hubs, as well as offering tenants niche facilities and amenities in-line with the changes in demographics and buyers' profile while taking into account urban land scarcity, rising cost of urban living, and the need to keep property prices affordable.
However, there could be a shift in the property-buying trend after the unexpected Covid-19 pandemic as people may consider living in newly planned sustainable, suburban township developments with landed homes that offer more space and a garden.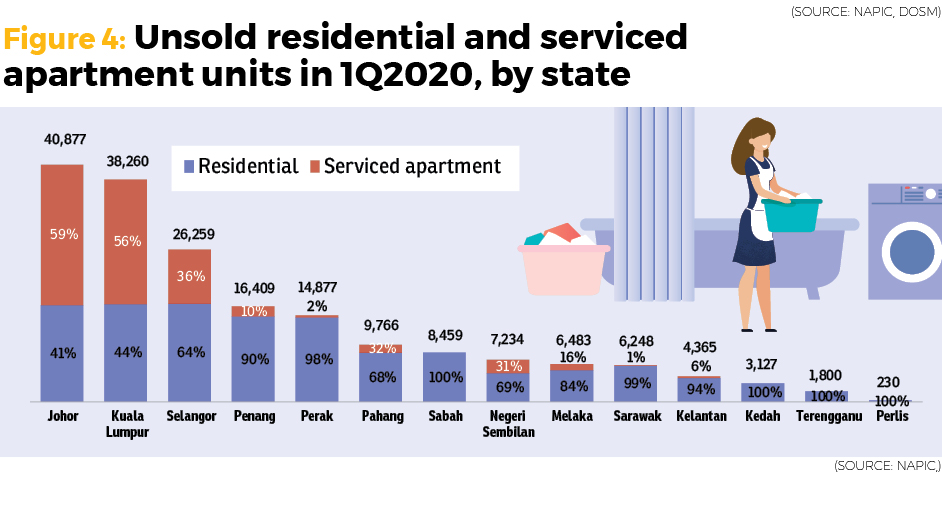 To cater for the new normal, future developments in highly urbanized areas are expected to have enhanced design features for the safety and welfare of the community. A self-sufficient stratified development with full-fledged facilitating technology, e-commerce deployment, and internet connectivity coupled with a flexible design layout that makes spaces more functional and fluid to accommodate temporary and ad hoc activities, will attract those who still want to live in urban areas. However, such serviced apartment projects are likely to be tagged as high-end products beyond the mass housing buyers' affordability level, leading to weaker sales performance and more unsold units.

Dr Foo Chee Hung is MKH Bhd manager of product research & development
Stay safe. Keep updated on the latest news at www.EdgeProp.my
This story first appeared in the EdgeProp.my e-Pub on June 26, 2020. You can access back issues here.