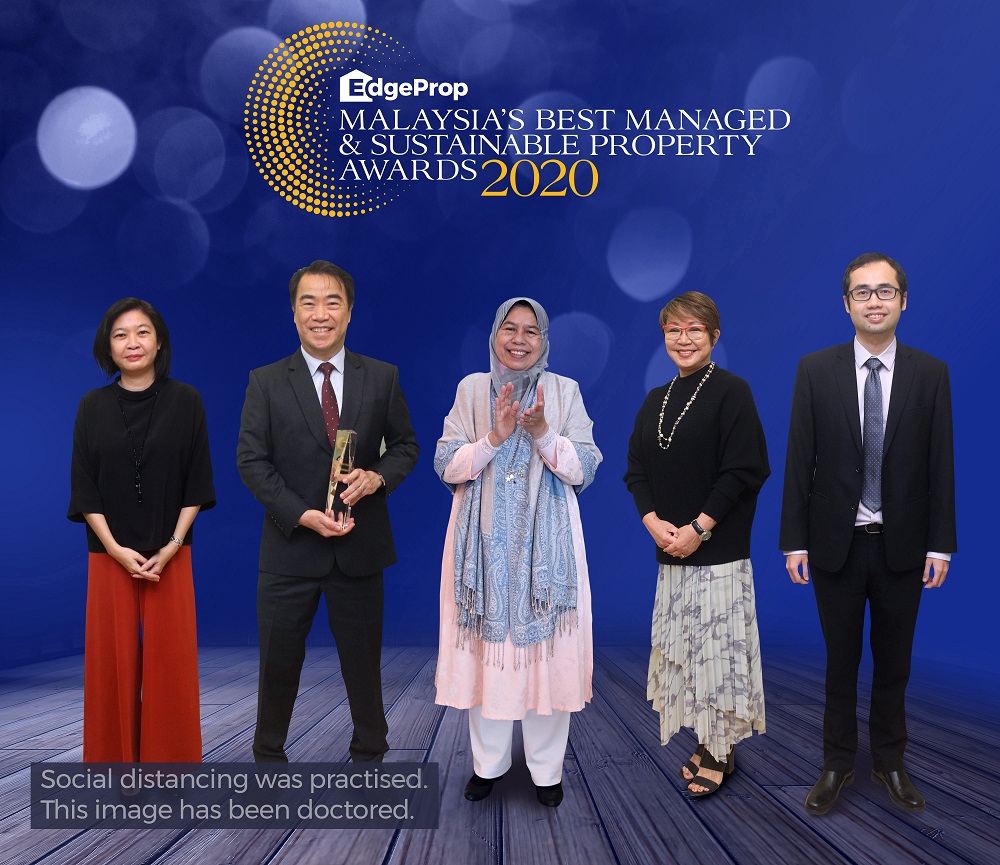 PETALING JAYA: Winners of EdgeProp Malaysia's Best Managed and Sustainable Property Awards 2020 were announced in a virtual awards ceremony with Housing and Local Government Minister Zuraida Kamaruddin as guest of honour on the evening of June 27. The virtual ceremony which was hosted on EdgeProp Malaysia's Facebook page is believed to be the first awards presentation ceremony to be held virtually in the country.
Among the key winners this year were Gamuda Land and Tanah Sutera Development Sdn Bhd as each property developer received the EdgeProp Malaysia's Responsible Developer: Building Sustainable Development Award 2020.
Real Estate and Housing Developers' Association Malaysia president Datuk Soam Heng Choon was honoured as EdgeProp Malaysia Editor's Choice Awards: Malaysia's Exemplary Leader in Real Estate 2020 while Sunway Group's The Banjaran Hotsprings Retreat was named EdgeProp Malaysia Editor's Choice Awards: Malaysia's Outstanding Sustainable Resort 2020. PJ Trade Centre by Tujuan Gemilang was named EdgeProp Malaysia Editor's Choice Awards: Malaysia's Built for Sustainability 2020 winner.
Notably, Eco World Development Group Bhd's Karisma Apartment @ Eco Majestic was chosen as EdgeProp Malaysia Editor's Choice Awards: Malaysia's Outstanding Affordable Homes Project 2020. It also won Silver in the Sustainable Affordable Housing category, a new category of the main awards.
Other winners honoured at the Awards ceremony included real estate managed by SCM Property Services Sdn Bhd of UEM Sunrise, ParkCity Holdings, Setia Ecohill Sdn Bhd of S P Setia, SkyWorld Property Management Sdn Bhd of SkyWorld Development Sdn Bhd, SDB Property Management Sdn Bhd of Selangor Dredging Bhd, Ken Holdings Bhd, Bandar Rimbayu Sdn Bhd of IJM Land, Henry Butcher Malaysia (Mont Kiara) Sdn Bhd, AirAsia Group, Quill Group of Companies Sdn Bhd, Praxcis Design Sdn Bhd, and Izrin & Tan Properties Sdn Bhd and Eco Summer Sdn Bhd of Eco World Development Group Bhd.
In the EdgeProp-ILAM Malaysia's Sustainable Landscape Award category this year, there were four Gold winners namely Adventure Park at Setia EcoHill 2, Horizon Hills in Johor, Mont'Kiara Palma in Kuala Lumpur and Windows on the Park in Kuala Lumpur, with a Special Mention going to Urban Park @ Eco Spring in Johor.
"With strata living fast becoming a way of life, quality property management is no longer an option. This is true not only in private but also in public real estate. For this to be a reality, it is imperative that property developers work closely with property and facilities managers from the very beginning — that is, from the project design stage. Not at its tail end," Zuirada said in her keynote address.
She also highlighted that the Awards is unique as it not only recognises excellent property management, but also property developers who are committed to building projects that are designed for sustainability.
"I would like to congratulate EdgeProp Malaysia for undertaking this unique initiative in raising the bar on the quality of property management in Malaysia. I am happy to note that EdgeProp Malaysia is educating property investors on the importance of choosing real estate that has been designed and built for sustainable property management," Zuraida noted, adding that the ministry is happy to support the Awards.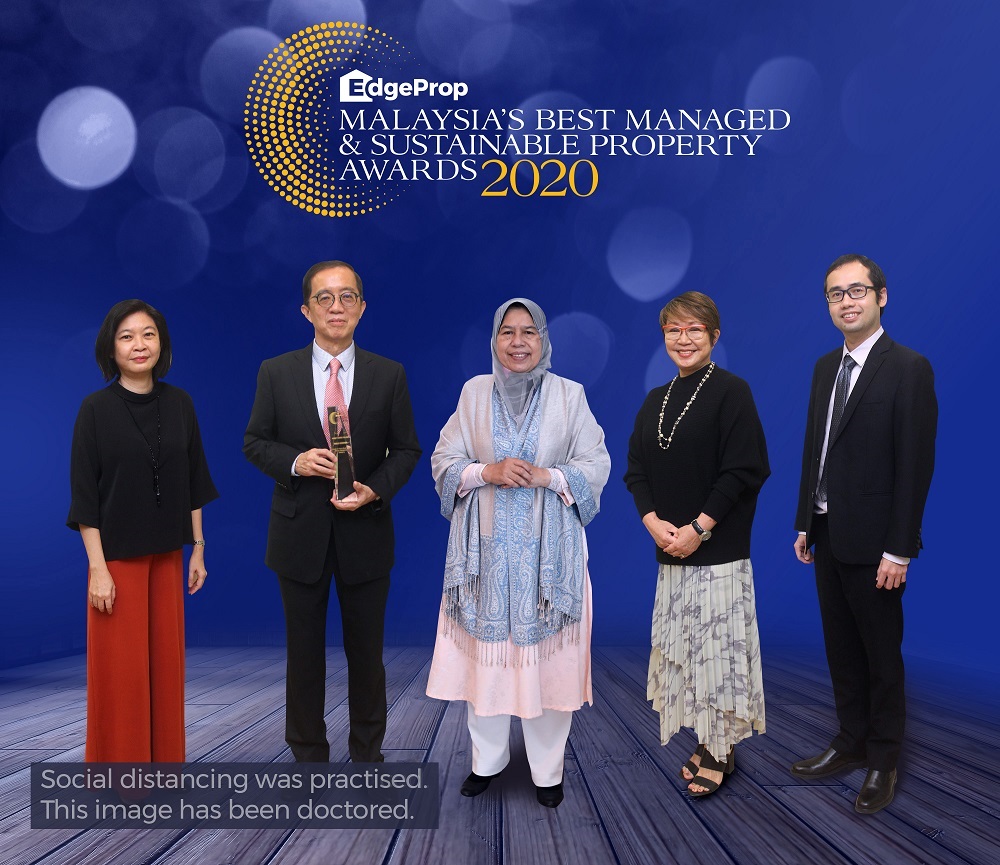 In her welcome speech, EdgeProp Malaysia editor-in-chief and managing director Au Foong Yee reaffirmed that the vision of the Awards is to raise the bar on the nation's property sustainability and management practices.
"This is no brick and mortar beauty contest. We are not in search of superlatives in project size, aesthetics, design creativity or cost. Rather, entries are adjudged on how well they have been managed and if this is sustainable.
"Naturally, such a winning attribute is synonymous with projects that have been designed, built and marketed in a responsible manner. By raising the bar on the nation's property sustainability and management practices, we hope Malaysia will emerge a top global destination of real estate investment," Au stressed.
Introduced in 2017, the EdgeProp Malaysia's Best Managed and Sustainable Property Awards is the first of its kind in Malaysia and the region to recognise real estate that is managed with excellence and sustainability.
Unlike the previous years, the Awards ceremony this year went virtual due to the Covid-19 pandemic. The virtual event also marked the first of its kind in Malaysia, which has been executed with strict adherence to the government's SOP on social distancing.
The Facebook live virtual event was the culmination of an online and offline effort by EdgeProp Malaysia to simulate what would otherwise be a Gala Awards Night held behind closed doors in a five-star hotel.
"Tonight marks a very special occasion. For the first time ever, we are pleased to welcome you to this exclusive Awards Ceremony which attendance in the past was limited to by-invitation only.
"We are into a new normal. An urgent adaptation to live, work and play alongside the Covid-19 virus has certainly birthed new and creative ideas," Au shares.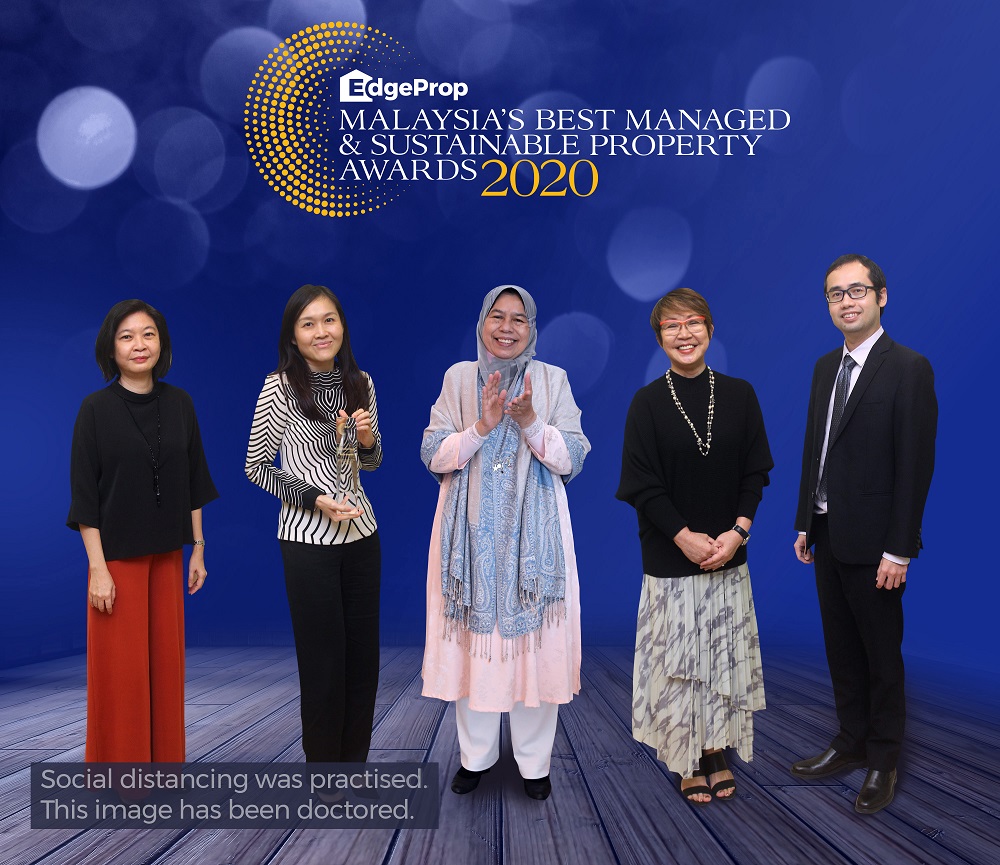 The Awards was organised by EdgeProp Malaysia with Nippon Paint Malaysia as the partner. The supporting partners were Panasonic Malaysia and KipleLive, a wholly-owned subsidiary of Green Packet.
Also supporting the Awards were Real Estate and Housing Developers' Association Malaysia (Rehda), Malaysian Institute of Property and Facility Managers (MIPFM), Building Management Association of Malaysia (BMAM), Malaysian REIT Managers Association (MRMA), Institute of Landscape Architects Malaysia (ILAM), Association of Property and Facility Managers, Singapore (APFM) and Architect Centre Malaysia. It is also endorsed by the Ministry of Housing and Local Government.
The Awards is open to all stratified and non-stratified buildings, managed either in-house or by property managers in Malaysia annually. There are in total 10 categories and these encompass residential, office, mixed development, retail and specialised projects. A new category, Sustainable Affordable Housing, was introduced this year.
For a level playing field, each category is divided into properties that are less than 10 years old and those 10 years and above.
The judges for this year's awards were Au, MIPFM president Adzman Shah Mohd Ariffin, Architect Centre accredited architect and trainer Anthony Lee Tee, Rehda vice president Zulkifly Garib, Chur Associates founder and managing partner Chris Tan, BMAM president Tan Sri Teo Chiang Kok, MRMA chairman Datuk Jeffrey Ng, ILAM vice president Dr Nor Atiah Ismail and the APFM president Dr Lim Lan Yuan.
The results have been audited by Deloitte Malaysia.
Note: Photos of winners receiving their awards from Zuraida were taken earlier with social distancing practised and later doctored into group pictures.
Get the full results of EdgeProp Malaysia's Best Managed & Sustainable Property Awards 2020 here: https://www.edgeprop.my/awards2020
View the virtual awards ceremony here: https://buff.ly/2YFNcVg​
Read a special report on the awards in the July 3, 2020 EdgeProp.my e-publication.