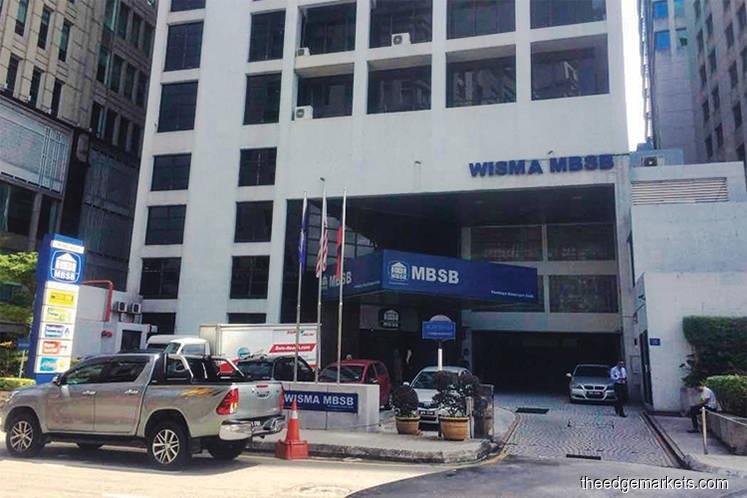 KUALA LUMPUR (June 30): Malaysia Building Society Bhd (MBSB) is targeting a loan growth of 3% to 4% for the financial year ending Dec 31, 2020 (FY20), amid uncertainties brought about by the Covid-19 pandemic.
Speaking to reporters via a virtual press conference after its annual general meeting today, MBSB president and chief executive officer Datuk Seri Ahmad Zaini Othman said the bank will be focusing on the civil servants' segment.
"We believe the government servants area is something quite stable… [as well as] government projects and government contracts. We also believe that trade financing in areas of exports and certain commodities will still continue to be strong," he said, adding that the bank will be shying away from areas such as tourism-related sectors.
While MBSB fell into the red in the first quarter ended March 31, 2020 due to an increase in expected credit loss (ECL) as a result of staging deterioration for loans and financing as at end of March 2020, Ahmad Zaini said the bank's treasury activities remain active and are expected to increase its income contribution in the current year.
Like other banks, MBSB has granted a six-month loan moratorium to eligible customers since April 2020. However, during the moratorium, Ahmad Zaini said the bank encourages customers to regularise their instalment arrears, which will also improve the bank's ECL and financial results for the coming quarters.
"Hopefully, with engagement with customers, this will enable the bank to manage the ECL," said Ahmad Zaini.
"We have advised customers that they should try to conserve their cash in the six months during the moratorium period and use this as a means to service the following months come September. It is safe to say that modification loss (from the moratorium) will be the main culprit on the financial institutions' performances," he added.
For MBSB, Ahmad Zaini said a big challenge for the bank is that its "revenue [base] is not as wide as other financial institutions". Thus, it is very likely that the impact of the modification loss on MBSB's bottom line "could be an issue", he added.
On whether the bank will consider extending the moratorium after September, Ahmad Zaini said the bank, at this stage, may not be at a position to consider it yet.
"However, we will look at customers or SMEs as and when we look at the cases that merit our attention," he added.
He further said that while business has been "looking okay now", it is still hard to predict how things will turn out in the next couple of months, amid prevailing uncertainties.
"The greatest fear is the second wave of the [Covid-19] pandemic, on whether the industries can sustain that second wave, and the financial institutions' continuous support," he said.
Meanwhile, the group's plan to list its wholly-owned banking unit — MBSB Bank — on Bursa Malaysia is still on track, said Ahmad Zaini.
"This will be done after we have transferred the converted assets to the bank and disposed of any remaining non-converted assets," he said.
Presently, the bank has completed 12 phases of conversion, involving a value of over RM659 million or about 25%, since April 2, 2018.
The bank is expected to convert all its existing conventional assets to Islamic assets by 2021. As at March 31, 2020, MBSB has a gross balance of RM1.84 billion or net balance of RM1.08 billion of conventional loans.
At 2.40pm, shares of MBSB were up 1.5 sen 2.46% at 62.5 sen, valuing the counter at RM4.2 billion. The counter has fallen some 31.69% from 91.5 sen over the past year.
Stay safe. Keep updated on the latest news at www.EdgeProp.my