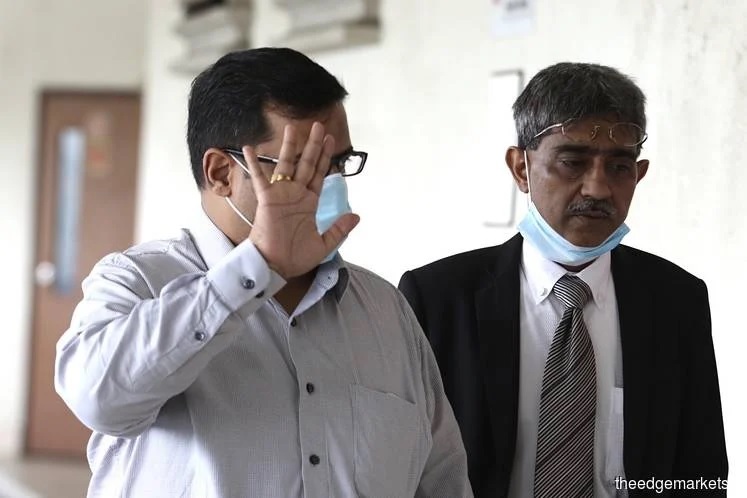 KUALA LUMPUR (July 1): The High Court has fixed July 8 to hear carpet businessman Deepak Jaikishian's application for an inter-parte injunction to bar Boustead Holdings Bhd, its subsidiary Bakti Wira Development Sdn Bhd and four others from engaging in any dealings concerning three plots of land measuring 223 acres in Kapar and Bukit Raja, Selangor.
The lawyer for Boustead Holdings and Bakti Wira, Robert Lazar, informed Justice Datuk Mohd Firuz Jaffril that he has instructions to strike out the application on grounds of multiplicity of proceedings concerning the same matter.
"We (Boustead) are not directly involved in the injunction but we would like to serve notice that we are applying to strike out the suit (on the matter), as there is another similar suit at another court," he said.
Datuk Ghazi Ishak, who appeared for the third defendant Cebur Megah Development Sdn Bhd, also indicated to the judge that his instructions are to strike out the suit.
Besides Boustead, Bakti Wira and Cebur Megah, the other defendants in the suit are Federal Land Commissioner, UMW Toyota Motor Sdn Bhd and Suntrack Development Sdn Bhd.
In the suit, Deepak is claiming general, exemplary and aggravated damages; a permanent injunction to restrain Cebur Megah, the Federal Land Commissioner, UMW Toyota Motor and Suntrack from conducting any dealings with the land in question.
He is also seeking an order of specific performance against Cebur Megah, the Federal Land Commissioner, UMW Toyota Motor and Suntrack.
Besides this, he is also seeking the return of the land to his company Astacanggih Sdn Bhd, the imposition of an interest rate of 5% per annum on the award, and costs and other reliefs deemed fit by the court.
Deepak, who is represented by lawyers Mohd Haniff Khatri Abdulla and Mohd Irzan Iswatt Mohd Noor, had obtained an ex-parte injunction against all six on June 19, preventing the defendants from having any dealings on the land.
The ex-parte injunction will end on July 9.
Haniff informed Justice Firuz that he intends to consolidate the present suit with another suit that his client filed against Boustead and Bakti Wira, along with former prime minister Datuk Seri Najib Razak his wife Datin Seri Rosmah Mansor.
In Deepak's first suit filed in 2018, the businessman claimed he suffered due to conspiracy, fraud and undue influence by Najib, Rosmah and two others in a property deal, which he claimed had caused his company to incur huge losses.
He alleged that as a director and majority shareholder of Astacanggih, he had signed a land deal with the director and majority shareholder of Awan Megah (M) Sdn Bhd, Raja Ropiaah Raja Abdullah, over three pieces of land in Kapar and Bukit Raja.
He also claimed Astacanggih had made a deposit payment of RM13 million to Awan Megah, and a land bond for RM72.5 million from Kuwait Finance House (M) Bhd had been submitted to the Malaysian government.
However, Awan Megah allegedly refused to produce the original land titles for transfer to Astacanggih.
Deepak claimed that as a result of the conspiracy and interference from Najib and Rosmah, who were named the first and second defendants, he was forced to sell 80% (16 million units) of his shares in Astacanggih to Boustead through Bakti Wira.
He is seeking RM600 million in general damages, RM50 million in exemplary damages and RM26 million in aggravated damages in his first suit.
In his subsequent legal action filed last month, Deepak alleged the defendants sought to wrongfully deprive him of two plots of land in Kapar measuring 96.83 acres and 81.09 acres, and another plot in Bukit Raja measuring 45.42 acres.
The businessman, when met by theedgemarkets.com on the sidelines of his court case, said he is forced to file this latest legal action to safeguard his interests over the land, following reports Boustead was said to be in a 'bad shape'.
It was reported on June 19 that Boustead's net loss widened to RM73.1 million for the first quarter ended March 31, 2020, compared with RM22.4 million a year earlier.
Stay safe. Keep updated on the latest news at www.EdgeProp.my
Click here for more property stories.
Click here to see residential properties for sale in Selangor.