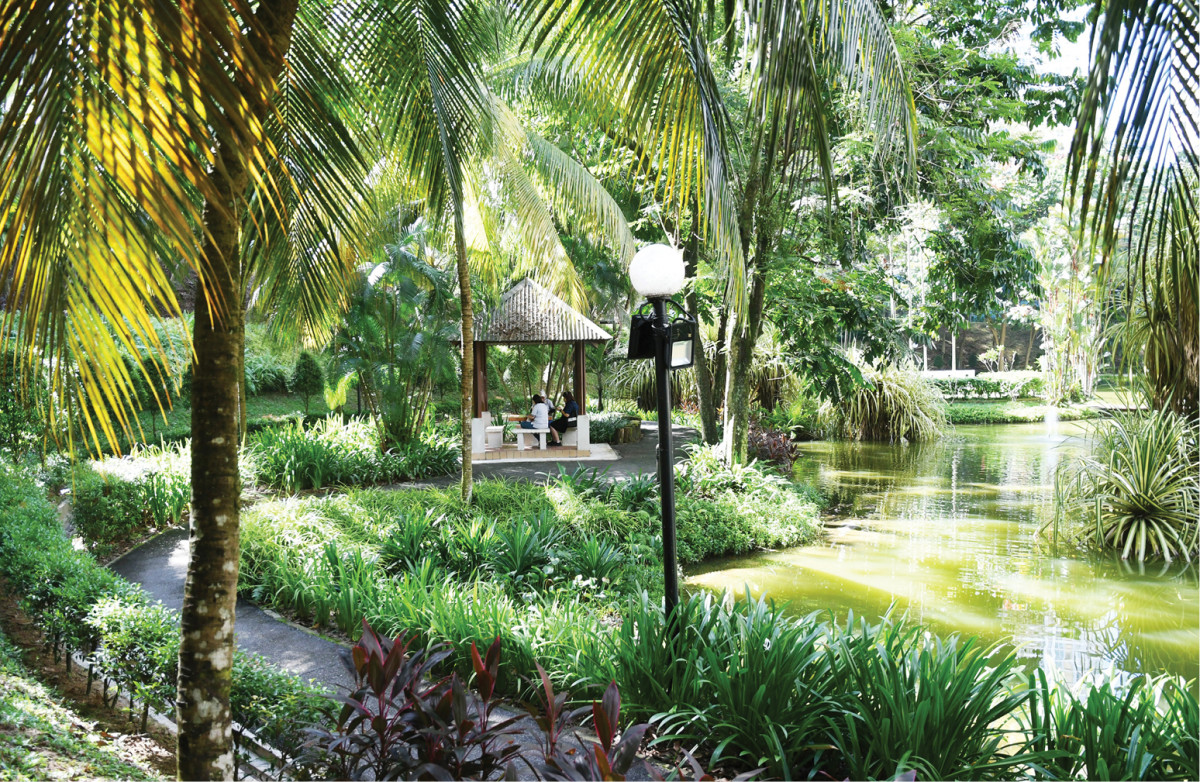 EdgeProp-ILAM Malaysia's Sustainable Landscape Award 2020 Gold: Mont'Kiara Palma
In the highly dense Mont'Kiara, Kuala Lumpur, Mont'Kiara Palma offers its residents a sanctuary of tranquility. Tall and neat rows of palm trees line the condominium entrance against a lush backdrop of a variety of well-trimmed plants. Countering the pervasiveness of the sun's heat, the abundance of trees and shrubs create a cool and peaceful ambience here.
In the Water Arena is a man-made lake with a jogging track around it, a swimming pool accompanied by a Jacuzzi pool, two fountains, gazebos, decorative stone platters, wood trunk seats and a children's playground.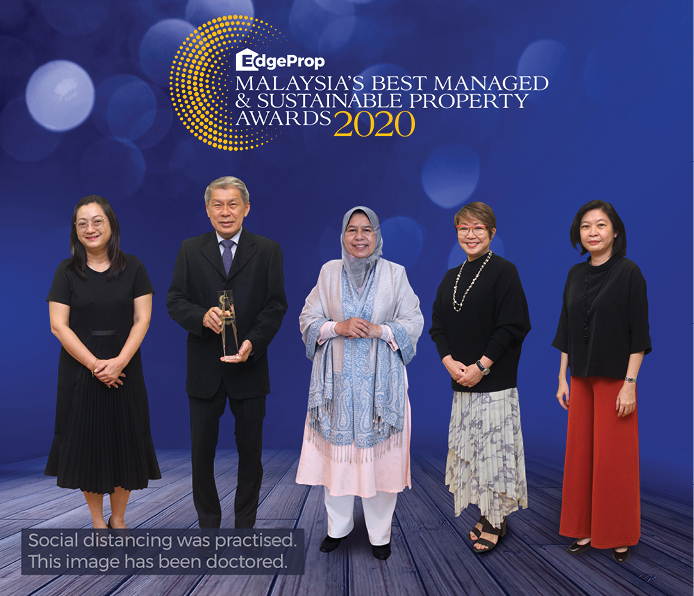 Its four-acre landscaped recreational area has drawn many to live here. "The extensive recreational space is the reason Mont'Kiara Palma is favoured by many, especially expat tenants," says management corporation (MC) chairman Lau Bek Tian.
The conscientious care in its maintenance has led Mont'Kiara Palma to winning a well-deserved Gold in the EdgeProp-ILAM Malaysia's Sustainable Landscape Award 2020 category of EdgeProp Malaysia's Best Managed and Sustainable Property Awards 2020.
The project had previously won Gold in the more-than-10-years multi-owned strata residential category at EdgeProp Malaysia's Best Managed Property Awards in 2018.
Developed by the then Sunrise Bhd (now UEM Sunrise Bhd) and completed in 1994, the eight-acre freehold condominium houses 405 homes in two blocks.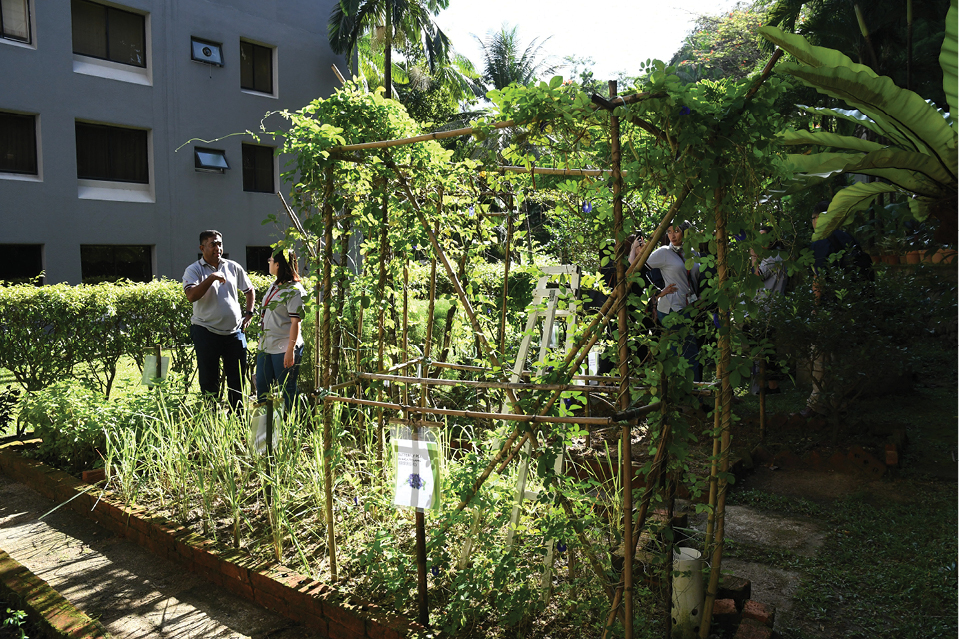 According to EdgeProp.my's data, the average transacted prices of Mont'Kiara Palma units in the years 2015 to 2019 ranged between RM894,917 and RM1.04million. In comparison, its initial launch price was about RM250,000. The average rental yield in 2018 and 2019 stood at 4.71% and 4.94% respectively.
Since its completion, Mont'Kiara Palma has been managed professionally by SCM Property Services Sdn Bhd, a wholly-owned subsidiary of UEM Sunrise.
Creative DIY improvements
"The residents often give positive feedback to us about the landscape. We have very good support from the MC," says Felicia Neoh, who has been the residential manager since 1997.
Apart from daily walkabouts and weekly maintenance inspections, Neoh and her team has also been seeking ways to save cost. Several DIY improvements have been made over the years. For instance, some of the stools by the lake were from chopped tree trunks.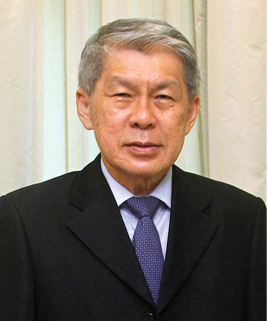 "We try to do things ourselves to save cost but the truth is, we also like to try out new things," she enthuses. "Good thing we have a team of people who are creative!"
A more major DIY project was a submerged pipe system with pump and filter installed at the C-shape lake.
"The lake had looked muddy due to stagnant water, so the MC and the management team came up with this idea for the pump and filter. We spent only about RM3,200 to build the water circulation system ourselves.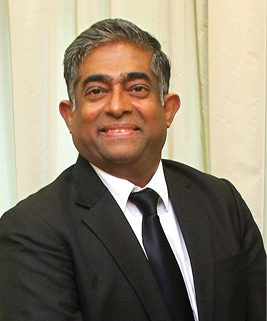 "Initially, we laid pipes on the ground for trials before burying it into the ground. We disguised the exposed part of the pipe as a mini waterfall using a black fibre box and some rocks," she says, adding that they have also created a fountain. The pipe system is now regularly checked by the in-house technicians to ensure it continues to work well.
Meanwhile, plant waste is collected and turned into compost to be used as fertilisers while rainwater is harvested for landscape irrigation.
Lots of tender loving care
SCM Property Services general manager Paul Richard believes that property managers do not just stop at maintaining the physical elements of a property, but should also think of initiatives that can bring the residents closer together.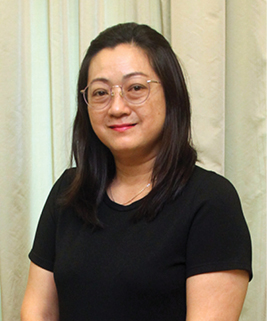 For instance, several steps away from the lake, there is a mini herb garden which has become the hot spot for resident "chefs" to gather and exchange notes on recipes and the dishes for the day while picking some curry leaves, pandan, chili, ginger, kesum or Thai basil, just to name a few.
The MC and the management team are also currently transforming a vacant slope area into a "fruit forest". The land was cleared in January, and in the middle of the year, a fruit planting activity was organised.
"After clearing the place, residents brought some fruit trees to be planted there, and many of the residents would take a walk up over there and tend to the plants," Paul says.
On the three-tiered slope are rambutan, banana, mango, jackfruit, durian, star fruit as well as lime trees and herbs.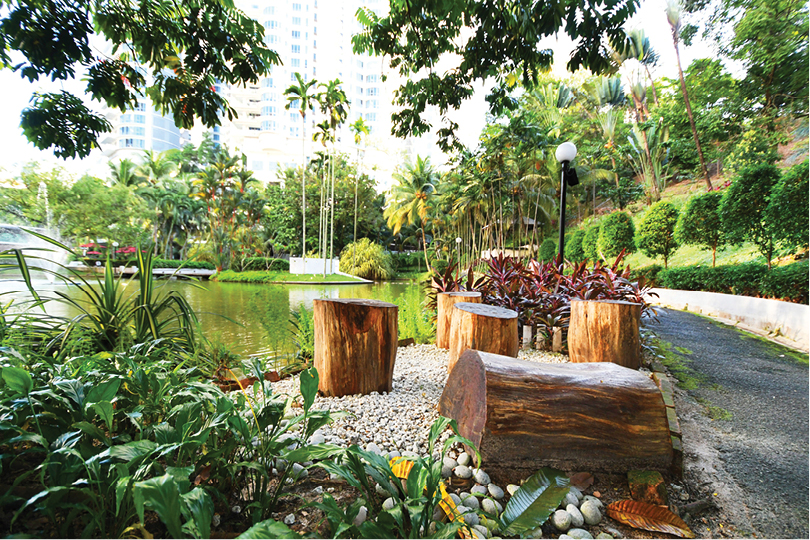 Obviously their pride and joy, Mont'Kiara Palma residents often invite their friends and neighbours over to enjoy a stroll or jog around the lake, making it a popular "park" in Mont'Kiara.
"The residents appreciate the landscape a lot and they care for the park as if it is their own garden," according to MC chairman Lau. Besides, the landscaping also plays a part in fostering community spirit and a sense of belonging.
In fact, the management team often receives advices and feedbacks from the residents regarding the landscape.
"Residents here appreciate the greenery so much, they wouldn't allow us to chop down any tree," says Paul.
Mosquitoes and such
Maintaining the "park" has its set of challenges and one of them is controlling mosquitoes. The management has adopted a mosquito control system that uses Aedes Larvae Ovi-Trap (ALOT) to kill mosquito larvae without the use of chemicals. As many as 50 units have been placed in various spots around the grounds.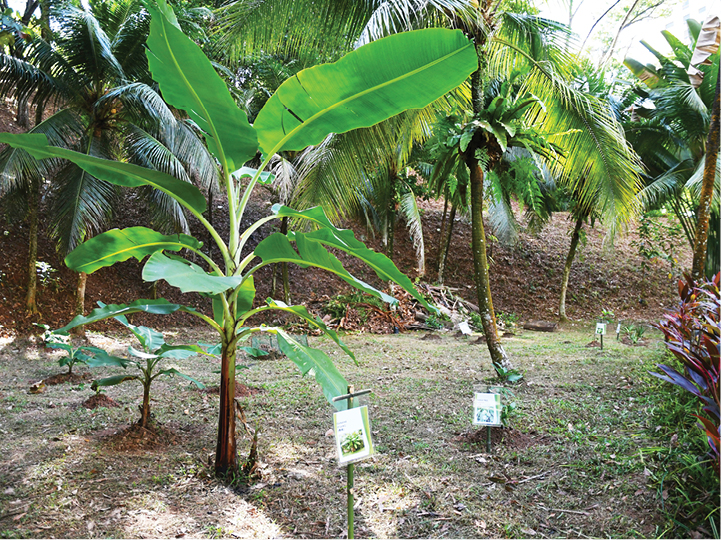 Neoh also admits that the palm trees are getting increasingly hard to maintain as they grow taller but they need to be kept as they form part of the development's identity. Indeed, Majestic Palms and Royal Palms line the paths towards the Majestic Tower and the Royal Tower respectively.
"For now we are doing our best to maintain them although the day will come when we have to replace them with younger trees," Neoh notes.
Monthly service charge at the condominium was at RM0.25 for six years before it was adjusted to RM0.29 this year due to inflation.
"We are proud to be able to maintain the condo and its landscape properly and make the residents happy at this [modest] fee," she says.
Get the full results of EdgeProp Malaysia's Best Managed & Sustainable Property Awards 2020 here: https://www.edgeprop.my/awards2020
View the virtual awards ceremony here: https://buff.ly/2YFNcVg​
This story first appeared in the EdgeProp.my e-Pub on July 2, 2020. You can access back issues here.