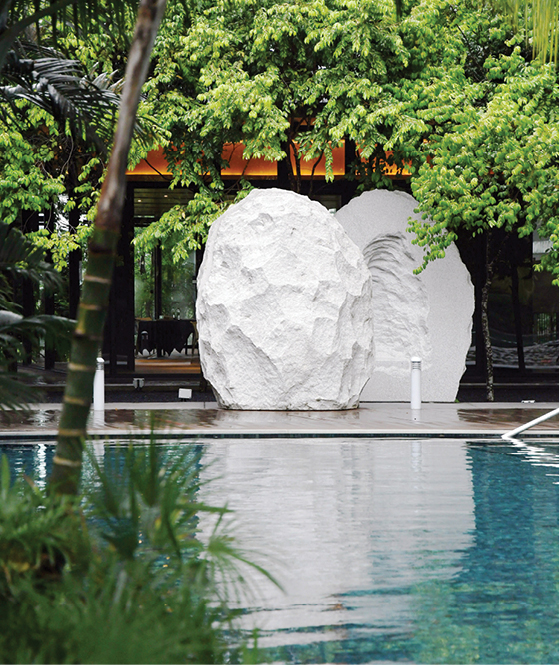 EdgeProp-ILAM Malaysia's Sustainable Landscape Award 2020 Gold: Windows on the Park
The green enchanting landscape is a much treasured pleasure to both residents and visitors at Windows on the Park (WOTP), a condominium project in Bandar Tun Hussein Onn in Cheras, Selangor. The condominium's park environment stands out for its vastness and artistry.
Developer Selangor Dredging Bhd (SDB) has allocated over 40% of land in this 8.9-acre residential project for landscaping. The freehold development comprising 540 units within three towers obtained its certificate of completion in 2016.
The idea came from SDB managing director Teh Lip Kim whose family has a house that overlooks a 60-acre park in Adelaide, Australia, and whose son loved running around the park without having to worry about safety and security.
"Hence, she decided to build a condominium with a park," SDB Properties SdnBhd post development manager Toh Keng Hong tells EdgeProp.my.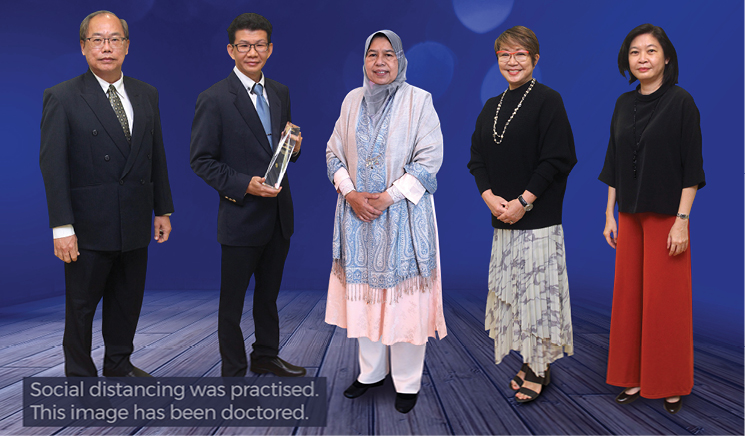 The astounding parklands at the project have been designed not only to serve its residents but also to nurture the environment. At EdgeProp Malaysia's Best Managed and Sustainable Property Awards 2020, WOTP won the Gold of the EdgeProp-ILAM Malaysia's Sustainable Landscape Award 2020. It also took home a Bronze in the below 10 years multi-own strata residential category.
Landscape first, buildings later
Interestingly, the 4.2-acre park at WOTP was designed and planned before everything else. "First, create a park, then put the buildings on it" was the guiding principle of WOTP's planning instead of the usual way around.
Master planner and designer for the landscape Okashimo Pte Ltd founder Dr Colin Okashimo was glad for the support from SDB that enabled him to prioritise the landscape alongside the project's architecture.
"We were even involved in planning the massing and facade of the buildings, to ensure that the buildings complement and reinforce the narrative of the project, to create an authentic phenomenological experience for visitors," he enthuses.
The buildings literally "made way" to create an uninterrupted, seamless and continuous park landscape via three multi-storey framed archways or "windows" at the ground-level of the buildings, giving WOTP its identity and name. Flowing through the "windows" is an 800m jogging and cycling path linking the residential blocks and green areas.
Adding visual interest to the undulating park is an artful series titled "… the distance between…" comprising five sets of large granite (fondly referred to as "batu", which means "stone" in Malay) sculptures which are meant to be experienced by walking in between them and even sitting within.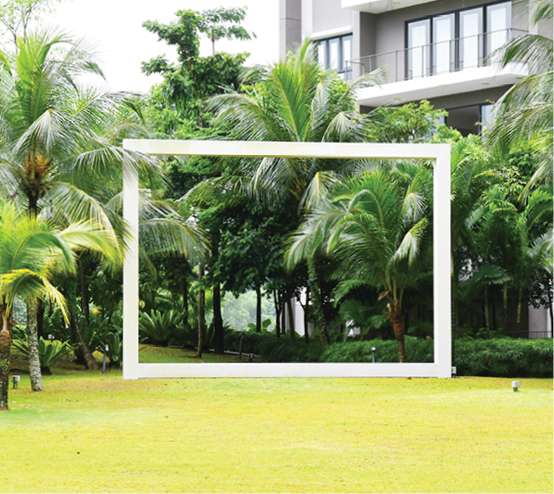 Complementing these are similar but smaller stones placed along the jogging path to serve as markers or milestones for joggers.
The park is the centrepiece of the development, Okashimo notes. In addition, residential buildings in WOTP are designed and aligned in a V shape orientation so that each unit gets to enjoy the greenery, maximum natural lighting and ventilation as well as cooler temperatures during the day.
SDB and Okashimo have been working together in various SDB projects over the years. They share a mutual understanding in creating a holistic experience for residents and visitors, says Toh.
Keeping it nice as new
The park at WOTP is divided into zones with distinctive purposes—the Active Park for the younger residents to have fun and play sports; the Quiet Park for those seeking some calmness and to enjoy nature; and the Clubhouse Park that houses a salt water pool, gym room, function hall and other facilities.
The landscape components do not require much maintenance to look good as new.
Trees and plants in the park have been planted based on a three-tier planting scheme —low shrubs, canopy and tall trees. All of them have been carefully selected for easy upkeep. The "batu" sculptures also require minimal maintenance.
To improve maintenance cost efficiency, the landscape watering largely depends on rain harvesting tanks. "We are able to reduce 90% potable water consumption for landscape irrigation. Our current cost of landscape maintenance is about RM250,000 per annum," Toh discloses, adding that the composting method is used to fertilise the grounds.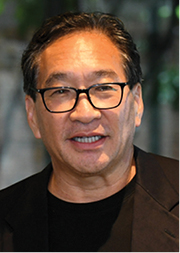 "We believe environmental sensitivity isn't just a millennial trend. It's a duty. As a developer, we are fully aware of the consequences of our actions, particularly our impact on the environment. Hence we do not just comply with minimum standards in environmental sustainability but try to exceed them as much as possible," he points out.
The enchanting park at WOTP is much loved by its residents. In 2017, the WOTP sub-committee on landscape was formed by its Joint Management Body (JMB) which has retained SDB as the professional property manager.
To encourage more community interaction, the JMB also initiated a community herb garden for all residents. There are plans in the near future to have a fruit orchard as well with banana, papaya and mango.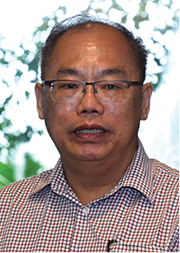 With its large area devoted to greeneries, the way sustainability is addressed, artistic features and how the whole project has been designed differently from the norm, WOTP has set a new benchmark for urban living.
"I am most proud that WOTP has been realised with over 90% of its original vision intact," says a pleased Okashimo.
"We will continue to educate the public on the benefits of sustainable landscaping as it adds tremendous value to a piece of land," says Toh.
Get the full results of EdgeProp Malaysia's Best Managed & Sustainable Property Awards 2020 here: https://www.edgeprop.my/awards2020
View the virtual awards ceremony here: https://buff.ly/2YFNcVg​
This story first appeared in the EdgeProp.my e-Pub on July 2, 2020. You can access back issues here.