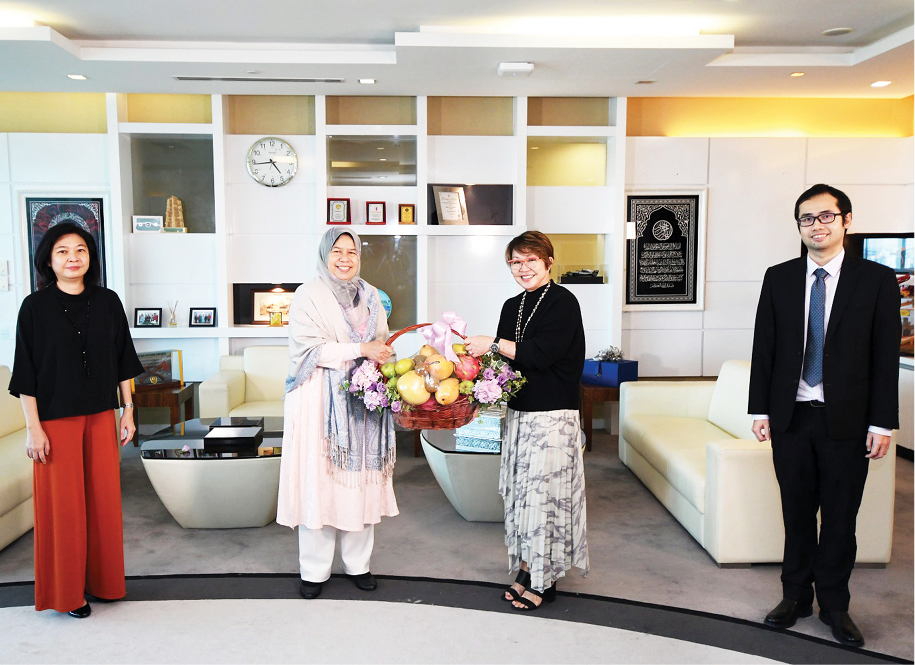 Award ceremonies are usually celebrations in the form of gala dinners with many attendees mingling and exchanging pleasantries over food and drinks, as the award recipients are recognised for their excellence and achievements.
However, with the ongoing Covid-19 outbreak, social distancing and other disease prevention measures have become the order of the day. Thus, EdgeProp Malaysia has taken a new and creative approach by having a virtual awards presentation ceremony for the EdgeProp Malaysia's Best Managed and Sustainable Property Awards 2020.
While previous editions were held behind closed doors in five star hotels and by-invitation only, the Awards ceremony this year was hosted on EdgeProp Malaysia's Facebook page at 8pm on June 27.
With these adjustments for the first time, the EdgeProp Malaysia team had to reimagine the awards presentation and experience while taking steps to minimise contact and practising other health precautions as well.
For a start, Housing and Local Government Minister Zuraida Kamaruddin had graciously agreed to "present" award recipients their trophies in her office in Putrajaya on June 3, 2020. The session with the minister was conducted in a more intimate setting, a far cry from the usual stage presentation under spotlights.
Award recipients were first organised into batches of no more than 10 and scheduled to enter the minister's office for an exclusive meet-and-greet with the minister at different intervals to prevent crowding.
Before entering, they were briefed on how the session will be conducted and the standard operating procedures to be observed. The attendees were constantly reminded to maintain social distancing at all times.
Photos and videos taken at the trophy presentation session were pieced together and then doctored to provide a pre-pandemic treatment to best simulate a gala awards night for the virtual awards ceremony on June 27.
"When I received the invitation to attend this 'awards ceremony', I was surprised and honoured. During times like this, I appreciate that EdgeProp Malaysia continues to recognise the best practises in the property management industry.
"With strict requirements on social distancing, an awards ceremony without the glamorous gala dinner was still meaningful and made us feel warm especially after going through the Movement Control Order (MCO) where everyone is seeing each other through virtual meetings.
"To me, this is 'doing more with less' as we are meeting each other in person and also have the opportunity to talk to the minister and have a chance to update her on the latest developments of the industry," said Eco World Development Group Bhd president and CEO Datuk Chang Khim Wah. He was present to receive the Editor's Choice Awards: Malaysia's Outstanding Affordable Homes Project 2020 for Karisma Apartment @ Eco Majestic which also won Silver in the Sustainable Affordable Housing category as well as for Urban Park @ Eco Spring which received a Special Mention for EdgeProp-ILAM Malaysia's Sustainable Landscape Award 2020.
Sharing similar sentiments, Sunway Bhd managing director (property division) Sarena Cheah who was obtaining the Editor's Choice Awards: Malaysia's Outstanding Sustainable Resort 2020 for The Banjaran Hotsprings Retreat said it was a fantastic idea to gather industry players and meet up with the minister to exchange a few words.
"It is good to see and talk to each other after so long, to know how everyone is going through these difficult times. It is during such times that we should all come together and help each other.
"EdgeProp Malaysia's Best Managed and Sustainable Property Awards 2020 also reminds us — the industry players to persevere and continue to do a good job even during challenging times."
Meanwhile, Editor's Choice Awards: Malaysia's Exemplary Leader in Real Estate 2020 recipient Real Estate and Housing Developers' Association (Rehda) president Datuk Soam Heng Choon said given the current requirements for social distancing, the awards ceremony has a more personal touch with a few attendees at any one time.
"I believe this is part of the new normal for future events where less physical presence is required but televised or broadcasted to a bigger audience," he said.
EdgeProp Malaysia's Best Managed and Sustainable Property Awards 2020 was organised in partnership with Nippon Paint Malaysia and supporting partners Panasonic Malaysia and KipleLive, a wholly owned subsidiary of Green Packet Bhd.
Additionally, the Awards was supported by the Association of Property and Facility Managers (Singapore), Malaysian Institute of Property & Facility Managers, Rehda, Building Management Association of Malaysia, Malaysian REIT Managers Association,
Architect Centre, and Institute of Landscape Architects Malaysia. Results were audited by Deloitte Malaysia.
Get the full results of EdgeProp Malaysia's Best Managed & Sustainable Property Awards 2020 here: https://www.edgeprop.my/awards2020
View the virtual awards ceremony here: https://buff.ly/2YFNcVg​
This story first appeared in the EdgeProp.my e-Pub on July 2, 2020. You can access back issues here.