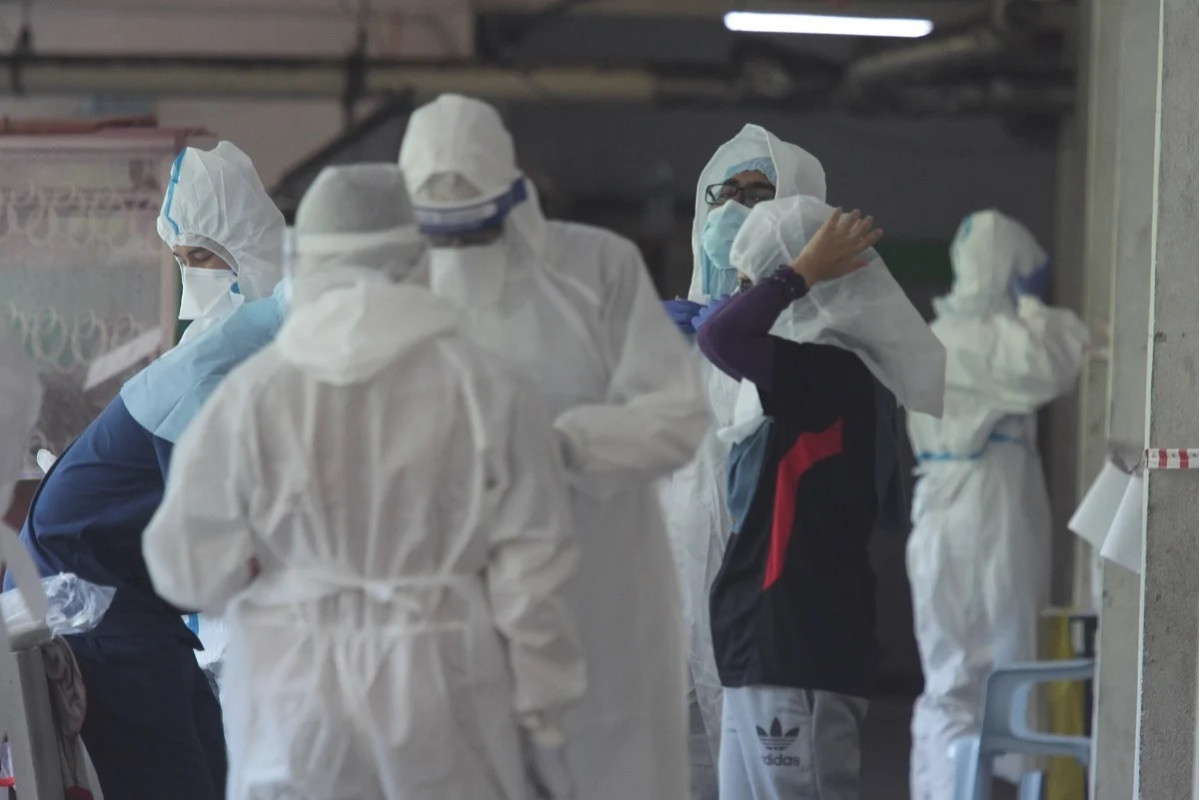 KUALA LUMPUR (July 12): The Ministry of Health (MoH) reported 14 new Covid-19 cases in the country as at noon today, raising the total number of cases to 8,718 so far.
Of the new cases, three were imported, all of which involved Malaysians, while the remaining 11 were local transmissions involving three Malaysians and eight foreigners, health director-general Datuk Dr Noor Hisham Abdullah said in a statement today.
Of the three cases involving Malaysians, two were detected in Sarawak, while one was detected in Sabah.
In Sarawak, one patient was diagnosed positive in Kuching and was later admitted to the Sarawak General Hospital, while the other is a close contact of the 8,694th case that is part of the new engineering firm cluster in Kuching.
In Sabah, the case was detected from a pre-referral screening at the Keningau Hospital.
Meanwhile, MoH has identified a new cluster arising from an engineering firm in Kuching. As of noon today, two positive cases have been reported from this cluster.
The first case of this cluster, who is also the 8,694th case, is an employee at the company. He received treatment at a medical centre on July 9, when he suffered from respiratory ailments. He had tested positive for Covid-19 on the same day.
Following the incident, investigations and close contact tracing activities were conducted.
"To date, 32 of the patient's close contacts have been identified and screened. They consist of 16 colleagues and 16 family members," Noor Hisham said.
Among them, one tested positive, while 16 yielded negative results and the remaining 15 are still awaiting their test results.
"Precautions such as cleaning and disinfection have been carried out at the company premises. The cause of this cluster infection is still under investigation," Noor Hisham said.
Meanwhile, of the eight cases involving non-citizens, they were all in close contact with the 8,629th and 8,630th cases, who were both detainees at the immigration detention depot (DTI) in Sepang.
Noor Hisham explained: "These eight cases are detected from repeat tests which done on July 10, 2020, involving the 115 detained persons placed in Block C [of the DTI]."
This brings the total number of positive cases in DTI to a total of 72, out of the total 1,477 screenings done so far.
Noor Hisham said prior to being diagnosed with Covid-19, the detainees were already held in the Sepang DTI and they have been admitted to hospital for further treatment.
"Thus, they do not pose a risk of spreading the virus to the community," he stressed.
So far, infections at the still-active Bukit Jalil DTI and Sepang DTI clusters number 649 and 72 respectively.
Meanwhile, three Covid-19 patients are being treated in intensive care, with two of them requiring breathing assistance.
On the bright side, no Covid-19-related deaths were reported today, meaning the cumulative number of Covid-19-related fatalities in Malaysia stayed at 122 cases.
Four patients, meanwhile, recovered today, bringing the cumulative number of recovered cases to 8,519 individuals.
Stay safe. Keep updated on the latest news at www.EdgeProp.my