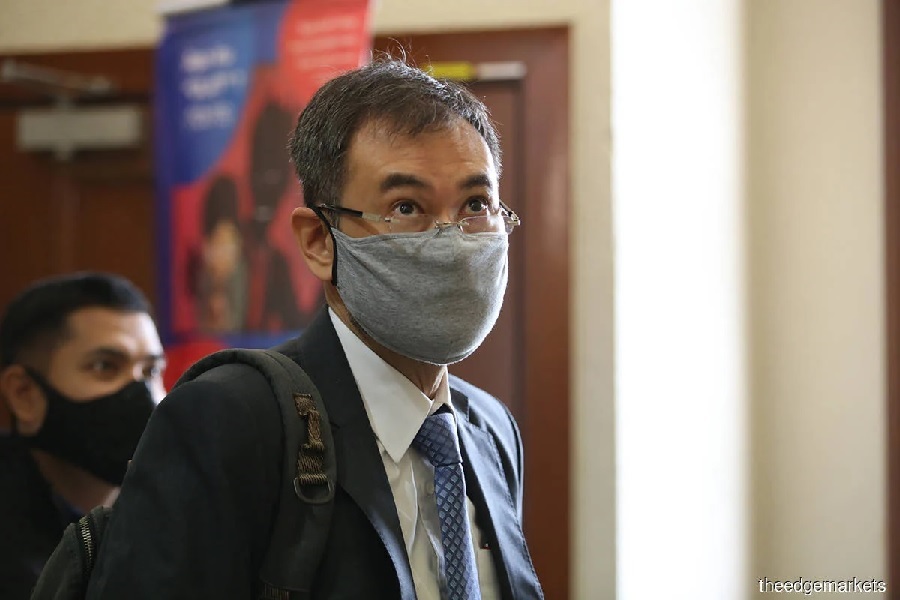 KUALA LUMPUR (July 17): Datuk Shahrol Azral Ibrahim Halmi (pictured), a former chief executive officer of 1Malaysia Development Bhd, admitted in court today that he was not briefed about the 5.75% interest per annum on the fund's issuance of US$1.75 billion bond that was arranged by Goldman Sachs in 2012. He also didn't check the rate as he believed the matter was a "done deal" and that the rate was decided by 'higher-ups'.
This was revealed when Shahrol was quizzed by defence lawyer Wan Aizuddin Wan Mohammed during cross-examination in the trial of former premier Datuk Seri Najib Razak, where he is facing abuse of power and money-laundering charges involving 1MDB funds.
The witness, the ninth called by the prosecution, also agreed that a 1% interest variance could have made a huge difference on what 1MDB would have to repay to redeem the 10-year bond notes, which were issued to part-finance the acquisition of Genting Sanyen Power Sdn Bhd, an independent power plant owned by Genting Group.
Aizuddin: Do you agree that it is important that the 1MDB board is briefed on the interest rates?
Shahrol: I agree.
Aizuddin: Did you make any agreements with Goldman on the 5.7% interest rate, prior to taking the deal?
Shahrol: No, I was not briefed at all by Goldman.
Aizuddin: Isn't it an irresponsible thing as you are the CEO and head of management and you need this detail for the board to agree on?
Shahrol: At the time, a timeline was given by the PMO (Prime Minister's Office) and there was a government-to-government deal and our legal advisor Jasmine Loo said that was something which was decided by the upper level.
Aizuddin: But you were the 1MDB head honcho?
Shahrol: Yes.
Aizuddin: Did you take steps to determine what would be the interest of 5.75% on US$1.75 billion in 10 years?
Shahrol: This was a done deal and we were going with it.
The lawyer then showed a calculation that based on the interest rate, 1MDB would have to pay a total of US$2.9 billion to redeem the notes while Goldman Sachs would be getting US$188 million in commission. He further accused Shahrol of not wanting to check on the interest rate charged.
IPIC not stated as guarantor of notes
Shahrol was then shown the documents on the US$1.75 billion note issuance, to which he agreed that Abu Dhabi-based International Petroleum Investment Company (IPIC) — which was supposed to be the guarantor for the issuance — was not stated as such in the agreement.
The former CEO, however, denied the defence's suggestion that he hoodwinked 1MDB over IPIC's role as a guarantor of the bonds.
The witness said while he signed the documents, he was not looking at the legality of the agreement and was only interested in scrutinising the projects mentioned.
"I did not notice this absence (of IPIC's name as guarantor) and hence am not able to explain this, although the documents were signed by me.
"I was thinking that all due diligence had been done by Loo when the documents were given to me. The documents were prepared by her," the witness said, adding that he signed one page of the documents without looking at its full contents.
Shahrol also disagreed when Aizuddin suggested that he was purposely taking the document issue lightly because he was involved in a scheme and conspiracy with Loo, Low Taek Jho (Jho Low), Goldman Sachs, IPIC's then managing director Khadem Al-Qubaisi and then Aabar Investments PJS CEO Mohamed Badawy al-Husseiny, to embezzle money from 1MDB.
The witness further denied the lawyer's suggestion that he had failed to act in 1MDB's best interests and did not fulfil his fiduciary duty by letting all this happen under his watch.
The trial continues on Aug 3 before Justice Collin Lawrence Sequerah. Before proceedings adjourned for the day, the court also fixed further trial dates from August up to June 2021.
Najib is facing four counts of abuse of power for using his position as prime minister, finance minister and 1MDB board of advisers chairman to receive gratification worth RM2.28 billion and 21 counts of money laundering involving over RM4.3 billion.
Stay safe. Keep updated on the latest news at www.EdgeProp.my