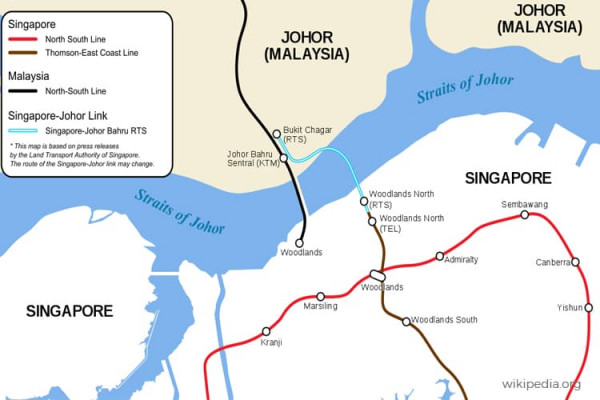 KUALA LUMPUR (July 21): Malaysia and Singapore are set to sign the agreements for the Johor Bahru-Singapore Rapid Transit System (RTS) on July 30, with the price tag to see an upward revision of at least RM500 million from the earlier projected RM3.16 billion, according to Transport Minister Datuk Seri Wee Ka Siong.
The cost revision is due to specification changes that include the setting up of a new depot, Wee told lawmakers in Parliament yesterday. Wee is also the Barisan Nasional member of parliament for Ayer Hitam.
Besides that, the project, which was previously based on the Mass Rapid Transit (MRT) system, has been switched to the Light Rail Transit (LRT) system.
"The previous cost was RM3.16 billion, but after the decision to move the station from Singapore to Wadihana (Johor), a new depot needed to be built. The construction costs and security features add up to an additional RM500 million," he said.
Wee said the parties involved have finalised their discussions, and that the bilateral agreement, concession agreement and joint venture operating company (JV opco) agreement will be inked at Tambak, Johor.
The first phase of the project, comprising civil construction works, is expected to commence in January 2021, followed by the second phase in 2025, which will comprise systems works such as testing and commissioning. The entire project is expected to be completed in 2026.
Meanwhile, Wee said the Malaysian government is considering switching from the deferred payment method to fund the project, to government funding via DanaInfra Nasional Bhd.
"We are not limited to deferred payment. We may also fund the project via Danainfra, which has been discussed with the finance minister," he said, in response to a question from Datuk Seri Saifuddin Nasution Ismail (PH-Kulim Bandar Baharu).
In terms of fare, the minister said riders from Malaysia will be paying the fare in ringgit, while those from Singapore will pay the same fare but in Singapore dollars.
Stay safe. Keep updated on the latest news at www.EdgeProp.my
Click here for more property stories.