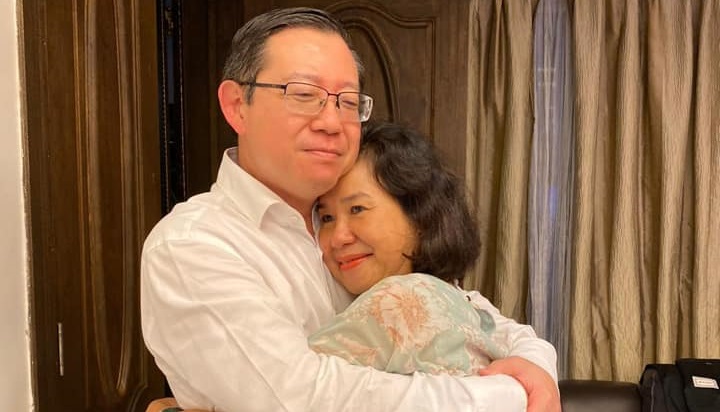 KUALA LUMPUR (Aug 8): Ex-finance minister and former chief minister of Penang Lim Guan Eng is disappointed by the arrest of his wife, Betty Chew, by the authorities.
"I am upset when I heard that my wife Betty Chew was arrested by Malaysian Anti-Corruption Commission (MACC) even though she had nothing to do with the tunnel project or government matters," Lim wrote in his Facebook yesterday.
He was also worried about what could have happened to her after her arrest saying: "I was relieved she was released. Really concerned that she would need to spend a night in the MACC lock-up like me."
Lim also touched on his time under arrest with a vivid description: "I had to change to the SPRM orange T-shirt and slept on the wooden floor in the small lock-up (no pillow no mattreses), unlike my predecessor who need not spend a single night in the lock-up. Whether this is double-standards or not, only MACC can answer."
This seems to in reference to another ex-finance minister (also ex-PM) Datuk Seri Najib Razak who was detained by the MACC in 2018.
"PN going after me with baseless charges is to be expected. After all this unelected government needs to reinforce their slim parliamentary majority.
"But to go for my wife, who even though a lawyer, does not enjoy a luxurious lifestyle, shows that they know how to hit you where you helplessly hurt most," Lim explained.
Chew appeared at the MACC yesterday to assist investigations into a case of her involvement with a private company, will be charged at the Butterworth Sessions Court on Aug 11.
Her lawyer Lee Khai yesterday told the media that Chew will be charged under the Anti-Money Laundering, Anti-Terrorism Financing and Proceeds of Unlawful Activities Act 2001 (AMLA) on Tuesday, for her involvement with Excel Property Management and Consultancy Sdn Bhd.
Stay safe. Keep updated on the latest news at www.EdgeProp.my