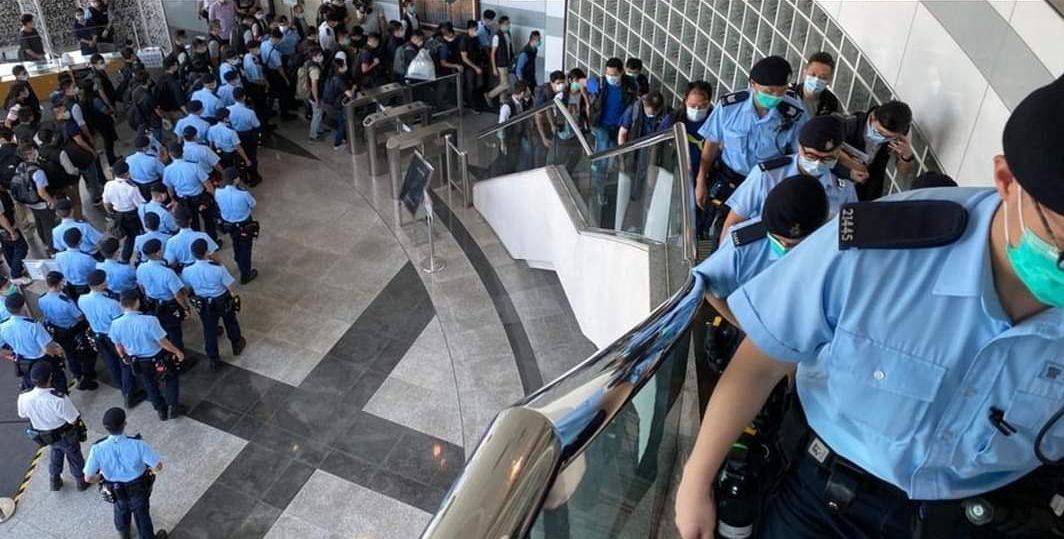 HONG KONG (Aug 10): Over 100 police officers raided the offices of Hong Kong pro-democracy newspaper Apple Daily in Tseung Kwan O this morning, reported Hong Kong Free Press (HKFP).
Live streams by Apple Daily showed officers lining up staff members to check their identities after entering at around 9:45am, while other officers went desk-to-desk.
According to a police Facebook post as stated by HKFP, the force entered the building with a court warrant to investigate crimes endangering national security.
Senior superintendent of the national security department Steve Li told reporters outside the building that officers had conducted an initial review to see which departments or units of the newspaper firm they were entitled to search under the warrant.
He said the force would refrain from searching departments that handle news and journalistic materials. However, footage showed police flipping through items on staff members' desks.
"I can say our search process has been smooth so far. We hope to complete it as soon as possible and not disturb the operation of this media company," Li said.
The raid comes hours after Jimmy Lai – the founder of Next Digital, which owns the tabloid – was arrested in his home this morning over suspected collusion with foreign forces under the new national security law. Local media reported that seven people have been detained today including Lai's sons and other top Apple Daily executives.
The Democratic Party criticised the raid, saying the government is tightening freedom of the press on a large scale.
Stay safe. Keep updated on the latest news at www.EdgeProp.my