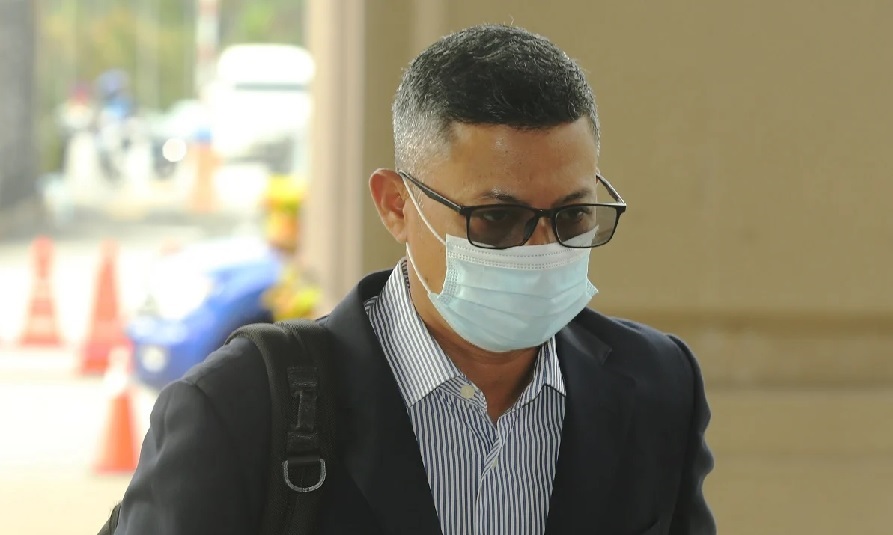 KUALA LUMPUR (Sept 15): Former prime minister Datuk Seri Najib Razak had used part of the US$3 billion raised by 1Malaysia Development Bhd (1MDB) — initially intended for the development of the Tun Razak Exchange (TRX) — to acquire land in Ayer Itam, Penang as part of Umno's campaigning leading up to the 2013 General Elections (GE13), the High Court heard today.
According to former 1MDB chief executive officer Mohd Hazem Abdul Rahman (pictured), who is currently testifying as the 10th prosecution witness in the 1MDB-Tanore trial, the land was to be utilised to build an affordable housing development.
"When Najib was campaigning in Penang, he said during a ceramah that the land would be developed by 1MDB to build affordable housing in Ayer Itam, Pulau Pinang," he told the court.
The US$3 billion was raised by 1MDB's subsidiary 1MDB Global Investment Ltd (1MDB GIL), which was incorporated in the British Virgin Islands, as part of its fundraising exercise in order to be utilised for the state fund's investment activities.
During previous testimonies, the court had heard that the US$3 billion was raised to fund the Abu Dhabi Investment Company (Admic), which was a joint venture (JV) between 1MDB and Abu Dhabi's Aabar Investment PJS. The JV was initially formed for 1MDB and Aabar to jointly develop TRX.
However, Mohd Hazem today told the court that the funds were instead used for Umno's election expenses, as well as to repay debt to Standard Chartered which was previously borrowed to fund 1MDB's investments in Petro Saudi.
"This matter was never discussed at the 1MDB board of directors (BOD) level. The funds issued by 1MDB GIL were never agreed to be used for the purpose of paying off the company's debt.
"It was only agreed by the BOD for the funds to be used for the Admic joint venture and for TRX financing. After I became the CEO of 1MDB, I became more aware that all of the projects given to me before were only used as a vehicle to get the fundraising. I had a clearer picture after that (becoming CEO) and based on Jho Low's modus operandi, these debts were arranged and issued according to the plan that Jho Low had outlined," Mohd Hazem explained.
The defence, however, contended that these explanations were hearsay evidence.
According to Mohd Hazem, in order to receive the US$3 billion, an account was arranged to be opened under 1MDB GIL with BSI Bank in Switzerland. All the details were arranged by then 1MDB lawyer Jasmine Loo Ai Swan and then 1MDB executive director of finance Terence Geh before the signing of the bond agreement, Mohd Hazem said.
The ex-CEO added that he and then 1MDB chief financial officer Azmi Tahir had signed documents to open the account, with both of them agreeing to be authorised signatories to the account. But their role was merely to sign documents related to 1MDB GIL, with everything else handled by Geh and Loo.
Mohd Hazem also noted that not even a single business operation took place under 1MDB GIL, given that the reason for its inception was the bonds.
According to him, the US$3 billion came into the BSI account on March 19, 2013, meaning that Goldman Sachs, as the arranger, had underwritten the bonds. He added that 9.3% of it went to Goldman Sachs as fees as 1MDB needed the US$3 billion urgently.
It was reported in 2013 that 1MDB had purchased land in Ayer Itam, Penang, from Farlim Group Bhd to build affordable housing units in the state. The 9.52ha land was reported to have been acquired for a total sum of RM112.5 million.
At the time, 1MDB said in a press statement that the land acquisition was part of its larger development in Penang to develop affordable homes.
In the 1MDB-Tanore trial, Najib is charged with four counts of power abuse to enrich himself with RM2.3 billion from 1MDB and 21 counts of laundering the same amount. He faces up to 20 years' imprisonment if convicted.
EdgeProp Malaysia Virtual Property Expo 2020 (VPEX 2020) is happening now! Find out more exclusive projects and exciting deals here
Stay safe. Keep updated on the latest news at www.EdgeProp.my