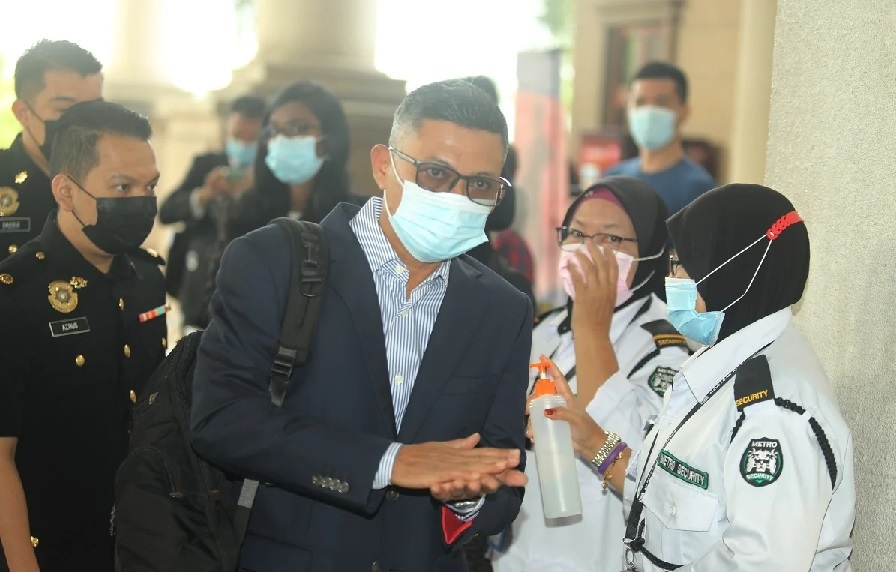 KUALA LUMPUR (Sept 15): Former prime minister Datuk Seri Najib Razak had pressured former 1Malaysia Development Bhd (1MDB) chief executive officer Mohd Hazem Abdul Rahman (pictured) to request audit firm KPMG to conclude the audit of the state fund's financial statements for 2013 despite certain irregularities it found, the High Court heard today.
This was due to the fact that KPMG had found out that Najib, as 1MDB's shareholder, was aware of 1MDB's bogus investments in Brazen Sky Ltd, a company incorporated in the British Virgin Islands by Low Taek Jho (Jho Low), Mohd Hazem told the court during Najib's 1MDB-Tanore graft trial.
Following the pressure from Najib, Mohd Hazem said he suggested for KPMG to be terminated and be replaced with another audit firm.
"But KPMG still did not conclude the audit of 1MDB's 2013 financial report because they were not satisfied with the documents and answers given (pertaining to the investments in Brazen Sky). Due to Najib's insistence on closing 1MDB's accounts and for the sake of the company's reputation, the management proposed to the board of directors (BOD) and the shareholder to replace KPMG with Deloitte.
"This decision was made because I was under pressure from various parties, especially from Najib, who contacted me several times via mobile phone to ensure that 1MDB's 2013 audit financial report was closed. I had no other choice but to suggest to the BOD to replace KPMG with Deloitte," he explained.
In his earlier testimony today, Mohd Hazem narrated that there was a meeting at Najib's residence in Langgak Duta in November 2013 among 1MDB top officials, including board members as well as Jho Low, to discuss KPMG's audit of the company. Attendees of this meeting included then 1MDB chairman Tan Sri Lodin Wok Kamaruddin, 1MDB director Tan Sri Ismee Ismail, chief finance officer (CFO) Azmi Tahir, BSI Singapore representative Yak Yew Chew, and Najib's principal private secretary Datuk Azlin Alias.
According to Mohd Hazem, Jho Low had arranged for a meeting with KPMG that would include 1MDB's CEO, chairman and CFO. The fugitive businessman also arranged that only KPMG's managing partner Datuk Johan Idris and partner Ahmad Nasri Abdul Wahab would attend that meeting.
Prior to the meeting with 1MDB officials to discuss the audit, Mohd Hazem said Jho Low had sent an email to him, 1MDB's then director of finance Terence Geh, and 1MDB's legal officer Jasmine Loo Ai Swan, entitled "URGENT; DOCUMENTS FOR BOSS TONIGHT". Attached with the email were documents and talking points prepared by Jho Low to be used for the meeting with the auditors.
When the 1MDB officials met, Mohd Hazem said Jho Low had advised Najib not to talk too much at the upcoming meeting with KPMG, but that it must be emphasised that Najib knew all about 1MDB's investments, especially the one through Brazen Sky, and that the then premier was comfortable with all the documents available. Najib was also told to state clearly that he had been briefed by 1MDB.
It was previously established in court that the "investments" in Brazen Sky were worthless, and that it was only a vehicle for Jho Low to embezzle 1MDB funds.
According to Mohd Hazem, Jho Low had also instructed Najib to tell the KPMG auditors that as the shareholder of 1MDB, he was happy and had confidence in BSI as the company's banker.
KPMG signed off on 1MDB's accounts for 2010, 2011 and 2012, while Deloitte was appointed to do the same for 2013 and 2014, after KPMG was reportedly sacked for asking for more information about 1MDB's assets. However, in July 2016, Deloitte said the statements it audited for 1MDB should no longer be relied upon after the US Department of Justice filed civil forfeiture suits against 1MDB.
Last year, the Securities Commission Malaysia (SC) initiated investigations on both auditors for their role in the 1MDB scandal, and subsequently fined Deloitte RM2.2 million for failing to report certain oddities it found in 1MDB. Deloitte is seeking a judicial review to quash the fine imposed, for which the court has set Oct 26 to decide on the matter.
In this 1MDB-Tanore trial, Najib has been charged with four counts of power abuse to enrich himself with RM2.3 billion from 1MDB, and 21 counts of laundering the same amount. He faces up to 20 years' imprisonment, if convicted.
The trial resumes on Thursday morning.
EdgeProp Malaysia Virtual Property Expo 2020 (VPEX 2020) is happening now! Find out more exclusive projects and exciting deals here
Stay safe. Keep updated on the latest news at www.EdgeProp.my