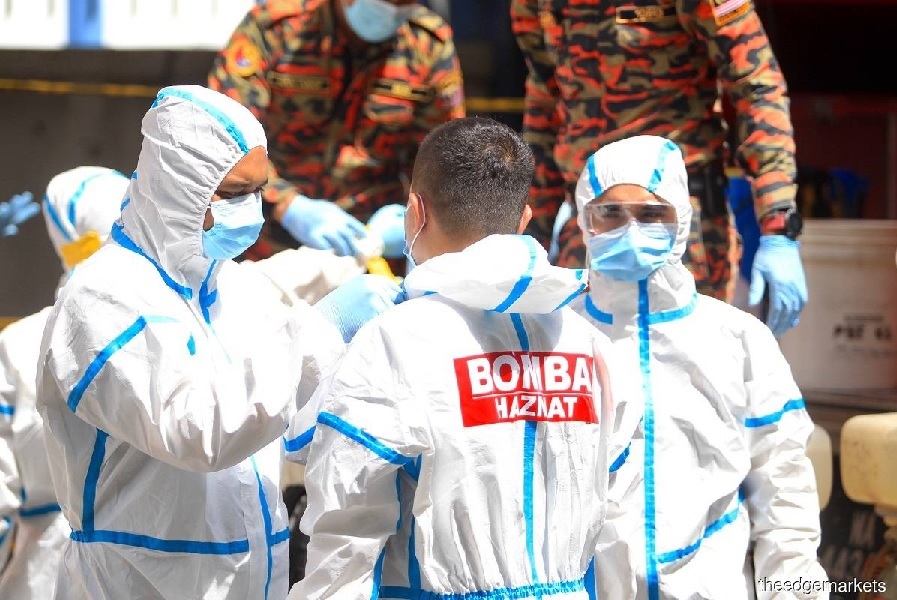 KUALA LUMPUR (Sept 24): New Covid-19 cases in Malaysia more than halved to 71 today, from 147 yesterday.
In a statement, Ministry of Health (MoH) Director-General (D-G) Tan Sri Noor Hisham Abdullah said that as of noon, cumulative Covid-19 cases in Malaysia stand at 10,576.
The number of active cases rose to 777, from 770 previously.
Meanwhile, 64 more patients have recovered today, bringing total cured cases to 9,666 or 91.4% of the total number of cases.
"Currently, there are six positive Covid-19 cases that are being treated in the intensive care unit (ICU), where two of them require respiratory assistance.
"We wish to also inform that there was no increase in deaths resulting from Covid-19 today. As such, the cumulative number of Covid-19 deaths in Malaysia stays at 133 cases (1.26% of the total number of cases)," said Noor Hisham.
According to the D-G, two cases involved foreign nationals who contracted the disease from Singapore and Indonesia.
Meanwhile, 69 cases were spread locally, with 43 of them involving Malaysians and 26 involving non-citizens.
There were 63 cases in Sabah today. The Bangau-Bangau cluster had 47 cases — involving 32 Malaysians and 15 foreigners — while the Laut cluster reported 10 non-Malaysians infected with the coronavirus. Only one case from the Benteng Lahad Datu cluster was reported today.
Meanwhile, two cases — involving a Malaysian and non-citizen — were detected during screening prior to hospital admission. One patient who was referred to Tawau Hospital was found to be infected, while another Covid-19 patient was identified via pre-procedure testing at Semporna Hospital.
Furthermore, one symptomatic patient was found at a medical facility and has been admitted to Queen Elizabeth Hospital.
In Kedah, four cases were detected from the Sungai cluster today. Meanwhile, there were two symptomatic Covid-19 patients in Selangor who had returned from Semporna, Sabah.
Bangau-Bangau cluster has 60 cases
The MoH said the Bangau-Bangau cluster, which was revealed yesterday, now has 60 cases — 42 Malaysians and 18 Filipinos.
As of noon today, 105 people have been tested, with 45 of them awaiting their results.
Meanwhile, the Laut cluster has 22 cases, all of them Filipinos. So far, 488 people have been tested, with 352 tested negative while 114 are awaiting results.
With one new case today, the Benteng Lahad Datu cluster now has 730 positive cases, with 10,521 people from this cluster tested as of noon. Malaysians account for 415 cases, Filipinos constitute 202 cases while the remaining 113 are Indonesians.
In Tawau, 7,951 people have been tested. So far, 570 are positive, 6,136 are negative and 1,245 results still pending.
In Lahad Datu, 2,569 people were tested, yielding 159 positive cases and 1,901 negative results. Meanwhile, 509 people are awaiting their results.
Meanwhile, 1,771 prisoners and detainees in this cluster have been tested, with 617 testing positive. So far, 24 positive cases were found among the 1,159 members of staff at the Lahad Datu police district headquarters who were tested, while 27 cases were found among the 1,394 family members of staff, inmates and detainees.
Sixty-two cases of Covid-19 were found among 4,671 social contacts while no cases were found among 1,526 officers of other government agencies.
In Kedah, the Sungai cluster now has 91 positive cases, with 25,167 people being tested. A total of 24,947 people in the state were tested, of which 90 were positive, 24,584 were negative while 273 are still awaiting their results.
All 142 individuals in Penang have come out negative. Perlis saw 78 people tested with only one positive case from the cluster in the state.
Get the latest news @ www.EdgeProp.my