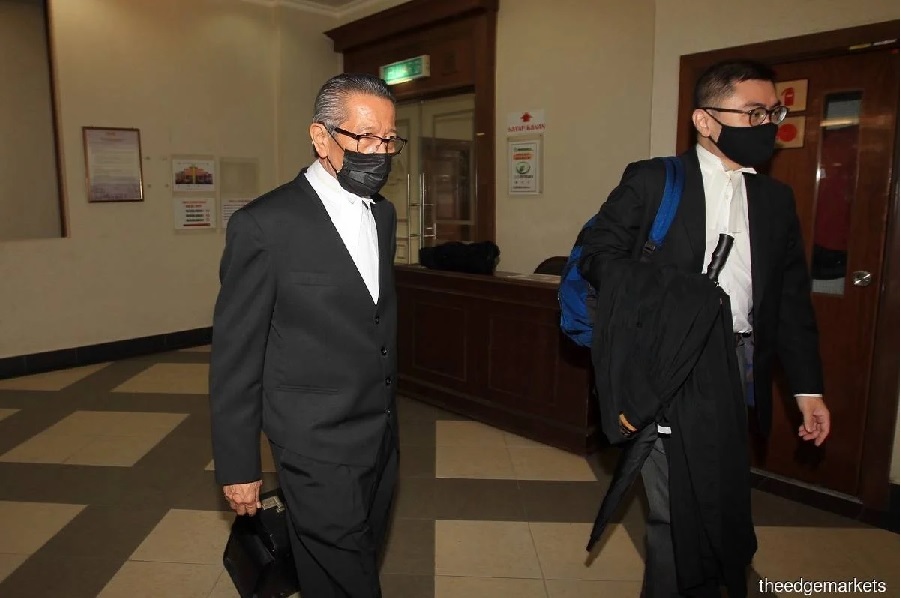 KUALA LUMPUR (Oct 1) : A lawyer for a subsidiary of PetroSaudi International Ltd (PSI), PetroSaudi Oil Services (Venezuela) Ltd (Inc in Barbados) informed the High Court here today that there had been some recent development with regards to Malaysia's prosecution application to forfeit US$340.26 million from the company.
Following this, its counsel Alex Tan informed Justice Mohd Nazlan Mohd Ghazali they are applying the hearing date fixed Monday (Oct 5) to be vacated.
"There has been some development to the matter and we may need time to review the matter and take further instructions. For this reason, we asked that the hearing date on Oct 5 be vacated," he said.
Counsel Datuk Yusof Zainal Abiden, who appeared for Saudi national Tarek Obaid who is named as the main defendant in the forfeiture suit and owns PSI and PSOSL, concurred and informed the court that they were heading to Putrajaya.
Deputy Public Prosecutor Budiman Lutfi Mohamed and DPP Mohd Izzat Fauzan said a common date has been agreed upon by all parties for the replacement hearing date to be on Nov 10.
Both Tan and Yusof concurred, resulting in Justice Nazlan to fix Nov 10 as the new hearing date for the forfeiture.
The judge also asked Tan and Yusof whether the court's prohibitory order against the moving of the funds had been complied with until the disposal of the hearing of the forfeiture. Both of them admitted that the order is being respected.
Tan and Yusof when met by reporters kept mum to reveal what are "the said developments" cited. It is understood they are going for a meeting in Putrajaya.
Malaysian prosecutors had sought US$340.26 million from PSOSL in its first international forfeiture application, as they claimed to have originated from the problematic 1Malaysia Development Bhd (1MDB) fund in a joint venture with PSI to form the 1MDB PetroSaudi Ltd in 2010.
They had named Tarek, PSI, PSOSL along with Clyde & Co based in the United Kingdom and Temple Fiduciary Ltd, which held the fund in the escrow account as defendants in the action.
Malaysian Anti Corruption Commission investigating officer Mohd Afiq Abdul Aziz in his affidavit in support to the forfeiture application claimed the disputed funds are from 1MDB-PetroSaudi Ltd in 2010, where 1MDB pumped in US$300 million to that company, of which US$185 million went to PSOSL.
Afiq said 1MDB was supposed to get ownership of PSOSL as claimed by former 1MDB CEO Datuk Shahrol Azral Ibrahim Halmi, but Tarek and former Finance director, Terence Geh had allegedly acted on behalf of 1MDB International Holdings and 1MDB to execute a deed of termination dated April 8, 2014 to relinquish PSOSL rights to Tarek.
The Malaysian prosecutors claimed that Geh had acted fraudulently and hence, whatever PSOSL received should be given to 1MDB and the country.
Besides this, it was reported on last Sept 17 that the United States Department of Justice had also filed an application to seek US$300 million in additional assets allegedly associated with the multibillion-dollar 1MDB scandal, assets it has traced to an escrow account in the United Kingdom, the agency said on Wednesday.
This led to MACC lawyers led by Muhammad Nizamuddin Abdul Hamid, whose firm Messrs Zharif Nizamuddin was appointed by the graft agency last year to help oversee this action to say that they are formulating its advice and will seek directions as to the Malaysian government's stand on the matter.
Get the latest news @ www.EdgeProp.my