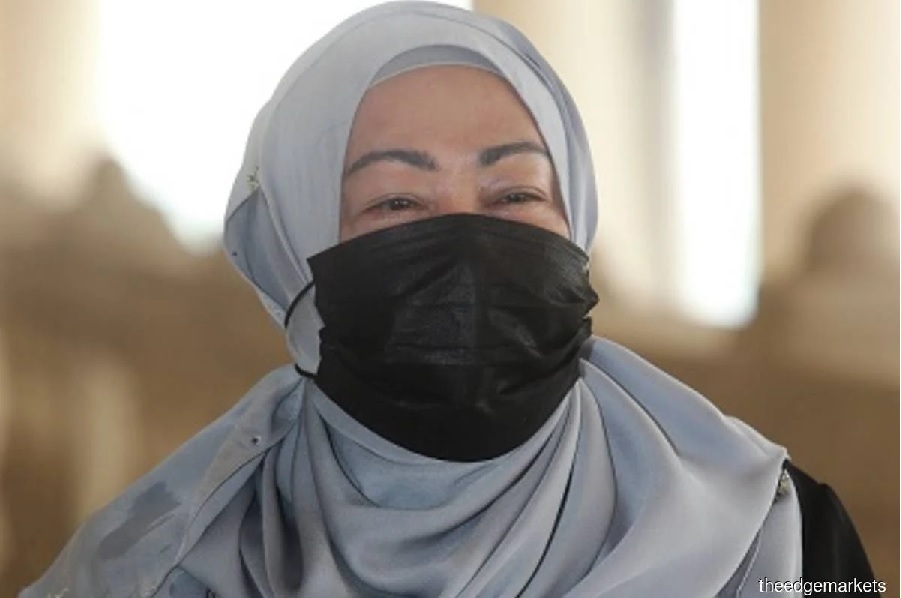 KUALA LUMPUR (Oct 7): A Malaysian Anti-Corruption Commission (MACC) officer told the High Court yesterday that millions in cash was confiscated in 2018 during raids conducted at two residences, following complaints of alleged fund misappropriation by officers from the controversial Research Division under the Prime Minister's Department.
MACC officer Muhammad Nizhar Kadir said US$4.07 million was confiscated at an apartment in Cyberjaya, and RM220,000 from a house in Terengganu, under an MACC raid operation code-named 'Ops Dinar 2', in August that year. The owners of these two residences, however, were not divulged.
Nizhar was testifying as the first witness in the criminal breach of trust (CBT) case involving Datuk Hasanah Abdul Hamid (pictured), the former director-general of the Malaysian External Intelligence Organisation (MEIO). Hasanah is on trial for allegedly misappropriating US$12.1 million (RM50.4 million) worth of funds meant for the government.
Reading out his witness statement, he said the raids were conducted on Aug 27, in response to complaints of alleged wrongdoings by individuals at the Research Division involving the misappropriation of monies belonging to the Malaysian government, which took place on May 9, 2018.
He told the court that he was ordered to track down the Research Division's deputy director Datuk Ruslin Jusoh. Subsequently, the team went to an apartment in Cyberjaya on Aug 30, where they found the US$4.07 million cash.
He then went to Terengganu, where another suspect led him to a house where RM220,000 worth of cash was found stashed in a Wi-Fi router box that was kept inside a backpack.
Meanwhile, another witness, former special officer to MEIO director-general, Norhisham Md Nordin, said Hasanah had not done due diligence in preparing documents to be passed on to her successor, when her contract in the department ended on June 30, 2018.
Called Note Sessions and Desk Files, these documents serve as a guide for the successor and contain the final handing over of official duties which were not completed by the predecessor, list of government properties and office supplies in current possession, and the departmental accounts.
Norhisham, who was serving Hasanah's successor Datuk Ahmad Shublee Othman, said he was in charge of getting these documents from Hasanah.
While he told the court that he did acquire them for Ahmad Shublee, these documents were not prepared by Hasanah herself, he said.
Hasanah, in her capacity as a civil servant, has been charged for committing the CBT offence between April 30 and May 9, 2018. The charge was framed under Section 409 of the Penal Code, which carries a maximum jail term of 20 years, whipping and fine, upon conviction.
Get the latest news @ www.EdgeProp.my