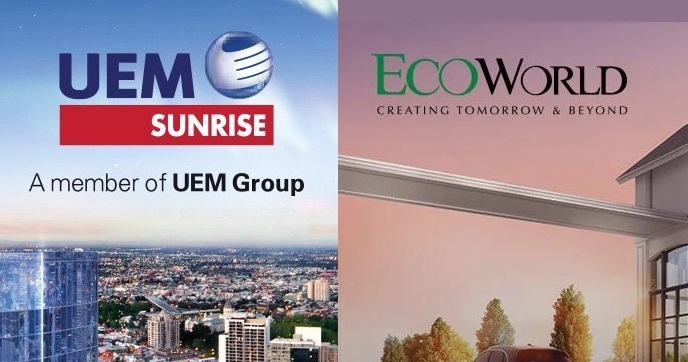 KUALA LUMPUR (Oct 10): The proposed merger between UEM Sunrise Bhd and Eco World Development Group Bhd has attracted both criticism and support.
One criticism is that post merger, the enlarged entity will have a total net debt of RM6.37 billion. (Eco World Development has RM2.98 billion and UEM Sunrise has RM3.39 billion), reported The Edge Malaysia.
"Based on back-of-the-envelope calculations, assuming an interest rate of 5% a year on the RM6.37 billion debt, the enlarged company will have to fork out RM318 million a year, or RM26 million a month, to service its debt," a critic told the weekly.
Other critics say even though the new company will have a lot of assets, "the current economic situation, if prolonged, could spell trouble for it and Khazanah, as the largest shareholder may have to step in to support any equity fundraising the company might want to do".
Malaysian Rating Corporation Bhd (MARC) states that the higher debt-to-equity ratio of the enlarged entity (of 0.9 times from 0.56 times) "could be a problem unless Khazanah Nasional is committed to providing financial support if needed".
"MARC notes a potential weakening in the credit profile of the enlarged UEM Sunrise group," MARC said in a press release dated Oct 8.
Fans of the merger say that while the debts of the enlarged entity appear daunting, "both companies have unbilled sales (future revenue) of RM6.12 billion. Eco World Development has RM4.42 billion, whereas UEM Sunrise has RM1.7 billion".
They insist "the respective strengths of the two companies make it a compelling case for a merger".
Proponents of the merger say UEM Sunrise's reputation as "top-notch developer of integrated high-rise projects" and Eco World Development "as a township developer" will result in "a sizeable entity with a compelling growth story".
Investment analysts Lum Joe Shen and Marie Suwrna Vaz of Kenanga Research say UEM Sunrise can tap "Eco World Development's marketing prowess and world-class township planning, which will help boost sales".
"On the flip side, we have some lingering questions in our minds as to the rationale for Eco World to agree to the merger," the analysts say a research report on Oct 6.
Get the latest news @ www.EdgeProp.my
Click here for more property stories.
Read the full report in this week's The Edge Malaysia