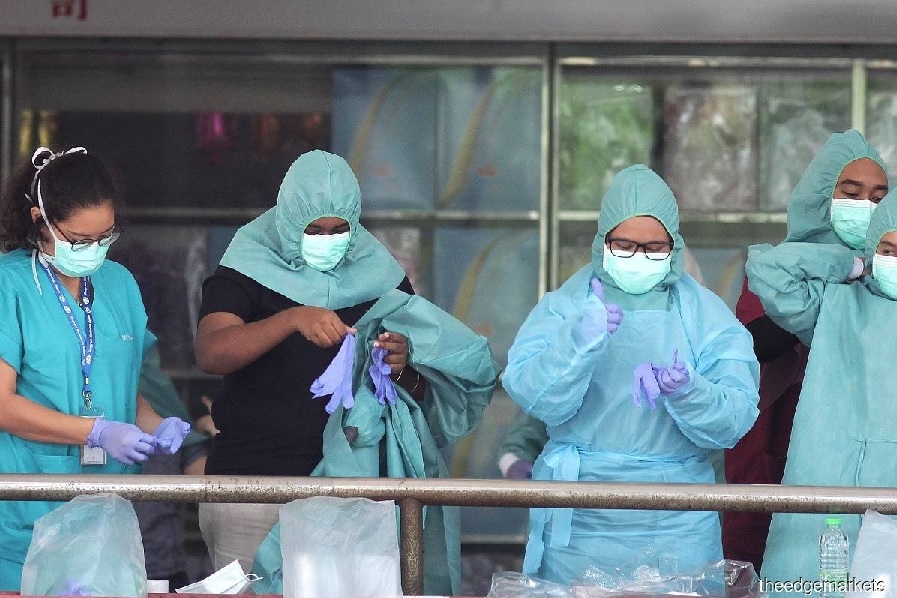 KUALA LUMPUR (Oct 28): Malaysia reported 801 new Covid-19 cases today, with eight deaths, according to Ministry of Health (MoH) director-general Tan Sri Dr Noor Hisham Abdullah.
Sabah's new infections climbed to 546 from 410 reported yesterday — of which 271 cases were detected from screening of close contacts of Covid-19 positive cases, 186 were traced from other Covid-19 screenings, while the remaining 89 were from clusters in the state.
The Klang Valley reported 103 cases, down from 138 cases previously. Within the conurbation, Selangor has 89 new cases while Kuala Lumpur has 14, but Putrajaya did not record any daily new infections today.
"In total, Sabah and the Klang Valley contributed to 649 cases, representing 81% of overall daily cases," said Noor Hisham at his daily media briefing today.
Sabah continued to lead with the highest total Covid-19 infections with 13,701, compared to Selangor (4,360), Kuala Lumpur (2,991), Kedah (2,080), and Negeri Sembilan (1,516).
Based on the two-week period data provided by the MoH's Crisis Preparedness and Response Centre (CPRC) from Oct 14 until Oct 27, Sabah had 8,091 active cases.
Kota Kinabalu had 2,909 active cases, followed by Tawau (1,072) and Sandakan (889).
According to MoH, there were a total of 5,713 hospital beds available in Sabah to treat Covid-19 patients, including 1,202 beds at hospitals and 4,511 beds at quarantine and low-risk treatment centres as at Oct 26.
Following the eight deaths reported to the MoH's CPRC, the national Covid-19 death toll now stood at 246.
Seven deaths were reported in Sabah, bringing the total death cases in the state so far to 114 or 46.4% of the cumulative deaths in the country. In this month alone, 101 people in Sabah have succumbed to the disease.
Another death was reported in Selangor, with the deceased having suffered from diabetes and high blood pressure.
As the number of cumulative Covid-19 infections rose to 29,441, this pushed active cases — which carry high transmission risks — past the 10,000 mark to 10,123 cases.
These leave 94 patients in intensive care units, with 25 of them needing respiratory aid.
From the 801 new cases today, Noor Hisham noted that 62 cases were linked to other Covid-19-related prison clusters, while only two imported cases were recorded among a Malaysian and a foreigner who returned from Iran and Saudi Arabia respectively.
Meanwhile, the number of recoveries increased to 19,072 after 573 Covid-19 patients recovered from Covid-19 and were discharged today.
Four new Covid-19 clusters with 61 infections
Noor Hisham also announced four new Covid-19 clusters today in Sabah, Sarawak, Selangor and Johor with 61 infections.
The four clusters are as follows:
• The Seri Gaya cluster in Kota Kinabalu and Tuaran in Sabah with 17 cases
• The GreenHill cluster in Kuching and Miri in Sarawak (25 cases)
• The Idaman cluster in Petaling and Gombak in Selangor, Titiwangsa and Cheras in Kuala Lumpur (11 cases)
• The Bayu cluster in Johor Bahru and Muar in Johor (eight cases)
Overall, some 234 clusters have been reported since the beginning of the Covid-19 infections, with 111 clusters declared ended by the ministry after no new cases were reported in 28 days.
​Get the latest news @ www.EdgeProp.my
Click here for more property stories.