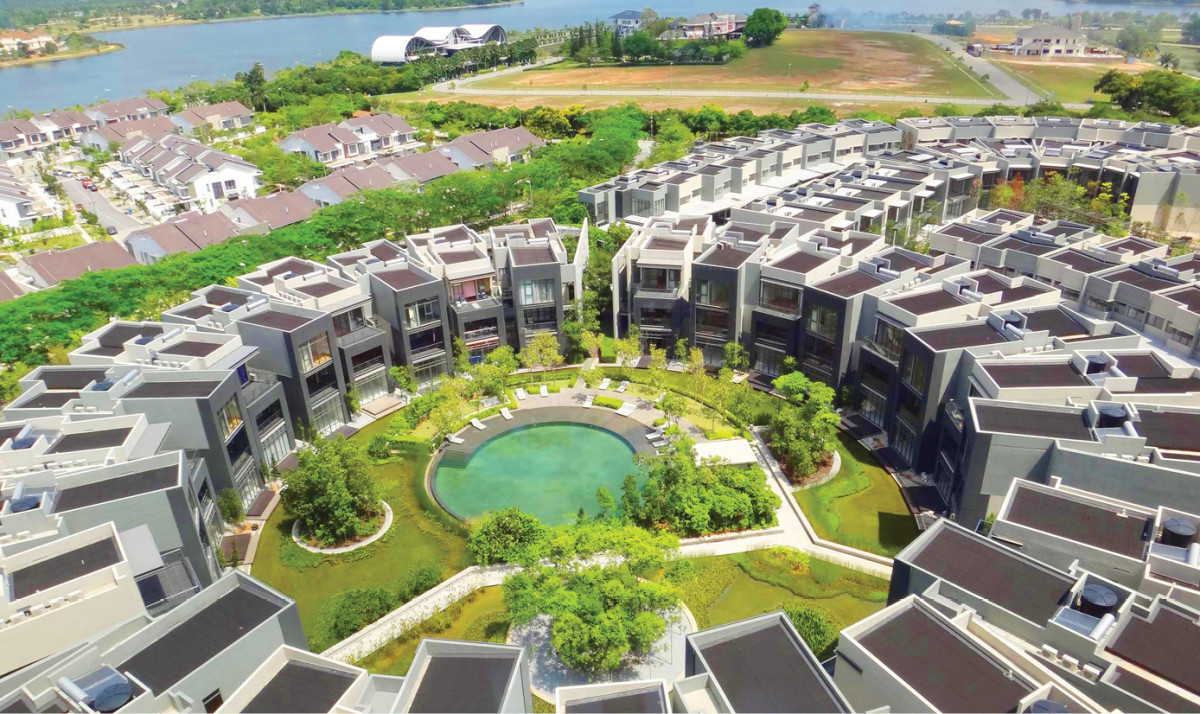 Touted as the Silicon Valley of Malaysia, the town of Cyberjaya, located in the district of Sepang, Selangor, was officially opened back in 1997. Forming a key part of the Multimedia Super Corridor (MSC) in Malaysia, this town, which sits on 7,000 acres of freehold land, consists of four main zones: enterprise, commercial, institutional and residential.
Read also
The real estate alternative
Do you know that data centres are classified into several tiers?

Cyberjaya is equipped with a host of intelligent network services and a variety of facilities of world-class standards amidst rich natural surroundings. Fast forward to today, the area has seen extensive building activities over the years under Setia Haruman Sdn Bhd, the master developer of this township.
Not only are government agencies such as the Malaysian Department of Public Services, Ministries of Education and Human Resource, and Sepang Municipal Council located in this township, but also some 600 MSC-status companies including BMW, IBM and Dell.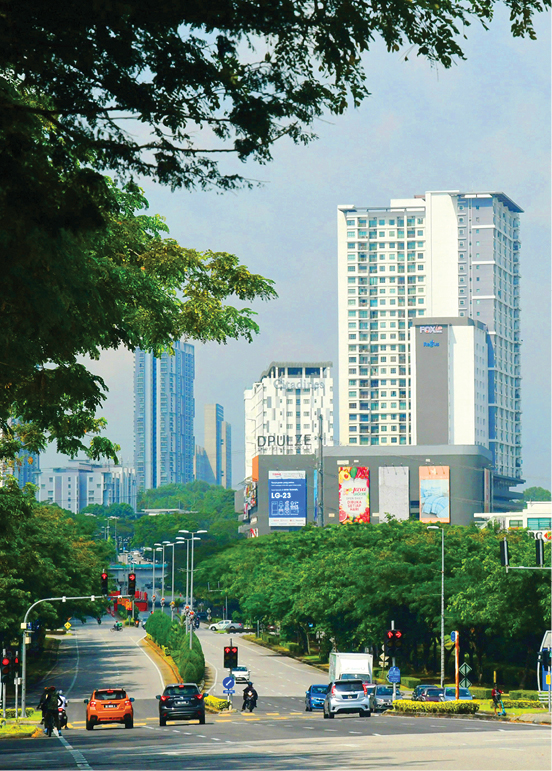 Intrigued to buy a property here? Arm yourself with these seven facts from EdgeProp Research before you start your shopping.
1 Proximity to various amenities and easy accessibility
This pioneer green township is equipped with a myriad of amenities from education institutions such as University Malaysia of Computer Science & Engineering, Cyberjaya University College of Medical Sciences, Cyber Putra College and Kirkby International College to D'Pulze Shopping Centre, the first mall here.
Most of the infrastructure in Cyberjaya has been well planned ahead. It has been specified with extensive and intensive fibre optic cabling, which means that most residential areas here have access to high-speed fibre-optic internet.
The township is also well connected to a network of highways and expressways: North-South Expressway Central Link (PLUS), Damansara-Puchong Highway (LDP), Maju Expressway (MEX), Expressway Lingkaran Tengah (ELITE), North Klang Valley Expressway (NKVE) and South Klang Valley Expressway (SKVE). Plans are underway to build two new Mass Rapid Transit (MRT) stations here.
2 Transactions remain vibrant over the years
From 2012 to 2019, Cyberjaya has recorded over 200 transactions annually. The average transaction price for residential properties has also appreciated following the increasing demand.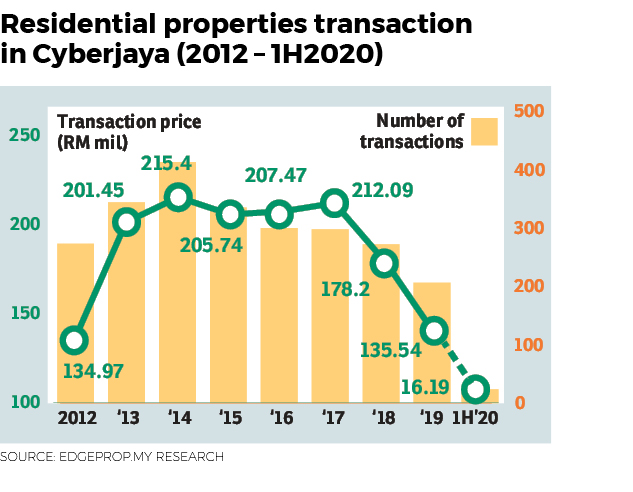 In 2014, a total of 413 residential properties valued at RM215 million changed hands, the highest between 2012 and 2020.
Despite the reduced number of transactions over the years following general market downtrend, Cyberjaya still saw some 206 residential properties valued at RM135 million transacted in 2019.
However, in the first half of 2020 – mainly due to the Covid-19 pandemic – the green township only concluded 26 units of properties worth RM16 million.
3 Steady rise in price
For terraced houses and high-rise properties in Cyberjaya, property owners have seen their property prices appreciate over the years.
In 2019, terraced houses were transacted at an average price psf of RM407 psf, up by 96% in terms of average price psf compared to RM202 in 2012.
However, prices have slightly dipped this year by 9% where the average price psf is RM369.
For condominium and serviced apartments in Cyberjaya, average psf transaction price has increased 33% to RM439 in 2019, from RM331 in 2012. In 1H2020, average psf selling price has seen a slight increase of 8% to RM474.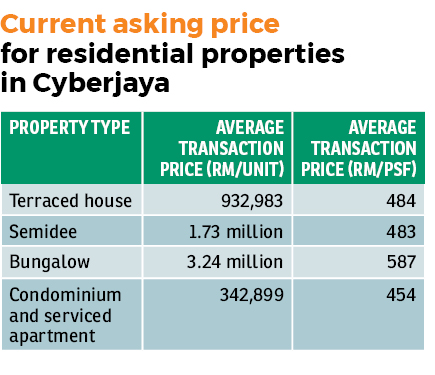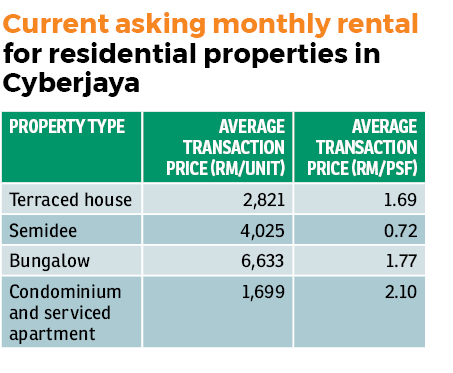 However, semidees and bungalows have seen slower price growth.
For semidees, compared to the selling price in 2012, average psf transaction price went up 18% to RM489 in 2019, compared to RM414 in 2012. However, four transactions recorded in 1H2020 have seen the average psf transaction price dip 20% to RM389.
For bungalows, price appreciation remained flat from 2012 to 2019. In 1H2020, average psf transaction price declined 22% to RM337, from RM432 in 2019.
4 Top three most-transacted residential properties
Mutiara Ville and Cyberia SmartHomes at Persiaran Multimedia, as well as Cyber Heights Villa near Persiaran Rimba Permai are the top three residential projects that recorded the highest transactions between 2019 and 1H2020.
Developed by Seri Mutiara Development, the Mutiara Ville condominium is the most popular project in this township where 23 units have changed hands for the time period from 2019 to 1H2020.
The mixed development comprises seven 29-storey blocks housing 1,178 residential units and a four-storey lifestyle retail complex.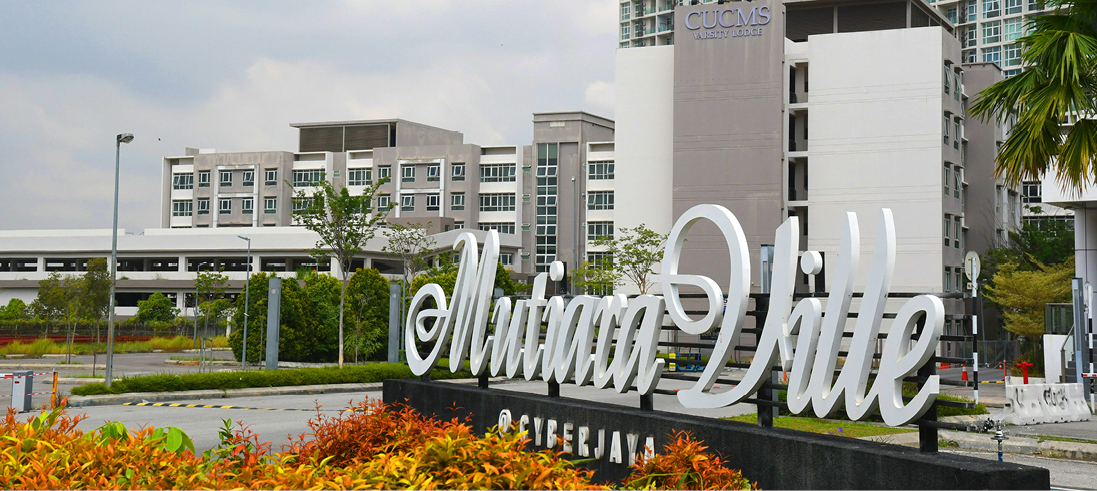 Sharing the second spot with 19 transactions each are Cyberia SmartHomes and Cyber Heights Villa developed by MK Land and Country Heights Development respectively.
Cyberia SmartHomes is a mixed development consisting of 1,188 units of condominium and 372 units of town villa.
Meanwhile, Cyber Heights Villa is a low-density development with only 117 units of apartment spread over a 10-storey block, located close to various educational institutions.
In third place is the Evergreen Garden Residence, a two-storey semidee project located near Persiaran Utara. The landed homes built by Mah Sing Group have recorded 18 transactions in 2019–1H2020.
5 Most expensive projects in Cyberjaya
Mirage By The Lake @ Perdana Lakeview West by OSK Property takes the lead for the most expensive development in the terraced home and semidee segments with average transacted prices psf of RM735 and RM966 respectively in 2019–1H2020.
Sejati Residences by Paramount Property, located at Persiaran Bestari, tops the bungalow home segment with an average transacted price of RM507 psf.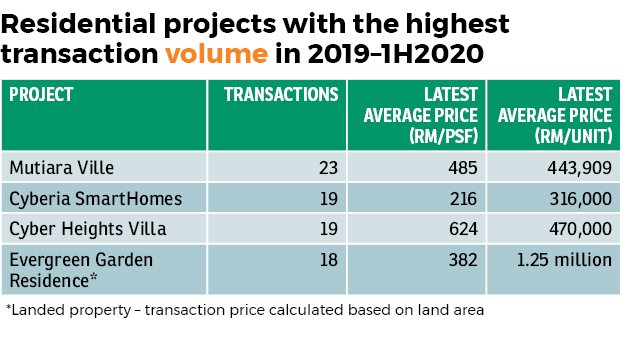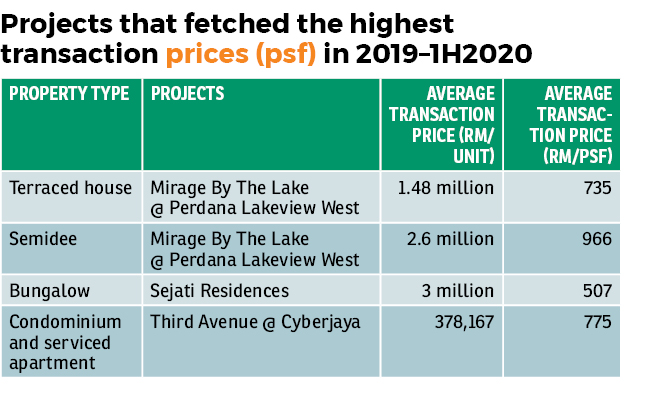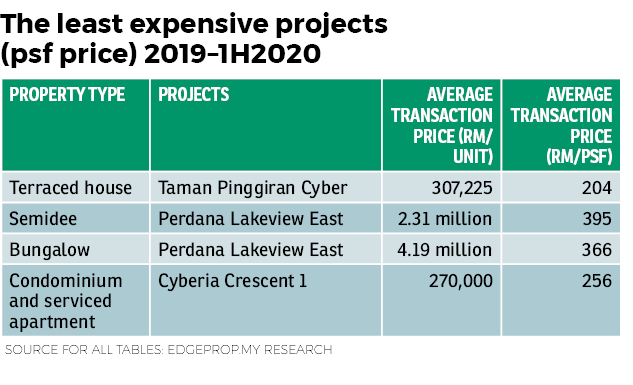 Meanwhile, Third Avenue @ Cyberjaya at Jalan Teknokrat 3, a project developed by TEE Land, has recorded an average psf transaction price of RM775, making it the highest price deals in the high-rise residential segment in 2019–1H2020.
6 Looking for a bargain?
The terraced homes at Taman Pinggiran Cyber is the least expensive terraced home in Cyberjaya with an average psf transacted price of RM204 for the period of 2019–1H2020.
For larger landed homes, EdgeProp.my Research data showed that Perdana Lakeview East has good bargains for semidees and bungalows. The semidees and bungalows were transacted at an average price of RM395 psf and RM366 psf respectively in 2019–1H2020.
As for the high-rise segment, the Cyberia Crescent 1 is a bang for your buck with an average transacted price of RM256 psf.
7 How much should you pay for a house here?
Based on the listing data on the EdgeProp.my portal, terraced homes in Cyberjaya have an average asking price of RM484 psf or RM932,983 while semidees and bungalows have an average asking price of RM483 psf (or RM1.73 million) and RM587 psf (or RM3.24 million) respectively. As for high-rises, the average asking price is RM454 psf or RM342,899.
Meanwhile, based on the rental listings on EdgeProp.my, terraced homes here are commanding an average asking rental of RM1.69 psf or RM2,821 per month, while bungalows and high-rises have an average asking rental of RM1.77 psf (or RM6,633) and RM2.1 psf (or RM1,699) respectively. As for semidees, they have an average asking rental of RM0.72 psf (or RM4,025).
This story first appeared in the EdgeProp.my e-Pub on Nov 13, 2020. You can access back issues here.
Get the latest news @ www.EdgeProp.my